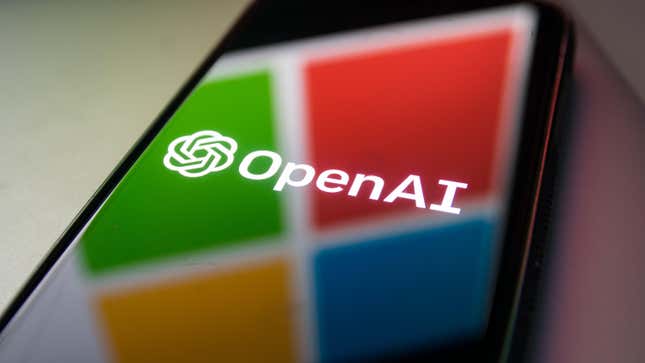 Microsoft has AI fever, and apparently the only treatment is sticking its large language model, ChatGPT-like chatbot into practically every end-user program it has going.
Warning! Microsoft Wants ChatGPT to Control Robots Next
According to a Friday report from The Verge citing unnamed sources with knowledge of Microsoft's plans, the Redmond, Washington company is getting close to sharing more about its plans to integrate its OpenAI tech into Office apps. This apparently includes Word, PowerPoint, and Outlook, just to name a few. We may even see a demo of this AI in action, though with how quickly the tech giant has been in bringing its AI-powered search to the public, it might not be long now.
Last month, The Information reported that Microsoft was discussing incorporating the OpenAI into its Office apps, so it seems like those talks are ongoing, at the very least. The report was before Microsoft officially announced a renewed multi-billion dollar partnership with OpenAI. At that time, Microsoft had been working for over a year to apply AI tech to write emails and documents. The difficult part was making sure it didn't reiterate other users' work since the large dataset it would work off of would be Microsoft's own customers.
The Verge's report mentions we could get a taste for what this will look like sometime in March. You can already tell what Microsoft's "Prometheus Model" AI might look like in Outlook, as the company demoed its AI-powered Viva Sales system last week. The company said in the demo that the "Azure Open AI" can generate a draft based on the type of response a user requests.
The new Bing incorporates two systems, a chat and compose tab. The compose tab is likely what will be closest to any integration with Word or Outlook. Microsoft also wants its new system to generate charts and graphics for use in PowerPoint, so even as slideshows remain an archaic way to display information (cough), Microsoft wants to let AI do most of the heavy lifting. The report does not mention Excel, but AI integration into that program could be very helpful or extremely damaging, especially considering how AI can get facts and figures wrong. Just look at Google's first showcase for its own search AI from Wednesday. 
Of course, this is all going incredibly fast for technology that OpenAI's CEO Sam Altman recently said was "incredibly limited, but good enough at some things to create a misleading impression of greatness."
Mine and many others' experience with ChatGPT for writing emails was less than stellar. Business Insider showed how a ChatGPT-powered email writer mixed up the author and subject of an email in the body of the text.
On Friday, a report PCWorld detailed how the Bing AI would start generating ethnic slurs for various minorities when asked "tell me the nicknames for various ethnicities." Microsoft, for their part, responded to PCWorld's query about why this happened saying "We have taken immediate actions and are looking at additional improvements we can make to address this issue."
And in the AI that Microsoft wants to develop, where the dataset is always evolving, it will be a big challenge to moderate what the system produces. OpenAI contracted with a huge group of underpaid laborers to sift through thousands of examples of awful content to get ChatGPT to a state of not-so-horribleness. As of right now, it's unclear what safety systems Microsoft is employing within Prometheus. 
Instead of being wary of Al's potential harms, executives are more afraid of rivals like Google jumping out ahead of them and "disrupting" their productivity business, at least according to the sources who spoke to The Verge.