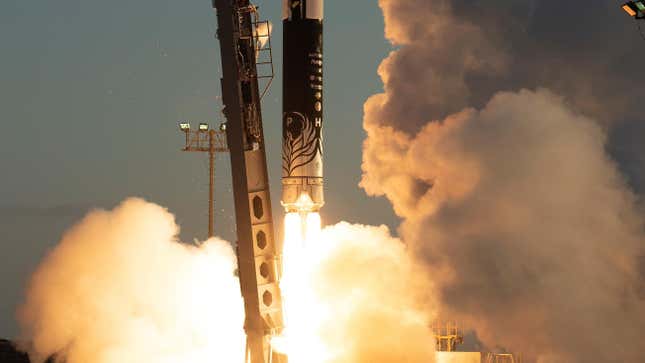 The U.S. Space Force has submitted a budget for the upcoming fiscal year, and in it the military branch is asking for $60 million over the next two years for tactically responsive space, which could see Space Force partners launching satellites within a 24 hour window.

Astronomers Could Soon Get Warnings When SpaceX Satellites Threaten Their View
Congress tasked the Department of Defense with planning for tactically responsive space in August 2021, and Space News points out, this is the first time the Defense Department's budget has specifically requested funding for specific initiative. Earlier funding came from congressional add-ons, but now the DoD is asking for $30 million in the 2024 fiscal year and another $30 million in the 2025 fiscal year.
The term "tactically responsive space" is fancy defense parlance that describes the ability to launch stuff to space in a mad rush. It's not something we can really do right now, as it typically takes months, if not years, to organize launches. Space Force wants its strategic partners to launch satellites with a quick turnaround time, ideally less than 24 hours after receiving the green light.
The motivation behind the initiative is the need to quickly replace lost satellites, including, for example, those that are shot down by enemy forces during war time. Both Russia and China are reportedly developing this capacity. Another key opportunity for tactically responsive space includes the bolstering of pre-existing satellite constellations for reconnaissance. The Pentagon first expressed a desire for tactically responsive space as early as 2019, but the idea itself has been around since 2005.
In 2021, Space Force first demonstrated tactically responsive space when the branch launched the Tactically Responsive Launch-2 mission with a Northrop Grumman Pegasus XL rocket. An upcoming mission called Victus Nox, which is Latin for "conquer the night," has the goal of yet again demonstrating tactically responsive space.

In September of 2022, Space Force awarded launch services company Firefly Aerospace and satellite manufacturer Millennium Space Systems a contract for Victus Nox, also know as Tactically Responsive Launch-3. The mission could happen in May, and when given the go-ahead, Firefly Aerospace will have 24 hours to launch a payload into space using its Alpha rocket.
For more spaceflight in your life, follow us on Twitter and bookmark Gizmodo's dedicated Spaceflight page.