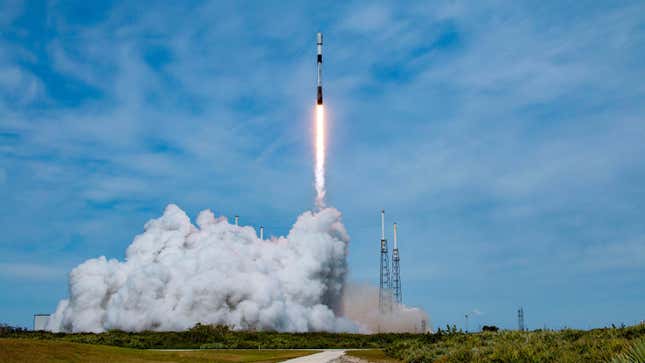 SpaceX's Falcon 9 rocket delivered 21 Starlink V2 Minis to orbit on Wednesday, launching the company's second batch of next-generation satellites shortly after the inaugural batch ran into some trouble.

Astronomers Could Soon Get Warnings When SpaceX Satellites Threaten Their View
Falcon 9 launched at 10:31 a.m. ET from Space Launch Complex 40 at Florida's Cape Canaveral Space Force Station. The rocket was originally scheduled to launch at 9:47 a.m. ET but its liftoff was pushed back for undisclosed reasons. "All systems still looking good," SpaceX wrote in an update on Twitter.
About an hour after launch, SpaceX confirmed that the 21 Starlink satellites had been deployed. The V2 Mini satellites are miniaturized versions of SpaceX's next-generation Starlink satellites, redesigned to fit inside a Falcon 9 rocket while their full-sized counterparts are set to launch on board the heavy-lift Starship rocket. As it awaits Starship's debut flight, which could happen on Thursday, SpaceX designed the V2 Minis as a way to fill the gap as demand increases on its internet constellation.
SpaceX launched the first batch of the V2 Minis on February 27, sending 21 satellites to orbit. Shortly after they got there, however, the V2 Minis were not doing so well as a number of them descended instead of rising to their designated spots. SpaceX CEO Elon Musk took to Twitter to clarify that the satellites were "experiencing some issues" and that some of them will be deorbited while others would still be tested.
On April 3, a V2 Mini satellite was deorbited and reentered Earth's atmosphere at 4:50 a.m. ET off the coast of California. That seemingly has not deterred SpaceX from launching a second batch of the V2 Minis to orbit, although it's not yet clear whether they have addressed the issues with the first batch, nor has SpaceX clarified what went wrong.
SpaceX is not known for being patient with its trial-and error-phases, so today's launch of an additional 21 satellites feels pretty on brand. We'll have to wait and see how these new mini satellites fare in orbit.
Want to know more about Elon Musk's space venture? Check out our full coverage of SpaceX's Starship megarocket and the SpaceX Starlink internet satellite megaconstellation. And for more spaceflight in your life, follow us on Twitter and bookmark Gizmodo's dedicated Spaceflight page.