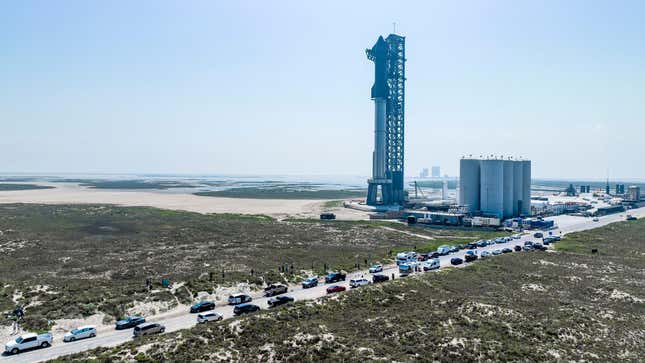 On Monday, a pesky valve is all that came between SpaceX and the maiden flight of its Starship megarocket. The company is now targeting Thursday morning for a mission that CEO Elon Musk predicts has a 50/50 chance of succeeding.

Astronomers Could Soon Get Warnings When SpaceX Satellites Threaten Their View
SpaceX originally said it required 48 hours to "recycle" the rocket in preparation for the second launch attempt but later revised that figure to 72 hours. That 24-hour bump conveniently sets the stage for a potential launch on 4/20—a cherished date in Musk's calendar.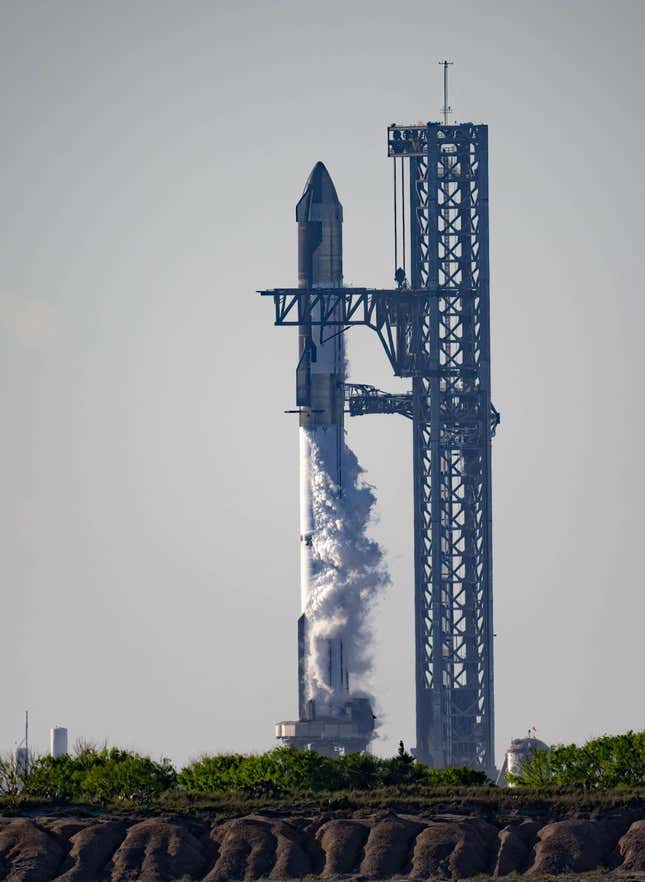 SpaceX will commence with its live broadcast of the second Starship launch attempt at 8:45 a.m. ET on Thursday morning. The 62-minute launch window opens at 9:28 a.m. ET and closes at 10:30 a.m. ET, according to the company's Starship launch page. We'll set up a watch page tomorrow that will include SpaceX's broadcast and a selection of third-party live streams.
The team called off Monday's launch attempt with roughly nine minutes left in the countdown clock. Musk said a frozen valve caused pressurization issues in the Super Heavy booster, forcing the scrub. Aside from that, launch preparations appeared to go smoothly at SpaceX's Starbase facility in Boca Chica, Texas. Hopefully SpaceX will have resolved the valve problem by Thursday and the weather in south Texas will continue to cooperate.
For the inaugural launch of Starship, the 394-foot-tall (120-meter) megarocket will attempt to complete a partial orbit of Earth, in a mission that's expected to last for 90 minutes. The Super Heavy booster will fall into the Gulf of Mexico some eight minutes after taking flight, while the Starship upper stage will reach an orbital altitude and travel as far as Hawaii, ending with a violent splash down in the Pacific Ocean roughly 62 miles (100 km) northwest of Kauai.
It's a critically important first test of the fully integrated rocket, which SpaceX will use to transport crews, spacecraft, satellites, and cargo to various locations in the solar system. NASA needs the rocket as well, as the upper stage is slated to serve as the Human Landing System for the Artemis 3 and Artemis 4 missions scheduled for later this decade. The two-stage megarocket, with a booster powered by 33 Raptor 2 engines, will exert an estimated 16.5 million pounds of thrust at liftoff and feature a payload compartment bigger than any fairing currently in operation, according to the company.
In March, Musk said Starship has a 50% chance of succeeding on its first mission. This is hardly new territory for SpaceX, a company that takes an iterative approach to product development. Success or failure, SpaceX will learn from this mission and apply the relevant findings in the never-ending effort to create more reliable and increasingly efficient launch vehicles.
Want to know more about Elon Musk's space venture? Check out our full coverage of SpaceX's Starship megarocket and the SpaceX Starlink internet satellite megaconstellation. And for more spaceflight in your life, follow us on Twitter and bookmark Gizmodo's dedicated Spaceflight page.