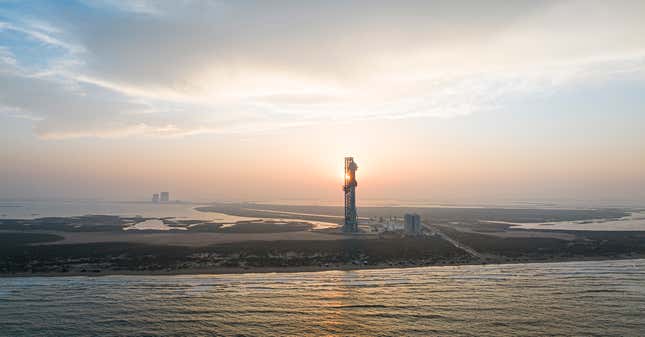 Everything was looking so good today, until it wasn't. Ground controllers announced the scrub with roughly 11 minutes left in the countdown clock, with a pressurization issue associated with the SpaceX Super Heavy booster to blame. The company says it will likely re-attempt a launch of its Starship megarocket later this week.
Astronomers Could Soon Get Warnings When SpaceX Satellites Threaten Their View
A frozen pressurant valve in the booster was all that came between SpaceX and the first launch of its fully integrated Starship rocket. As it takes a minimum of 48 hours to "recycle" the rocket, a re-attempt won't happen any earlier than Wednesday. Thankfully, the weather looks good for that day and the remainder of the week. Weather conditions aside, SpaceX will have to resolve the valve issue in order to proceed.
Today's launch attempt could hardly be considered a waste. Practice makes perfect, as the saying goes, prompting mission managers to quickly transition the attempt to a full wet dress rehearsal, whereby ground teams kept going with launch procedures and preparations until the clock reached T-minus 40 seconds. The huge Starship rocket is currently standing at the company's launch and catch tower in Boca Chica, Texas.
The frozen valve appears to have been the only glitch experienced during today's launch attempt. Propellant loading was delayed by 20 minutes, pushing the launch attempt to 8:20 a.m. CT (9:20 a.m. ET). Aside from that, the steady loading of cryogenic liquid methane and liquid oxygen proceeded without interruption once things got rolling. The scrub is disappointing, but it's the closest that SpaceX has come to launching Starship, the vehicle that will be the foundation for the company's aspirations in deep space.
On Friday, the Federal Aviation Administration cleared SpaceX to launch its 394-foot-tall (120-meter) megarocket, setting the stage for Monday's launch attempt. "The FAA is responsible for protecting the public during commercial space transportation launch and reentry operations," the agency explained in an emailed statement. "We carefully analyzed the public safety risks during every stage of the mission and required SpaceX to mitigate those risks."
A second launch attempt on either Wednesday or Thursday is highly likely, the latter being, ahem, 4/20—a favorite date of Elon Musk. SpaceX is eager to enter into the next phase of Starship testing, with the fully integrated rocket performing actual flights. For this first test, SpaceX will attempt a 90-minute mission, in which the booster will fall into the Gulf of Mexico and the Starship upper stage will travel as far as Hawaii before plunging into the Pacific Ocean. Starship won't quite go orbital, but perhaps orbital-ish.
With an estimated 16.5 million pounds of thrust at liftoff, Starship will become the most powerful rocket ever built, surpassing NASA's Space Launch System (SLS) rocket, which debuted in November 2022 with 8.8 million pounds of thrust. Starship's power and record-setting cargo capacity will make it possible for SpaceX and paying customers to launch unprecedented payloads to space, thereby allowing for entirely new kinds of space missions. That both the Super Heavy booster and Starship upper stage are fully reusable is yet another feature that will distinguish this rocket from anything that has come before.
SpaceX has big plans for Starship, whether it be to deploy Starlink satellites to low Earth orbit or shuttle passengers to Mars, but NASA also wants in on the action; SpaceX is currently under contract with the space agency to develop Starship as a human landing system for upcoming crewed Artemis missions to the Moon.
Want to know more about Elon Musk's space venture? Check out our full coverage of SpaceX's Starship megarocket and the SpaceX Starlink internet satellite megaconstellation. And for more spaceflight in your life, follow us on Twitter and bookmark Gizmodo's dedicated Spaceflight page.