Sphero's Force Band accessory has come a long way since it was first revealed at CES back in January. But now that the design and feature list has been finalized, calling it an accessory doesn't do the wearable justice. It can do a lot more than just control the Sphero BB-8 toy, even if you don't have a tiny droid.
At CES only an early prototype of the Force Band was demo'd, and in February we got a better idea of what the wearable would look like when it hit stores. The finalized version is even cooler with a weathered finish that looks right at home in the Star Wars universe.
The Force Band's adjustable nylon strap uses a patch of velcro to maintain its size. But so you don't have to re-adjust it every time you put the Force Band on or take it off, the wearable also features an additional magnetic latching mechanism that makes it easier to secure, but is strong enough to ensure it doesn't go flying off your wrist.
G/O Media may get a commission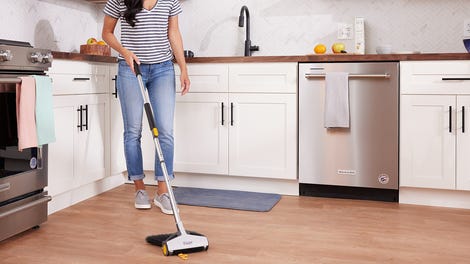 BOGO 50% Off
Flippr - BOGO 50% Off
In addition to being able to steer BB-8 by simply moving your wrist, you can also send the droid scurrying away, or summon it back to you, using Force-like gestures. It's incredibly satisfying, especially if you've spent a lifetime only imagining what it would be like to wield the Force. The Force Band can be used to control Sphero's other products, like the SPRK or Ollie, but it also has standalone functionality if you don't already own any of those toys.
There's a mode that has the wearer feeling around for collectible holocrons, relying on the Force Band's haptic feedback to determine where they are, that then unlocks additional functionality in the app. But most interesting is the Force Band's Combat Training Mode which allows the wearer to wield imaginary weapons like blasters and lightsabers with sound effects triggered by specific movements and gestures. Which should make your old flashlight lightsaber much cooler than it used to be.
Best of all, we now know when we can get our hands on the Force Band. It will be available starting on September 30 at stores like Best Buy, Amazon, The Disney Store, and the Apple Store for $80. And if you don't already have a Sphero BB-8, or want a version that more closely resembles the droid seen in The Force Awakens, you can also get the Force Band bundled with the Special Edition battle-damaged BB-8 for $200.
[Sphero]