The best promotional image for Spider-Man: Homecoming was the result of a happy accident. In fact, Tom Holland didn't even know he was being photographed for it. Because he was asleep.
Turns out, that famous teaser poster featuring Spider-Man lounging in front of a New York skyline is a picture of Tom Holland napping between takes. On the road to promote Homecoming for international release, Holland told the story, saying:
Interesting story about that poster is that is actually me asleep. That's not part of the movie, that's me in-between takes asleep. We were shooting this scene and I was just really tired that day, and I was just asleep on the floor, and the photographer took a picture. So when they made that the poster, I was like 'What! What the hell, guys!'
Spider-Man: Homecoming had an image problem when it was first announced. It desperately needed to distance itself from the other Spider-Man reboot that preceded it and make it clear that this wasn't just going to be another origin story. This teaser poster did that fabulously. That young, new Spidey just chillin', lounging near the water. Probably listening to Animal Collective or something.
Knowing that Tom was literally asleep definitely changes the poster a little bit, though, huh? Fighting crime is exhausting. Someone get that boy a pillow.
G/O Media may get a commission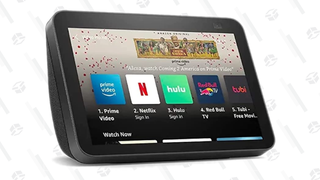 You can watch the video below, courtesy of Instagram user therealspideyman.