Spring Design's Alex, the $399 not-necessarily-a-Nook dual-screened Android ebook reader, is available for pre-order now, ships April 14, and will be in Borders and Books-A-Million stores this June. A 3G version's on the way, too, but don't hold your breath.
We got our review unit in just yesterday, and I'll be testing it this week, but Spring Design's new pre-order page is just now going live. When I talked to Eric Kmiec, VP of sales and marketing, he mentioned that a 3G version might be released this summer. The hardware is not the issue; the trouble is that, since this would effectively be an Android tablet with full web access, it's going to require more than a Kindle-type 3G plan. So carrier negotiations and internal debates about how to charge customers ensue. (Hint: It might actually require a data plan.)
But even as we wait for that inevitable better (and costlier) version, this Alex here has some interesting pedigree. Spring Design is the baby sister of HTC. As HTC is intimate with both Google and the Android OS, this has some positive implications, but it also means the Alex has a lot to live up to—it's not just some ebook reader.
Since it's got no 3G—strictly wi-fi only—Google doesn't bless it with the official Android app package, but it's running Android 1.5 Cupcake. I hear tell it can run any .apk file, so I will be dropping some Android Packages on this baby in the days to come.
G/O Media may get a commission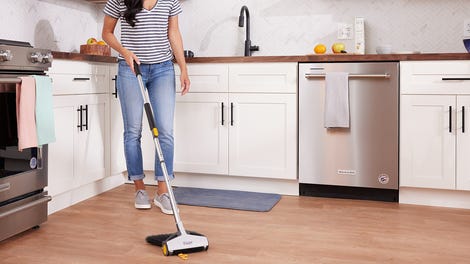 BOGO 50% Off
Flippr - BOGO 50% Off
Both the Nook and the Alex claim Android roots, but Alex already lets the user in on more of the Android goodness than the Nook. It's also got a much bigger LCD than the Nook, and at first touch, has generally quicker response too. We'll see how the whole drama plays out soon enough. In the meantime, there should be a new pre-order page going live at Spring's website, if you suddenly find yourself with an extra $400 you categorically refuse to put towards an iPad. [Spring Design]