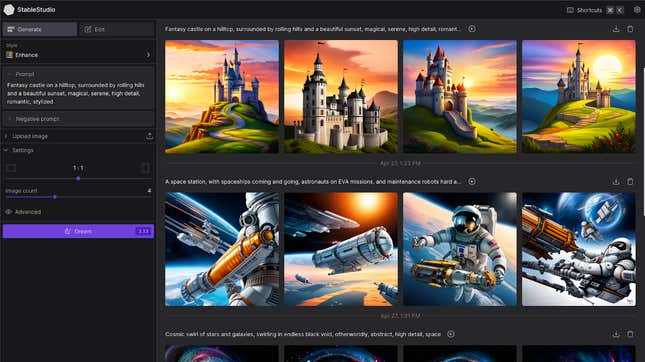 Despite the expanding cost of Artificial Intelligence and increasingly business-minded implementation of AI, Stability AI has continued to hitch its car on the "open source" train, for better or worse. Now the company is expanding its offerings with a platform that's supposed to host all its generative AI models.
Generating Video Via Text? | Future Tech
On Wednesday, the company officially announced the release of its StableStudio platform. Essentially, this platform is an "open source" rendition of the company's current DreamStudio that uses the Stable Diffusion AI image generator. The new platform allows use of the company's latest Stable Diffusion XL image generator and its currently limited language model called StableLM. The company said it is still working on a version of its StableVicuna chat interface for StableLM, which it will eventually add to StableStudio. 
"We believe the best way to expand upon that impressive reach is through open, community-driven development, rather than private iteration on a closed-source product," the company wrote in its release. The end goal, according to Stability AI, is to create an AI interface for users to "fully control." DreamStudio will remain the company's own internal implementation of its AI models.
The ongoing contention between major tech companies like Google and Microsoft and the wider development community continues to be access and AI limitations. One senior Google engineer recently brought this point to a head by claiming that open source models are "faster, more customizable, more private, and pound-for-pound more capable."
Smaller companies have been more able to draw on, then monetize community content. Last Friday, OpenAI, the developer of ChatGPT and DALL-E, announced it was adding support for multiple community-made plugins for ChatGPT Plus subscribers. These allow for the chatbot to connect to the web, which has been a major sticking point for multiple language models. Stability AI also announced its own plugins repository for Stable Studio. The developer is hoping the community will add desktop installation features and web connectivity as well.
Still, Stability AI has tried to split the difference between making money as a major AI developer and keeping true to its stated open-armed stance to AI. The company was criticized last year for allowing its AI image generator to create NSFW content and porn, but after Stability AI finally changed its model to censor such content, fans of the open source AI model complained about the new limitations.
Stability AI CEO Emad Mostaque has said that the company's business model includes "commercially licensed" products like their ongoing partnership with Amazon through Amazon Web Services as well as their "benchmark open source" AI models based on open data. Stability AI wants to raise enough funds toward a $4 billion valuation, according to a report from Fortune. Getting there will require relying on its big corporate partnerships and the generosity of venture capitalists rather than the word of mouth from the relatively small and insular AI development community.
---
Want to know more about AI, chatbots, and the future of machine learning? Check out our full coverage of artificial intelligence, or browse our guides to The Best Free AI Art Generators, The Best ChatGPT Alternatives, and Everything We Know About OpenAI's ChatGPT.