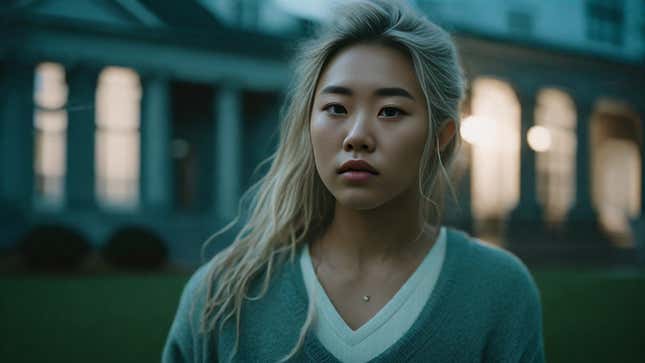 As more companies realize it costs quite a bit to create generative AI content, we may be coming to the end of free, open source AI models. One of the biggest companies that once proclaimed open source from the rooftops to all that would hear is quickly trying to sell a bigger, badder, more deep fake-capable AI model to any person with deep pockets (AKA businesses) willing to pay for it.
Maybe AI-Written Scripts are a Bad Idea?
On Thursday, Stability AI announced a new version of its open source software called Stable Diffusion XL. Why use the Magic Mike vocabulary? Because the company said this newest version of its image generator uses 2.3 billion parameters, far more than the company's Stable Diffusion V2.1's 900 million. Stability AI engineering VP Scott Draves told VentureBeat that the new version is an improvement on Stable Diffusion 2.1, but shouldn't be called 3.0, at least not yet.
One of the big headline capabilities of this new model is that it "excels at photorealism" with faces and image composition. The company said users can use less detailed prompts to create more high-quality AI images at 512x512 resolution. The company is promoting it can handle notoriously difficult parts of images like natural text and hands. After users create an image, SDXL users can use the company's Dream Studio product to modify them with further AI-based editing tools. Stability AI is also advertising companies can integrate SDXL into their own products through its API. Dream Studio users should also have access to the bigger AI model.
SDXL is only in beta, and its limited availability makes it hard to compare it to other newer versions of generative AI like Midjourney V5. The competing AI image generator also recently shut down free access to its Discord-based diffusion model, citing "extraordinary demand and trial abuse." Midjourney CEO David Holz said the company would add back its free trial system after the company deploys its "next improvements to the system."
Beyond OpenAI's DALL-E 2 AI image generator, Stability AI's Stable Diffusion open source model was the next big thing to throw generative AI into the mainstream. It was also routinely cited for being so free form users could create non-consensual porn and biased images before 2.0 added more roadblocks. That's not to mention how its training data scraped up millions of images from the internet, leading to lawsuits from artists and from stock photo company Getty Images.
Stability AI seems to be going full force for new corporate partnerships. On Thursday, Amazon said Stable Diffusion is one of the few models available for Amazon Web Services new AI integration. The company promised SDXL will get an open source release "in the near future."
Last week, Semafor reported Stability AI was struggling financially even after it received a massive $100 million investment last year. It's burned through most of that cash, and other venture firms are considering backing out of putting in more investment, according to anonymous sources at the investment firms cited by the report.
Emad Mostaque, a former hedge fund manager who helped found Stability AI, is one of the biggest online proponents for open source development of generative AI. He's made it clear in multiple tweets and interviews that he's a bull for any and all AI development.
Yet AI development is incredibly expensive and resource intensive, and according to Semafor's report Mostaque has been internally criticized for his open approach to allowing AI researchers expensive server time. The CEO reportedly intends to stay in his position, but the company may be looking to hire another executive willing to actually focus on making money. As the company hopes to raise funds to a $4 billion valuation, time will tell if it can hold on to its ideals and still make enough money to survive.
Want to know more about AI, chatbots, and the future of machine learning? Check out our full coverage of artificial intelligence, or browse our guides to The Best Free AI Art Generators, The Best ChatGPT Alternatives, and Everything We Know About OpenAI's ChatGPT.