The first trailer for the next season of Star Trek: Discovery looked surprisingly fun—especially when compared to the often-fatally bleak first season. It was full of cute jokes, great character moments, and late-1990s rock jams. So, where did this newfound levity come from? According to the showrunner, you can thank the first Star Trek TV series for that.

During a press conference for Star Trek: Discovery, io9 asked showrunner Alex Kurtzman how they're balancing the look and feel of Discovery's debut with the first season of The Original Series, which feels like a huge departure from the grittier, more modern Trek franchises. How can they blend these two shows that are so tonally dissonant from each other? Turns out, by softening Discovery's hard edges a bit. Kurtzman said the addition of Captain Christopher Pike and the first Enterprise crew—which will include Rebecca Romijn as Number One—is just one of the ways this season of Discovery will not only have more levity than before, but also some much-needed interpersonal bonding.
I feel like tonally it's probably a more buoyant season. Even those there are some episodes that are very very serious and intense, I think you'll see in the first episode that there's more balance between some of the humor that you'd see on TOS and the high stakes of the more modern versions of Trek.

I think obviously, last season was about war. And it's tough to really stuff down and have a whole lot of humor when the stakes are so high, life and death is really what they're dealing with every day... Tonally now, we've gotten to a place where the crew has more—even though the stakes are still high—there's more downtime in the moments, which allows for more humor, which allows for a slower onion layer pulling open of character and the details of their own relationships.
A lot of these changes to the series are tied to Anson Mount joining the cast as Captain Christopher Pike, who will be taking command of Discovery to surveil a mysterious threat. Kurtzman said Pike is "the opposite of Lorca," in that he's a captain who's authoritative but kind, and he will apologize when he's wrong. Of course, Pike isn't just a character on Discovery, he's a Star Trek icon, the franchise's very first captain, even before Kirk. That's a lot to live up to. During the press conference, Mount discussed the challenges of creating a character who was not only based on the classic character, but to Star Trek creator Gene Roddenberry's vision of what he wanted Starfleet to be.
"Pike was the original, Roddenberry's original face of Starfleet, so I only knew there was a tremendous optimism to this person and a good heart," Mount said. "I'm really enjoying playing a character I like as a person."
G/O Media may get a commission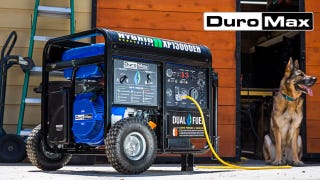 Black Friday Sale
DuroMax Generator Sale
The first season of Discovery may have had its hiccups, stumbles, and all-around bad choices, but the second season is clearly trying to move things in a better direction. For example, Wilson Cruz is coming back as Chief Medical Officer Hugh Culber, even though he was killed during the first season. Cruz wouldn't say why or how his character is coming back, but Anthony Rapp, who plays Lt. Stamets, hinted that it may have something to do with mycelium, as most things do on the show. Here's hoping the Original Series leaves a lasting mark on a series that could use a good laugh now and then. Star Trek: Discovery returns with its Lenny Kravitz-filled second season—on CBS All Access in the US and Netflix internationally—in early 2019.