It's been seven years since Star Trek went off television, but the Star Trek alumni still own your television screens. If there's a television show rocking your world or challenging your preconceptions, chances are there's a former Trek producer in the mix somewhere. Or someone who learned from a Trek producer.
This is why we're excited when we see someone like Robert Hewitt Wolfe signed up to create a new space opera show. Star Trek has nurtured generations of great creators, like nothing else on television. Here are all the people who've learned their craft inside the vessel that Gene Roddenberry built.
It's kind of eerie sometimes, to look at how many people creating strange new worlds on television came out of Star Trek. You start to notice, after a while, that there's like an Old Trekkies Club in the industry. Partly, it's that Trek was always open to hiring newcomers, right from the beginning. (For years, TNG and its successors were the only shows that would accept over-the-transom spec scripts.) Partly, it's that Trek was like a crash course in making good, challenging television without cutting narrative corners. And even in its lazy final years, Star Trek always tried to do things that no other series would even think of doing.
There are plenty of reasons to hope we eventually get a new Star Trek TV show, including the lack of good space action on television nowadays. But one of the big reasons is that Star Trek has always nurtured creators who went on to help transform other television shows afterwards.
G/O Media may get a commission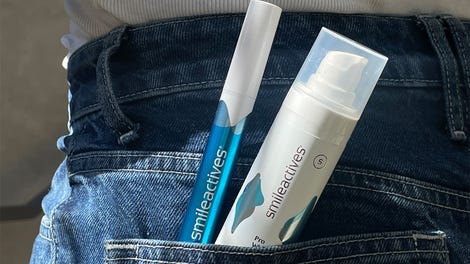 58% off
Whitening Powerhouse Pen & Gel Duo
Even leaving aside all of the great authors who wrote Star Trek tie-in books — including Vonda McIntyre, John M. Ford, Greg Cox, Diane Duane and David Mack — there are tons of creators who learned their craft from working on the television shows. Here are some of them (mostly writers, but a few others, too):
Majel Barrett-Roddenberry
The wife of the show's creator had an unimaginable impact on Trek — playing Number One in the pilot, Nurse Chapel in the Original Series, Lwaxana Troi in TNG and the voice of the computer in every version. But she also worked on Gene Roddenberry's 1973 Genesis II pilot, Babylon 5, and did a bunch of other cameos and voice work. And after Gene Roddenberry passed away, Barrett-Roddenberry saw her late husband's unfinished projects to fruition, serving as executive producer for both Earth: Final Conflict and Andromeda.
D.C. Fontana
Dorothy Catherine "D. C." Fontana started out as Gene Roddenberry's secretary, but started writing for TOS from the outset, establishing herself as a capable screenwriter in her own right. After scripting such episodes as "Tomorrow Is Yesterday", "Friday's Child", "Journey to Babel", "This Side of Paradise", and "The Enterprise Incident", she wrote for The Six Million Dollar Man, the film Logan's Run, Babylon 5, the groundbreaking CGI ReBoot, and Rodenberry's unfinished Earth: Final Conflict.
David Gerrold
Original Star Trek had plenty of successful SF authors writing for it, from Norman Spinrad to Harlan Ellison to Theodore Sturgeon to Richard Matheson. And then there was Gerrold, who was a college student when he submitted a script to TOS out of nowhere. He was afterwards hired as a writer for TOS, and considerably fleshed out the Star Trek universe, to the point where he was offered payment for establishing the setting of TNG. After Star Trek, he also wrote for Land of the Lost, Twilight Zone, Logan's Run and Babylon 5. Gerrold is also a prolific novelist, and penned The Man Who Folded Himself, the Hugo- and Nebula-nominated When HARLIE Was One, the Chtorr novels, and "The Martian Child", a novelette that won him the Hugo and the Nebula.
Walter Koenig
The Chekov actor became the first Star Trek actor to write for the show, with the animated episode "The Infinite Vulcan." He then went on to write episodes of Land of the Lost and The Powers of Matthew Star, and then became a playwright and also wrote the critically acclaimed movie InAlienable. He's also been a prolific actor in genre works, including a recurring role in Babylon 5.
Ronald D. Moore
Legend has it Moore first infiltrated the TNG set when he was dating a someone in the production crew. During a tour of the set, he managed to slip the producers a written script that eventually became the TNG episode "The Bonding". Before long, Moore became a staff writer and remained so for the remainder of TNG. With Brannon Braga, he wrote the TNG feature films Generations and First Contact, as well as the TNG finale "All Good Things". He then hopped on over to DS9, first as a supervising producer, and then co-executive producer. During this period, Moore wrote 30 episodes for DS9. However, Moore famously quit the franchise when working on Voyager. He moved on to write for new series such as Roswell, the reimagined Battlestar Galactica, and its spinoff, Caprica. He made his directorial debut during BSG's fourth season. As we've noted before, everything that was cool about BSG was building on DS9.
Brannon Braga
Braga began working with Star Trek as a writer for The Next Generation, eventually becoming a co-producer by the series' conclusion. He became known for writing the mind-bending "reality is melting" style episodes of TNG, including some of the show's most memorable hours. After TNG, he joined the Voyager creative team as a producer, and started running the show after Jeri Taylor's departure. After Voyager, Braga created Star Trek: Enterprise with Rick Bergman, and ran the show for the first three seasons. After Enterprise's demise, he developed an original series for CBS called Threshold, which was quickly cancelled despite some positive critical response. He was an executive producer and writer for the hugely popular 24, but returned to SF with FlashForward and Terra Nova. Braga told StarTrek.com:
I really owe everything to Michael [Piller]. I learned so much of what I know today about this craft from him and the other people on staff. I had an eight-week internship and basically it just never ended.
Robert Hewitt Wolfe
Wolfe's career was off to a slow start until he submitted a screenplay to The Next Generation: "A Fistful of Datas." The well-received story earned him a creative job for DS9, where he wrote over 30 episodes over the next five years. After leaving Star Trek, Wolfe wrote the script for the 1998 TV movie Future Sport. In 1999, Wolfe pieced together Andromeda from an idea developed by Gene Roddenberry. Though Wolfe was only head writer for the two first Saturn-nominated seasons, the show enjoyed a 5-year run and almost managed a spinoff. After Andromeda, Wolfe wrote alongside DS9 alums Michael Piller for The Dead Zone, and Ira Steven Behr for The Twilight Zone and The 4400, the latter for which he also served as consulting producer. In 2007, Wolfe developed The Dresden Files, an urban fantasy based on the books by Jim Butcher. He's now producing Alphas and developing the new show Defender.
Jonathan Frakes
One of the cool things about 1990s Trek is that it gave a lot of the actors the chance to direct and stretch their wings. That's how we got Jonathan Frakes' directing career, which included the lamentable Clockstoppers but also a ton of Roswell episodes and one of the best episodes of Joss Whedon's Dollhouse.
Ira Steven Behr
The purple-bearded Behr joined The Next Generation as a producer during the show's third season. While this first stint only lasted a year, he would later return to the franchise to produce, and eventually helm Deep Space Nine. He also has the distinction of being DS9's most prolific writer, having written 53 episodes in total. When DS9 ended in 1999, Behr moved on to other loved, but often ill-fated, television projects. He was a consulting producer for James Cameron's Dark Angel, and executive producer/writer for the 2002 Forest Whitaker-narrated revival of Twilight Zone. From 2004 to 2007, Behr was executive producer for The 4400, and oversaw the first season of SyFy's Alphas as head writer, show runner, and executive producer. Check out the above video where Behr calls Trek "one of those really rare experiences" where he had unusual amounts of creative freedom.
Jane Espenson
Nowadays, we know Espenson as a prolific contributor to every Joss Whedon show, plus Battlestar Galactica, Caprica, Once Upon a Time and Game of Thrones. (Her GoT episode stands out as one of season one's major highlights, especially the "turtle stew" scene.) But she was a struggling grad student, studying linguistics and computer science, when she started writing Star Trek: The Next Generation spec scripts. She tells Space Westerns:
I was in grad school when I learned you could submit scripts to Star Trek: The Next Generation without having to have an agent as intermediary. I submitted three spec episodes of Star Trek: The Next Generation and was invited in to pitch episode ideas... I was already a huge fan of the show and of the genre in general. I love metaphorical storytelling, which is at the heart of scifi - this is our world, but looked at through a lens.
She pitched to TNG regularly, and finally contributed one story to Deep Space Nine.
Hans Beimler
Beimler had written for a few things in the late 1980s, before he joined the TNG writing staff — but after a stint on TNG, he started writing for a lot more science fiction shows, from TekWar to The Chronicle to The Middleman. (He wrote "The Cursed Tuba Contingency.") He also came back to Trek to become one of the driving forces behind the final seasons of DS9, including co-writing the series finale, "What You Leave Behind."
Bryan Fuller
Star Trek: Voyager was "my first job as a professional writer in Hollywood," as Fuller explains in the interview at left, and leaving Voyager was "like a high school graduation for me.... it was an education as well as a professional experience." He worked on Voyager for four years, before going on to create many of your favorite shows. He worked on Dead Like Me, and then created Wonderfalls and Pushing Daisies. And now he's creating the Munsters reboot, Mockingbird Lane. Thanks to Banjax for the reminder!
René Echevarria
Yet another writer who started out on TNG and then became a producer of DS9, before becoming a genre TV regular. Most notably, he was the co-creator of The 4400 with Scott Peters. He also worked on Dark Angel, Teen Wolf and Castle, before becoming one of the executive producers of Terra Nova.
Robert Duncan McNeil
Another Trek actor who became a director/producer — and if you were a fan of Chuck, then you're a fan of the former Tom Paris' work. We interviewed McNeil a couple years ago, and he talked about how working on Star Trek taught him about mixing comedy with drama, plus how to do a whole range of different types of stories within one show.
Naren Shankar
Another writer who started out on TNG and did a stint on DS9, before moving on to a number of other shows. He wrote for Farscape, including "Liars, Guns and Money Part 2," and also was a staffer on The Chronicle, The Outer Limits, and CSI. And now he's working on Grimm, having written three episodes already. Thanks to Javi for reminding us!
Lisa Klink
One of the most prolific Voyager writers, she went on to work on Earth: Final Conflict, Hercules: The Legendary Journeys, Buzz Lightyear of Star Command and Roswell, and then wrote a lot of Syfy's short-lived Painkiller Jane series.
Sources: IMDB, Memory Alpha.