Star Trek may actually be the sexiest TV show ever, thanks to Spock's repressed passion, shirtless Sulu and Kirk, green women, beehive hairdos, miniskirts and metal bikinis. So I'm sad that yet another Trek porn vid feels... ordinary. Warning: NSFW!
Hustler put out This Ain't Star Trek XXX as a tie-in to J.J. Abrams' reimagining of the classic series. And the movie does boast an impressive cast, including Sasha Grey (The Girlfriend Experience) as a random Vulcan and Evan Stone as Captain Kirk. There are moments of inspired silliness, and the sets and costumes are top notch. But in the end, this is probably the least interesting Star Trek porno I've seen.
And because I'm a bit of a masochist, I've seen them all. Star Trek porn has a long and demented history, as you'll know if you read our exhaustive roundup, but there seem to be a few constants:
G/O Media may get a commission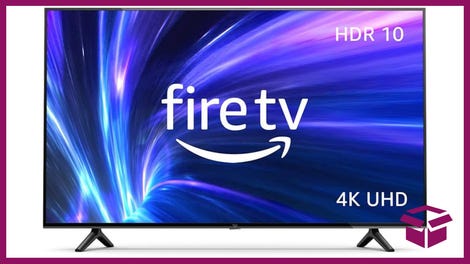 42% Off
Amazon Fire TV 50" 4K Smart TV
It's always about the original series crew for some reason
it's always kind of silly, since the porn producers are relying on a "parody" loophole to make Trek porn without getting sued
It always features a Spock who's skeevy and/or unsexy.
This Ain't Star Trek XXX hews pretty closely to these three laws of Trek porn.

So following in the footsteps of past Trek porn vids, which spoofed the plots of "The Man Trap," "Charley X," "Where No Man Has Gone Before," and even "Spock's Brain" (this time, they steal Spock's cock), Trek XXX is somewhat based on the episode "Space Seed," where we first meet Khan Noonien Singh. The Enterprise finds Khan in suspended animation and brings him on board, where he starts to impress his will (and in this version, a lot more) on an impressionable young lieutenant named Marla. (We even get all the stuff where he asks her why she wears her hair in an uncomplimentary fashion and helps her take her hair down, in one of the movie's moments of true sexiness.)
And of course, Khan's plan for taking over the Enterprise requires everybody on board to have lots of vigorous porno-style sex (including reverse-cowgirl... in space!) in order to survive.
That's the main problem with this movie, of course: it's way more of a formulaic porn video than any other Trek vids I've seen before. The non-porno scenes are basically little interludes to set up the action, before we move on to the ritualistic sex acts today's porn consumers expect, in exactly the right order: sucking first, then intercourse, then cumshot. There's not much playfulness or fun about it, once the sex starts. It's just sort of business-like, and actually detracts from the camp value of the overall spoof.
The other big problem, though, is Spock. As I mentioned, every porn video based on the franchise I've ever seen has featured a supremely unattractive actor playing Spock, and this is by no means an exception. The sexiest character in Trek somehow comes out as a damp squib, with no charisma or passion. This is especially sad when Zachary Quinto has just brought Spock's sexiness front and center again.
Of course, it would be hard to make Spock sexy in a porn video, since a big part of his appeal is the fact that he's got a cauldron of hot passion just underneath his dispassionate surface, and he struggles to keep the lid on. In a porn vid, of course, there's never any struggle against sexual passion, because the viewer (supposedly) just wants to see the characters get down to business. But I still think you could have a porn-Spock who brought that sense of smoldering desire, finally unleashed, to his performance. Instead, Tony De Sergio gives us a Spock who manages to act bored the whole time he's having sex. He literally keeps saying "fasinating" and "highly illogical" in a detached voice while he's getting it on. I can't imagine anybody thinking that was sexy.

On the flipside, Sasha Grey really is fun to watch as a sexy Vulcan, mostly because she's incredibly cute and has a sparkly dress. And cute shoes. She's not particularly Vulcan-ish, but that's okay, I guess. There's also a random space-babe with sparkly silver tights, which is a plus. Nick Manning, as Khan, chews scenery enjoyably, and the scene where he takes down Marla's hair is actually kind of sweet (and then she blows him immediately afterwards). And Evan Stone really is nigh perfect as Kirk.
I was trying to figure out why this Trek porn video was less fun than the other ones I've seen, and I have a few possible answers. For one thing, I wasn't trying to review those others, so maybe I was watching them with a less critical eye. (I've never reviewed a porn video before, and I'm still not sure how.) But also, this video just felt much more like it was a prisoner of the standard porn conventions, with the sex acts feeling extremely rote and boring.
But also, I think there's maybe a playfulness and campiness that all X-rated Star Treks reach for, which is present in the 1990s versions more than in this one. Hustler puts a certain amount of campy silliness into some of the interludes between the action, but the sex itself never feels light-hearted or silly, like it does in some of the Sex Trek vids.
I just want to conclude this review with a plea to the pornographers of the world: please make a sexy Star Trek video. Doesn't even have to be X-rated, and in fact it might be better if it was just R-rated. Just... more sexy outfits, more cuteness, more sexy aliens and much, much more of Spock struggling with his suppressed urges. (Actually, the best thing in the universe might be a lesbian porn video with women playing Kirk and Spock.) Star Trek has been bringing the sexiness for over 40 years, and porn hasn't ever quite been able to keep up. So somebody please create the Trek porn we've been waiting for — make it so.