When Stephen Colbert's The Late Show launches on September 8 there will be a few surprising guests on his couch: Both Elon Musk and Uber CEO Travis Kalanick are booked for a very tech-focused first week. But that's not the only hint that Colbert's show might promise to be the most nerd-friendly late night show ever.
Just in the first abbreviated week of his show (it's abbreviated because Monday is Labor Day), we'll have Musk and Kalanick, two rather unconventional picks for late night guests. While Musk's TeslaHyperXbabble is always pure entertainment, Kalanick is a rather bizarre choice since the average viewer probably doesn't know or care who he is. It might mean that Colbert is preparing to bring up some of Uber's controversial practices. I mean, what else is there to talk about?
There are more promising signs that this Late Show will be very different. While there are plenty of other unsurprising celebs like Clooney and ScarJo on the premiere week roster, he's also got Amy Schumer, which is refreshing. And then there's Stephen King, who certainly isn't a regular fixture on the talk show circuit.
What's going on here? Well, we know that Colbert is a nerd. He's not only a gadget freak—remember his bit on the Apple Watch?—he likes science (see his conversation with Neil DeGrasse Tyson about Pluto). And he has serious geek credentials: He once debated Jon Stewart to determine who loved Star Wars more (I mean, it's obviously Colbert; check out his defense of the new lightsaber), and he is a well-documented Tolkien superfan—he had a Hobbit-themed week and was even given a cameo in one of the films.
Now that Colbert's able to shed his Conservative persona from The Colbert Report, we'll get to see his true personality shine through in his choice of guests. So far, it sounds like Colbert's show will be a place to talk about science, tech, and, hopefully, other topics of general nerd relevance. I see a Force Awakens week in our future.
G/O Media may get a commission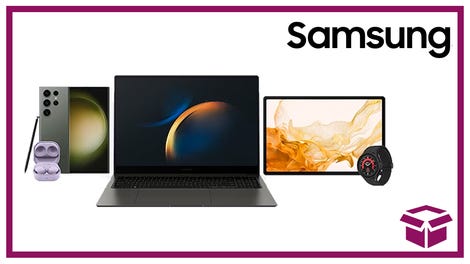 24 hour deals
Discover Samsung - Daily Deal
Here's the first week's lineup so far, via EW:
September 8:

George Clooney, Republican presidential candidate Jeb Bush

Musical performance: Jon Batiste and Stay Human

September 9:

Scarlett Johansson, SpaceX and Tesla Motors CEO Elon Musk

Musical performance: Kendrick Lamar

September 10:

Uber CEO Travis Kalanick

Musical performance: Toby Keith

September 11:

Amy Schumer, Stephen King

Musical performance: Troubled Waters