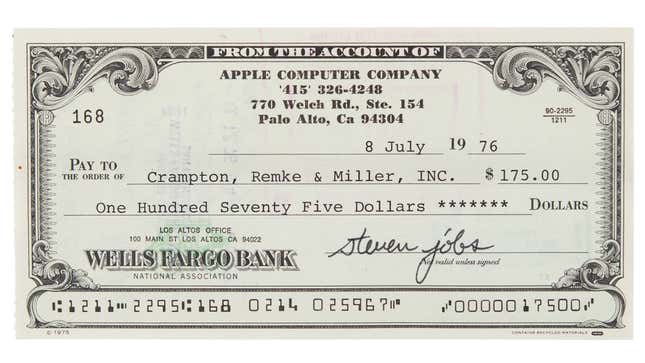 From humble beginnings came Apple Incorporated, at least according to a check from none other than Steve Jobs that is up for auction. The check was written for $175 in 1976—the same year the company was founded—and is now auctioning off for over $16,000.
Is This the End of Apple's Lightning Cable?
The check went up for auction on April 17 through RR Auction, with bids closing next week, and the current bid is for a whopping $16,500. According to RR Auction's listing, the Wells Fargo check also has some Apple easter eggs, including the signature of Steve Jobs—written as "steven jobs"—as well as the address 770 Welch Road in Palo Alto which is a mail drop and answering service that the fledgling company used while operating out of Jobs' garage. RR Auction estimates that the check is worth upwards of $25,000.
"It's a remarkable, flawless check from when Steve Jobs hired Apple's first consulting firms—a central moment in the history of the most innovative and influential companies," said Bobby Livingston, executive vice president at RR Auction, in a statement emailed to Gizmodo.

Jobs' check was written from the Apple Computer Company account to Crampton, Remke & Miller, Incorporated, which was a management consulting firm in Palo Alto, California. Other clients of the consulting firm include Xerox, Atari, and Memorex. The check, therefore, is seemingly a lost vestige of Jobs and his co-founders trying to get what is now a tech monolith off the ground.
This is not the only Apple memorabilia that's gone to auction recently. Earlier this year, an unopened, first-generation iPhone was up for auction from LCG Auctions. The phone belonged to Karen Green who received the phone as a gift from her friends after starting a new job. Green's iPhone is an 8 gigabyte first-generation iPhone with a camera that originally cost $599 in 2007, and when the auction closed, the winning bid was a massive $63,356.40.