Even after crossing the Styx, Apple co-founder and organic chocolate aficionado Steve Jobs keeps surprising us with the most amazing ideas. Get a load of this: Steve wanted to be Willy Wonka. Like, become him for real, for a day. No joke.
Here's an excerpt from the new book Insanely Simple: The Obsession That Drives Apple's Success, by Ken Segall. Picture this:
Steve's idea was to do a Willy Wonka with it. Just as Wonka did in the movie, Steve wanted to put a golden certificate representing the millionth iMac inside the box of one iMac, and publicize that fact. Whoever opened the lucky iMac box would be refunded the purchase price and be flown to Cupertino, where he or she (and, presumably, the accompanying family) would be taken on a tour of the Apple campus.

Steve had already instructed his internal creative group to design a prototype golden certificate, which he shared with us. But the killer was that Steve wanted to go all out on this. He wanted to meet the lucky winner in full Willy Wonka garb. Yes, complete with top hat and tails.
G/O Media may get a commission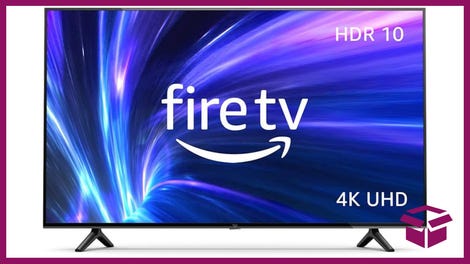 42% Off
Amazon Fire TV 50" 4K Smart TV
Apparently, there were people in the room who weren't happy with this idea. I don't know who these people were, but let me tell you one thing, whoever the hell you are: you're a bunch of asshat bozos. If The Man says he wants to be Willy Wonka for a day, you jump and order your Oompa Loompa costume on the fucking spot. Are we clear?
At the end they couldn't do it, Segall says, because California law doesn't allow sweepstakes contests to require a purchase—they have to be open to everyone, which obviously defeats the whole purpose. Well, let me tell you one thing, Californian legislators, whoever the hell you are: you're a bunch of asshat bozos too.
Now that he is dead, thinking that he wanted to pull something like this and he couldn't actually makes me sad—which is why I made the small collage above: Steve Wonka and his Apple Loompas. It could have been great. [Insanely Simple via MacRumors via 9to5]