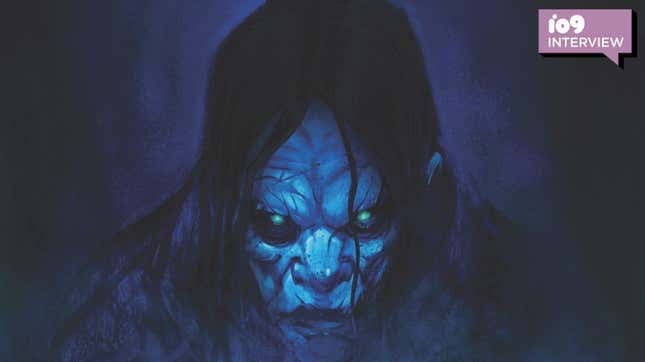 The weather may be getting warmer, but there's a spooky chill emanating from the pages of Brynmore—an IDW horror comic coming soon from writer Steve Niles (30 Days of Night) and artist Damien Worm, who also worked together on October Faction. io9 got a chance to interview Niles over email, and we also have Brynmore peeks to share!
Here's the plot description for Brynmore: "In Brynmore, the recently divorced and newly sober Mark Turner returns to his hometown of Turner Island hoping to rebuild his shattered life and rekindle a relationship with his estranged daughter, Sophie. Planning to renovate the town's dilapidated church into a home for himself, Mark's dreams of a second chance soon begin to crumble as he encounters hostility from the locals and finds himself enmeshed in a dark and sinister legacy of intrigue dating back to when the island was first named after his ancestors. Locked in battle with malefic forces beyond his control, Mark must work to uncover the island's dark history while keeping himself and Sophie safe from harm—and staying away from the bottle in the process."
---
Cheryl Eddy, io9: Mark Turner is a man with a dark past, returning to an island with an even darker past. What is it about this combination that makes it such a potent jumping-off point for Brynmore's tale of horror?

Steve Niles: I don't like to get too mired down in backstory but hopefully add just enough to let the reader know where we are and who we are meeting. Mark has demons, and he's trying to start over, which is the perfect setup for horror. A character with a dark past is already fighting something within, now place him where there may be horror coming from all sides. For this I drew on personal experience and people I've known. It's a hard thing to start over.
io9: I've only read the first issue of Brynmore, so I don't know exactly what kind of monster Mark will find once he starts unraveling the mystery of what's lurking in his new basement. Can you tease what horrors await him, and maybe more generally to avoid spoilers, explain why you personally love exploring monster stories?
Niles: The monsters I write have usually been misunderstood. They don't choose to be monsters, they usually are born or awakened and immediately feared and hated. You are born and just taking your first steps and there's a mob looking to murder you, so you react the best way you can. The monster here is something feared and it's clear it's been around for a long time. So, it may have a kind of maturity that will help the situation. Or... make it much worse.
io9: Was there any specific inspiration for Mark's backstory, and for using a place like Turner Island as a setting?
Niles: The history of the U.S. East Coast barrier islands is really fascinating. There are all kinds of strange tales, lost colonies, hard weather shipwrecks, you name it. Originally, I was thinking of using one of the actual islands but as I was working on my story, it seemed like a fun idea to just create a fictional one. And naming it Turner Island, after Mark Turner's family, gives it almost like a long heavy rattling chain he's been dragging around his whole life.
io9: What are some of the ways Brynmore is different from other horror tales you've written in the past? Are there any similarities or shared themes with your previous works that fans can look out for?

Niles: I think setting up a horror story in an isolated place is something I love to do often. And as the world changes, I have to find new ways to deal with technological advances and how to get around them. For me, it works because the characters are forced to rely on themselves, their own abilities, not expect someone to save them. What makes Brynmore different is we have a long family history here, not just a quick setup with monsters attacking. It's a deeper and more complicated kind of horror.
io9: You've worked with artist Damien Worm several times. What is it about your sensibilities and personalities that makes you such a good team, and has your style of collaboration changed much over the years?
Niles: Damien is one of the coolest artists, and he's so fun and easy to work with. He has great ideas and such a fantastic style; I really love working with him. Since we started, he's moved from relying less on computer graphics and really gotten into drawing everything first. We've been working together for over 10 years now and it's been a joy every time I bring him a new idea.
io9: Brynmore is a five-episode series. Was that something you decided ahead of time and tailored the story to fit? What are the challenges and advantages of telling such a compact tale?
Niles: That's always been my challenge, having to write a complete horror story within a short framework. I've learned to compact my stories, and rely more on the moment and action, rather than bringing in more setup and history. I think it works for me because I prefer to let the reader fill in some details with their own imaginations rather than spelling everything out. If you set it up right, the mind fills in the horror.
io9: The horror genre—across movies, TV, books, comics, video games, and beyond—has never been more popular than it is now. Why do you think that is, and how have you seen horror's relationship with pop culture evolve? What horror works have you read, watched, or otherwise encountered lately that've made you especially excited for the future of the genre?

Niles: We all need to escape, and horror can really be exciting and fun to watch when the real world is a little too much to deal with. I think one of my main themes is "who is the real monster here, the actual monster or the humans trying to kill it?" and that's definitely something I am seeing in new horror more and more. I've really been enjoying some of the new movies from A24, such as Hereditary and The Witch. I'm dying to see Evil Dead Rise.
---
Click through to see the three full variant covers (cover A by series artist Damien Worm, cover B by Francesco Francavilla, and a retailer incentive cover by Martin Simmonds) plus five interior pages from Brynmore. The first issue of comic makes its debut in June from IDW Publishing; contact your local comic shop or visit www.comicshoplocator.com to learn more.