Back in 1904, placer miners combed the Shoshone River for any trace of precious metals. With gold and silver found nearby, long days and hard work sorting through stream deposits had the chance of paying off big.
Top image: Placer miners sort through alluvial deposits along the Shoshone River near Ralston in Park County, Wyoming in 1904 in the hope of finding gold and silver. Credit: USGS
While hardrock mining requires coordination and resources to build sturdy mine shafts and follow veins deep within the Earth, placer mining is a much smaller scale method of making it rich. Placer mining is any mining sorting through alluvial deposits — modern or ancient stream beds. The equipment required can be incredibly simple, just a shovel and a pan, and can even be done by a single person working alone.
This miner uses only a shovel, pick, pan and rocker for prospecting by the Yukon River in July of 1938. Image credit: Yukon Archives
G/O Media may get a commission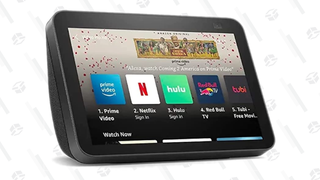 Miner pours mud through a rocker box near Pinos Altos, New Mexico in 1940. Image credit: Lee, Russell/Library of Congress
A skilled miner will use discovery of precious gems and metals and track how it was transported from streams back to the source ore.
Mary's 25¢ Coffee House provided the essentials to the Bonanza camp during the Klondike gold rush in Yukon Territories, selling doughnuts, pie, pork and beans, and coffee. Image credit: E. A. Hegg
When working with modern rivers, prospecting could be as simple as looking upstream, but when pillaging relic terrains from rivers long-gone it could require reading the landscape to determine things like the past movement of glaciers from drumlin-shape to make a solid guess on how the gold was transported.
Miner using sluice boxes near Fortymile River, Yukon Territories in approximately 1915. Image credit: UAF Archives
Gold, silver, and precious gems are denser than the common host rock, so most small-scale gold mining involves sorting heavy from light.
Placer gold mining on the Ivalojoki River in Finland, 1898. Image credit: Emil Sarlin/GTK
While this can be done a handful at a time with gold pans, a lot of shaking, and sharp eyes, the process could be scaled up using rockers, long toms, or sluice boxes. A long wood box with obstacles slows down water flow, trapping heavier ore behind the riffles. Eventually, this technique escalated into dredging entire streams and rivers as through boxes, trying to find any gold dropped by the slow-moving flows.
Ed McDaniel posing by his and his brother's sluice box in Alaska, 1900. Image credit: Wilfred McDaniel/the Carrie M. McLain Memorial Museum Archives
Since gold is so dense, it sunk to the bottom of streams. This meant that when a lucky prospector would find a bit of gold near the surface, the next step was to start digging in the hopes of finding even more gold along the bottom of the old stream bed.
These miners set up their sluice box on the No. 5 claim near the mouth of Gold Bottom Creek in the Yukon Territories, 1901. Image credit: Yukon Archives
Digging in soft sediment is a mixed adventure. On one hand, it's soft enough to be accomplished with a shovel and maybe a pick. On the other, it's soft enough to easily collapse, burying would-be miners. Digging in the winter months when the ground was frozen was more challenging, but the ice provided a bit more structural stability allowing for steeper channels.
Eventually jets of water were used to scour sediment, sending it through sluices to sort out gold like at this site near Dillman Town, New Zealand. Image credit: Alexander Turnbull Library
As the technology to sort ore from rock improved, what to put in the boxes also scaled up.
Starting with just handfuls of gravel from the side of the river and building into shovelling through entire stream deposits, eventually gold miners started using high-pressure water to disintegrate entire cliff-faces and run them through the sluice boxes. This hugely increased the amount of sediment in streams, clogging rivers with mud and smothering the riverbeds.
In 1916, the largest flume in Alaska was 6-8 feet deep, 24-40 feet wide, and a staggering 8,000 feet long. It was repeatedly buried and damaged during floods. Image credit: Sheldon Museum

Running water through a sluice box in New Zealand in the hope of trapping denser ore behind the rilles. Image credit: Alexander Turnball Library