Boy, you guys really really like Summer Glau. River more Bad-ass than Brock Sampson?! IT'S A DISASTER!!!
(click all images to enlarge)


DISTRICT 10:
So I finally saw District 9 and it was better than I had hoped. I'll definitely take a sequel. As for him tackling a video game property? I'll just say I wasn't thinking Halo when I saw D9 that's for sure...

G/O Media may get a commission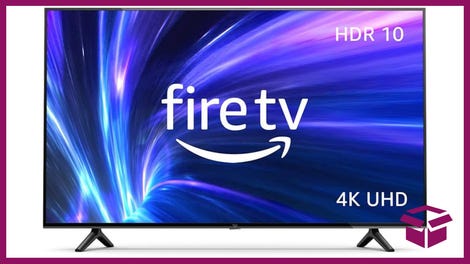 42% Off
Amazon Fire TV 50" 4K Smart TV
THE CASE OF KIRK V TAM:
I'm sorry, but a walking coma patient who occasionally spazzes out and can be turned off by a phrase can't beat a walking man bomb who at worst can be distracted by the phrases "I have some Romulan Ale" and "Green poon at 4 O'clock, set phasers for fun."
First there was their tête à tête:

Then came the battle of the shows... seriously. Twilight Zone at #12 and Firefly #3?! sigh.




I guess it's a tie after all.
WAIT! Bonus Round!!!
When Summer Glau does something strangely wonderful like THIS, THIS, THIS or THIS and of course THIS then maybe she'd be in the running.
THE SHAT WINS, THE SHAT WINS!!!


V PRODUCTION SHUT DOWN:
The remake of the classic series V was shut down for undefined reasons. Don't these rich Hollywood high rollers realize that while they may be able to glide through some weeks off, the rest of the below the line production staff really takes a hit. They have to think of everyone while they run through their "creative issues".




PITCH US YOUR IDEAS:
I actually did pitch this to SyFy (back when it was Sci-Fi) and this was the mock-up I did for it. They do love their reality shows after all. One line pitch... Take overweight CosPlayers and slim them down until they really look sharp in their costumes and then a final judging by a crowd at ComicCon. I'm still available SyFy, feel free to pick it up, you know how to find me.




SUPER-BABY DNA:
So now we can add a third parent to the classic 2 parent embryo. Wow, we as humans are really taking this science ball and really rolling with it.




IT'S A DISASTER:
Ahhh "Avatar". I guess the all those complaints about the overuse of CG, lack of story and character, super inflated budgets, and too much action that get sent my way when I'm excited for Michael Bay movies must not apply to James Cameron. I'm still definitely seeing it even though...


remember. the guy also made "True Lies" and "Titanic".


Until next time...
This is Garrison Dean, signing off.