After waiting almost 40 years for Nintendo to make a Super Mario Bros. movie that looks and feels like the games it's based on, it took all of 40 seconds to realize it's going to be a mess. The film begins with Bowser, the King of All Koopas, arriving with his followers to take over a kingdom of penguins. War is imminent and it's at this moment that "Battle Without Honor or Humanity," popularized by the Quentin Tarantino movie Kill Bill, starts playing. "Oh no," I wrote in my notes, knowing if this supposedly kid-friendly video game movie was going to use such an adult, misplaced, and obvious piece of music this early, there was a good chance it might have a crisis of identity. Ninety minutes later, those worries were more than validated.
Based on characters that have existed for almost half a century, The Super Mario Bros. Movie was not made for anyone who has been alive long enough to remember any of that. It pretends like it is, occasionally throwing a nostalgic wink into the set decoration, but the bulk of the movie is disarmingly straightforward, with characters who barely learn anything, and stakes that never elicit even a hint of emotion. Everything happens randomly. There are very few explanations or instances of context. It's just lots of bright colors with characters entering and exiting the movie like they're running across a game screen. From its very first scenes, it's clear The Super Mario Bros. Movie is made for children.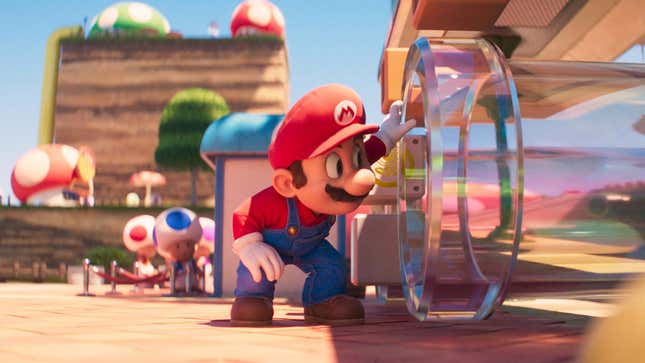 Which is fine! And when you look at who made it, this totally tracks. The film is a collaboration between Nintendo and Illumination, the company behind Despicable Me, Sing, and The Secret Life of Pets. Illumination has a glistening box office record, but not quite the critical acclaim of some of its animation contemporaries. This is the studio that made billions on movies about little yellow Minions that speak gibberish. And once you think of The Super Mario Bros. Movie like that, it makes more sense. It's a movie made with an elementary-school level of story, character, theme, and humor because that's what Illumination does.
This is, admittedly, what much of the audience who goes to see it, and their families, will be looking for. You just would've hoped, with a legacy property that's so beloved by so many, the team behind it, which includes directors Aaron Horvath and Michael Jelenic plus writer Matthew Fogel, would've aspired to more. A balance, perhaps, between childlike wonder and emotional resonance. Instead, the film goes all-in on the former and resorts to haphazardly throwing lots of old-school Easter eggs into the background to appease long-time fans. (That said, there is some super fun stuff thrown into the background, even if it adds literally zero to the story itself.)

That story follows two brothers named Mario and Luigi (voiced by Chris Pratt and Charle Day, respectively) who have decided to leave their day jobs and start their own plumbing business. Very quickly though (probably too quickly), Mario and Luigi decide it's not going well and attempt to fix a dangerous leak as a desperate attempt to drum up good favor in the community. That's when, buried deep below New York City, they stumble upon a warp pipe and get sucked into it. Along the way, the brothers are split up. Luigi finds himself in a land run by the evil Bowser (voiced by Jack Black) while Mario arrives in the much more friendly Mushroom Kingdom. There, Toad (Keegan-Michael Key) explains to him his brother is in danger, so Mario asks the leader of the Mushroom Kingdom, Princess Peach (Anya Taylor-Joy), to help him get his brother back. And so, with the help of Donkey Kong (Seth Rogen) and others, Mario, Peach, and the gang show down with Bowser to save Luigi and the Mushroom Kingdom.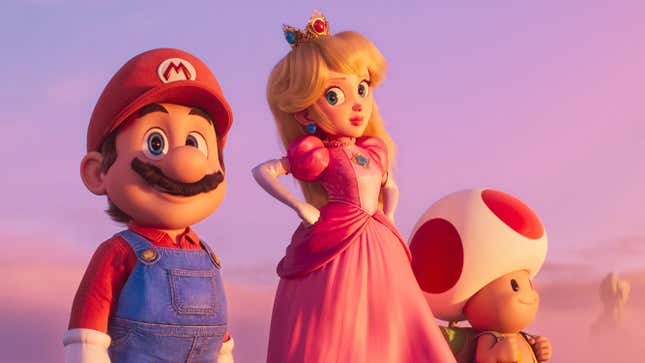 That description makes the film sound much more complicated than it is. There are a handful of interesting ideas in there, such as the brothers striving for independence and even a little riff with their parents, but most of those things are mentioned and then forgotten about. Depth and theme are not the goals here. Instead, the movie is focused on over-the-top antics that showcase as many different landscapes as possible, as quickly as possible. It's all in an attempt to make us believe the seemingly normal Mario is a heroic savior. And how does a nobody become somebody in the movies? With montages, of course. And montages mean music.

What starts with the Kill Bill song ends up turning into a non-stop jukebox of pop and rock hits of decades past, songs like "Thunderstruck" by AC/DC, "Holding Out For a Hero" by Bonnie Tyler, and others. All of these are great songs on their own, but in the context of a kid's movie where a plumber saves his brother by flying around as a raccoon, each song works against the film, reminding us we're watching a film that's uninterested in being reverent to its source material and is instead more than happy to be mediocre and disposable. The aim, one imagines, was to tickle that nostalgia for the adults in the audience who played Super Mario Bros. as children. But the disconnect between the music and the story ruins any chance of that happening. Instead, every time a new song comes on, the film sinks into another level of disappointment.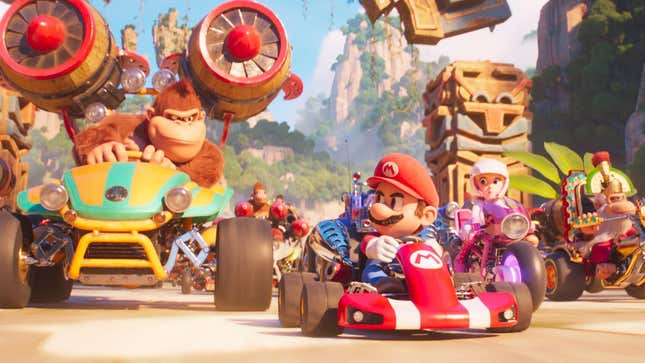 That's especially enraging because, beyond the pop songs, the The Super Mario Bros. Movie music by composer Brian Tyler is often a highlight. It's used to great effect in moments sprinkled throughout the film that are so good and inspiring, they almost make the rest of the film worth it. Moments where the camera dollies across the screen like the original Super Mario games, or follows behind like the more recent games, combined with beautiful, orchestral versions of the game's iconic music, working together to transport you decades into the past where you're sitting in your living room, in front of the TV, with a controller in your hand. Moments that remind you why this movie was made in the first place and the potential that has been, and will continue to be, largely wasted. As Mario runs and jumps around blocks and platforms, on enemies, and up and down pipes, you can't help but wonder why the whole movie isn't like this. These scenes show a clear understanding and love of the franchise. Why are these few short moments so good while the rest is so flat and uninteresting?

The answers are numerous. Because the story never deviates from its point-to-point structure. Because the characters, with the exception of Mario, are one-note without a meaningful arc. And because, all throughout, the film falls over itself to work in as many jokes, settings, and references as possible as a way to stretch the story into a length suitable enough to be called a movie. In that aim, it succeeds. The Super Mario Bros. Movie is definitely a movie, but it very rarely gives us the joy the games it's based on do, because we just can't connect to it in any meaningful way.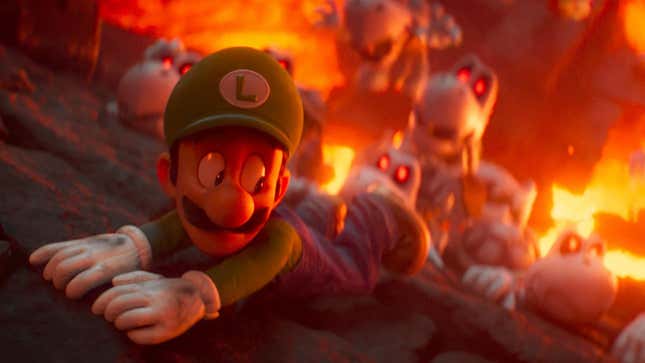 Oddly, none of this is the fault of the impressive voice cast. In addition to Pratt, Day, Taylor-Joy, Key, Rogen, and Black, it also includes Fred Armisen, Sebastian Maniscalco, Kevin Michael Richardson, and even the original voice of Mario, Charles Martinet. So much was made of these character voices before the film was released—but once it starts, you can tell each actor is doing the best they can with what they've been given. It's just that they've been given a bunch of lines that are supposed to be funny, but very rarely are. Not even Rogen's signature laugh can convince you what's happening is funny.

Maybe the biggest sin of The Super Mario Bros. Movie though is all of this is wasted on a movie that is stunningly beautiful. Every nook and cranny, down to the threads in Mario's hat, is presented in exquisite, eye-popping, detail, creating a world that you absolutely want to spend more time in. Actually, now that I think about it, the movie might work even better if you could mute it, pause, and zoom around its designs. At least then you'd have a personal reaction to it. As it stands now, The Super Mario Bros. Movie is a visually striking, wholly uninteresting, and bland film that not even a few moments of magic can save. It's not as awful as the 1993 live-action film, but that's such a low bar, you don't need a power-up to cross it.
The Super Mario Bros. Movie is in theaters April 5.
Correction: An earlier version of this review misspelled composer Brian Tyler's name. io9 regrets the error.
---
Want more io9 news? Check out when to expect the latest Marvel, Star Wars, and Star Trek releases, what's next for the DC Universe on film and TV, and everything you need to know about the future of Doctor Who.