Suspicious packages sent to defense officials and originally flagged as containing ricin, an extremely potent poison found in castor beans and that has no known antidote, have been confirmed to only contain the beans themselves rather than the toxin in a purer form.

At least three packages were involved, two of which were sent to the Pentagon and addressed to Defense Secretary Jim Mattis and U.S. Navy chief Admiral John Richardson. The third was mailed to the White House and named Donald Trump as the intended recipient. Obviously, strange mail addressed to any of these officials is screened, and security personnel easily intercepted all three packages.
According to the Daily Beast, the packages addressed to Mattis and Richardson have been confirmed to contain castor beans—relatively harmless unless an adult ingested fair number of them or they were processed to extract pure ricin. The Beast wrote that authorities arrested a naval veteran suspected of mailing the packages:
"According to our preliminary analysis, the substance was castor seeds, from which ricin is derived," Pentagon spokesperson Dana White told reporters on Wednesday... White said the FBI is still investigating the incident. The Herald Journal reports a former U.S. Navy sailor suspected of mailing out the envelopes was arrested in Logan, Utah, Wednesday.
G/O Media may get a commission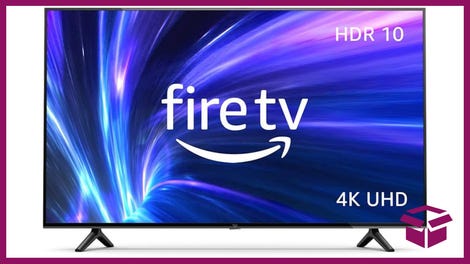 42% Off
Amazon Fire TV 50" 4K Smart TV
It's unclear whether the letter sent to the White House contained ricin or just the unprocessed beans, but according to the New York Times, the Secret Service said no one suffered any injuries from the package.
The Times added that the suspect in question, William Clyde Allen III, last served in the military in 2002 and appeared to have posted to Facebook regarding the extraction of toxic cyanide from apple seeds:
Mr. Allen served in the Navy from 1998 to 2002 as a low-ranking damage-control fireman apprentice on supply and support ships, Navy officials told Military Times. Nothing in his record indicates he served in combat.

A Facebook account matching Mr. Allen's name and location contained posts about Christianity and the golden ratio, but also a post suggesting he had watched online videos about extracting cyanide from apple seeds.
Ricin is a carbohydrate-binding protein that inhibits protein synthesis when it enters cells, causing them to shut down and die. Death can result within 36-72 hours after ingestion (including inhalation in powder or mist form or injected while dissolved in solution) and, due to the lack of an antidote, medical treatment of acute exposure is limited to supportive measures. According to the Cornell College of Agriculture and Life Sciences, the beans themselves pose less of a threat, so long as they remain intact:
If the seed is swallowed without chewing, and there is no damage to the seed coat, it will most likely pass harmlessly through the digestive tract. However, if it is chewed or broken and then swallowed, the ricin toxin will be absorbed by the intestines.
So it seems that attack could have only succeeded if one of the intended recipients were to somehow get the letter directly, open it, and choose to chow down on the beans inside.
Bulgarian writer and political dissident Georgi Markov was infamously assassinated in London in 1978 using a poison later determined to have possibly been ricin administered via a small, biologically inert pellet shot into his leg with an "umbrella gun." While the 2001 attacks involving anthrax spores mailed to the offices of media organizations and Democratic senators, resulting in five deaths and 17 other infections, is likely the most infamous example of bioterrorism conducted via mail, the Hill noted there has been a number of ricin attack attempts or plots in recent years. There have been a number of hoax incidents where harmless white powder was sent through the mail as well.