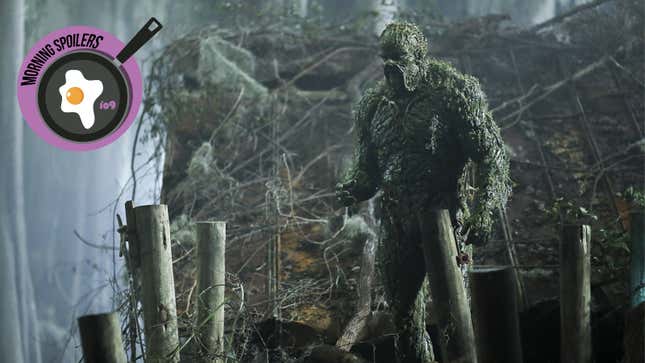 Now that Indiana Jones and the Dial of Destiny is almost here, director James Manfold is ready to head to the swamp. Speaking of, Phoebe Waller-Bridge hopes you haven;t seen the last of Helena Shaw. Star Trek: Strange New Worlds explains the niceties of storming a castle. All thus and mch mre, because the spoilers are battering down the door!

Weirdest Thing Star Trek Star LeVar Burton Has Signed
---
Helena Shaw: The Movie
During a recent interview with Variety, Phoebe Waller-Bridge suggested her Indiana Jones and the Dial of Destiny character may receive her own spinoff movie sometime "maybe, in the future."

There's no replacing Indiana Jones in any way. But I feel like the character herself—she did feel fresh on the page, and there is a sense of, is there room in the world for someone like this? So I do think there's room for a slightly clumsier, bruised, limping female action star, maybe, in the future.
---
Captain America: Brave New World
Anthony Mackie also spoke to Inverse about the differences between Sam Wilson's new Captain America versus Steve Rogers' original.
It's more so about his ability to connect and counsel. He's not as rash to bear arms as Steve Rogers was. Having a super serum makes you impossible to beat, so your answer to everything is to fight it out. Whereas Sam Wilson can actually die pretty easily.

He realized that his ability is not to change the world with force; it's about giving people the wherewithal and the recognition that they deserve so that they can make a change. I can go around and beat up people all day; it won't matter. Those people are going to come right back and do the same sh*t.
---
Swamp Thing
Appearing as a guest on the latest episode of the Happy Sad Confused podcast (via ComicBook), James Mangold discussed his excitement directing a "noir- mystery-horror" Swamp Thing movie for DC.
Basically, the second I heard DC was going through some leadership convulsion and James was taking over, I just saw it as an opportunity to throw my hat down in the most — I mean I just called them and I said, 'In all the stuff you're doing, if the idea of me making a gothic horror film, origin story of Swamp Thing fits in, tell me. It's no different speech than anyone else gets with me; I don't have any agenda for a universe, I'm not building towards someone joining in some future. Have at it, but I'd just be interested in telling, I've always been interested in doing a version of Frankenstein, basically, and, yet, I feel, 'It's alive!' has been done enough, but Swamp Thing always occurred to me as this wonderful version of a Frankenstein story, much in the way one of my favorite pop films of growing up, RoboCop, the original one. This guy who just wakes up and he's been turned into, he finds he's become this machine, was also something I was fascinated with with Logan, obviously.

But, to me, the idea of making almost a noir, mystery, horror film about a guy who wakes up and he's this thing. There's an amnesiac quality of, 'How did I get here and who did this to me?' So I'm envisioning a horror-noir film following a creature that can't be seen, trying to piece together from fragments of memories, what happened and who did it. And none of this runs counter to the Len Wein and Bernie Wrightson and all the great work that went on...I'm just framing it up in a new movie context, but that's all they were exploring in these comics and so beautifully.
---
Venom 3
Tom Hardy also shared a new behind-the-scenes image of himself on the set of Venom 3.
---
Haunted Mansion
Disney has released 10 new character posters promoting its latest crack at a Haunted Mansion movie.
---
Empire V
A Russian teenager joins a secret society of vampires who feed on human blood through electromagnetism in the trailer for Empire V.
---
The Bondsman
According to Deadline, Kevin Bacon is attached to star in The Bondsman, an action-horror series at Amazon+ from creator Grainger David and showrunner Erik Oleson. The eight-episode first season is said to follow Hub Halloran (Bacon), "a backwoods bounty hunter who comes back from the dead with an unexpected second chance at life, and love, and a nearly-forgotten musical career — only to find that his old job now has a demonic new twist. "
---
Squid Game
Coming Soon reports former Iz*One member Jo Yu-ri, Park Gyu-young, Kang Ae-sim, Lee David, Lee Jin-uk , Choi Seung-hyun, Roh Jae-won, and Won Ji-an have joined the cast of Squid Game's second season.
---
From
Bloody-Disgusting confirms From has been officially renewed for a third season at MGM+.
---
Doctor Who
The latest issue of Production Weekly also suggests the BBC has renewed Doctor Who for a 15th season.
---
Star Trek: Strange New Worlds
Finally, La'an realizes she should've eaten something before storming a castle with Pike and M'Benga in a clip from next week's episode of Star Trek: Strange New Worlds.
---