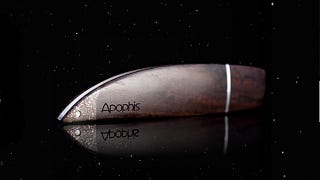 Chances are you've got tons of flash drives just laying around. More than you really need. But are any of them made with real, certified meteriote? The Zana Design "Apophis" drive could fill that hole in your collection, for a price.
What would be a way to deflect asteroid Apophis if it gets a little too close for comfort in 2029 or 2036? Pew-pew it with 5 tons of white paintballs. Not only would the multiple mini impacts bump the asteroid off course, but the white paint would cover the surface and reflect more sunlight, and over time, the…
Are we on the path to a major asteroid collision? The Russian Federal Space Agency fears that the approaching asteroid Apophis could spell certain doom. And it has a plan to knock the asteroid off its current course.
You have seen a badass asteroid obliterating Earth in a theoretical simulation, but you probably missed astrophysicist Neal deGrasse Tyson talking about the very real possibility of Apophis hitting California in April 13, 2029.
Stop looting supermarkets and get back to your homes, because NASA is saying that "doomsday" asteroid Apophis doesn't have any significant chance of impacting Earth in 2036, basically classifying the 13-year-old German student as a moronic smartypants. In fact, even if it hit, it wouldn't have been the end of the…