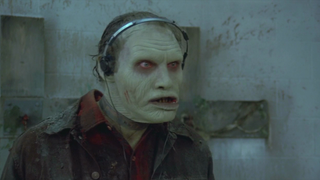 Amidst all of horror movies coming out in honor of Halloween, The Book of Life celebrates a rather different holiday: the Mexican Day of the Dead. And while, as a movie, it has its flaws, Book of Life is like a great party—filled with wondrous decorations, interesting people, lots of fun, and a valuable message…
Steven Moffat tells how much of Doctor Who will revolve around the Doctor's new quest, Francis Lawrence says some controversial moments from Mockingjay are in the movies, and someone's in mortal peril in Teen Wolf. Plus, casting news from the Doctor Who Christmas special and The Walking Dead. Spoilers now!
George Romero's Day of the Dead didn't exactly burn up the box office when it came outin 1985, but it was a smash compared to the very loosely adapted "remake," which was released straight-to-DVD in 2008. But someone is remaking it again, so maybe the third time will be the charm (probably not, though).
Earlier this week, we shared our 13 favorite zombie movies in honor of the latest Resident Evil installment, and most of these films have us reaching for a heavy, head-bashing bat. But what about those films where you want to see the zombie survive — or at least see a few humans fall to their rotting teeth? Here are…
Now that Pixar has announced its Dia de los Muertos film, everyone is getting into the calavera spirit, stripping down to their ornately decorated skeletons. See Smurfs and superheroes bare their skulls and flash their marigold eyes.
Everything I've ever wanted to know, I've learned from scifi movies — especially when it comes to surviving the end of days. Be it a vengeful Mother Nature, plague, monsters, animal packs or the undead, any kind of doomsday , I'll be ready for. The key is to follow the steps of past scifi characters (or learn from…