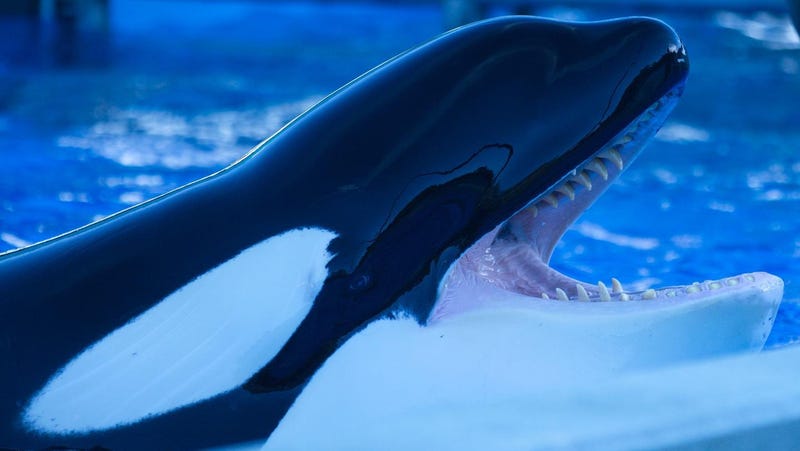 An investigation into the oral health of captive orca whales is raising serious concerns about the health and welfare of these majestic creatures. Out of boredom and frustration, many of the whales turn to chewing on concrete and steel tank surfaces, causing wear and tear that leads to further problems.

A South African shark-watching hotspot has recently turned into the scene of a seaside horror movie. For several months, enormous great white shark corpses have been washing up on the Gansbaai beaches, often missing their livers as if feasted upon by cetacean Hannibal Lecters. But this is no movie—it's just biology,…
You might remember last month when orcas ate an enormous great white shark's liver, Hannibal Lecter style, in South Africa. It seems the killer whales have decided, why stop there? Why not take the testicles and stomach, too?

SeaWorld has announced that it's ended the practice of breeding orcas in captivity. It'll also stop running its theatrical shows, replacing them with what it calls "natural" encounters with the animals—but only by 2019.
So there's good SeaWorld news and bad SeaWorld news. The good SeaWorld news is that, after decades of criticism, the park will phase out its infamous Shamu show next year. The bad SeaWorld news is that the killer whales will just star in a new show.

The small fishing village of Astoria, Oregon, tried to scare off a pesky sea lion colony with a large fake mechanical orca. It was a cunning scheme, one that pitted the sly artifice of man against whatever it is sea lions have. But alas—nature won.

Wow. For a few seconds here, the killer whales look like they've been animated with CGI. They move so effortlessly that they don't seem real. But Smithsonian shows how this footage was caught, with a camera invented by photographer David Riggs just to see killer whales and what they're hunting underwater.
Not for nothing are Orcas called Killer whales, but reports of their hunting the "great" whales (baleen & sperm whales) have been rare, and there is little consensus as to the importance of such predation. But new evidence suggests that Humpback whale calves are a regular snack for the black and white killers.
This is a Threadless design by Eduardo San Gil which upgrades the Orca's other name with Assassin's Creed duds. Can we do this for everything with "killer" in the name? Bees, for example. Let's see "Expert Killer Bees."