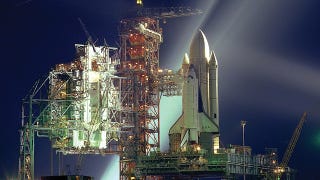 With the launch of STS-135 today, the US Space Shuttle program will end with a whimper. To celebrate the shuttles' service to both our nation and the sciences, the NASA Space Shuttle Manual by David Baker discusses the launch of the very first, Columbia.
Tony Stark wears his new suit, perched atop a donut shop. Has our noble hero abandoned his steady diet of hookers, pills and booze? Also, did he get his tips frosted? He looks blonder. [People]
Swinging bathroom mirrors can bash your face in and spray blood everywhere, making the morning cleanup worse than just whiskers. The Uplift floats upward and has six powered outlets, plus a TV mount. [Robern]
The Incredible Hulk just got a whole lot more incredible now that the studio has released a new TV spot showing one of the many rumored cameos. Who is General Thaddeus "Thunderbolt" Ross giving a double-take look to? Watch the trailer and find out.
A New York judge who jailed all 46 people in his courtroom after someone's mobile phone went off has lost his job. The chairman of the State Commission on Judicial Conduct has recommended that Judge Robert Restaino be removed from the bench, three years after the incident, which was described as "two hours of…