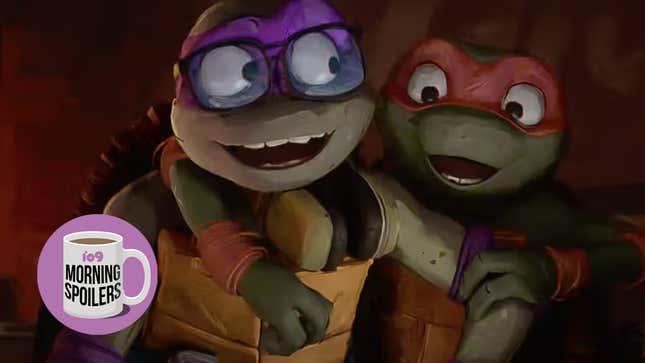 John Landau still wants an Alita: Battle Angel sequel. Speaking of sequels, Netflix reveals a surprise spinoff for Bird Box. Plus, what's coming on the next episode of Riverdale. Spoilers, away!

Chris Pratt and Bryce Dallas Howard Nerd Out About Jurassic Park's Returning Heroes

Tower of Terror
According to Variety, Scarlett Johansson is attached to star in a new film based on Disney's Tower of Terror ride from director Taika Waititi.
---
The Life of Chuck
Deadline reports Tom Hiddleston and Mark Hamill are attached to star in The Life of Chuck, a film adaptation of the short story by Stephen King from director Mike Flanagan. Like the original short, the film will see "three separate stories linked to tell the biography of Charles Krantz in reverse, beginning with his death from a brain tumor at 39 and ending with his childhood in a supposedly haunted house."
---
The Monkey
Likewise, Theo James will star in The Monkey, a yet another film adaptation of a Stephen King story from director Osgood Perkins. Produced by James Wan's Atomic Monster, the story sees "twin brothers Hal and Bill discover their father's old monkey toy in the attic." In short order, "a series of gruesome deaths occur all around them. The brothers then decide to throw the monkey away and move on with their lives, growing apart over the years. But when the mysterious deaths begin again, the brothers must reunite to find a way to destroy the monkey for good before it takes the lives of everyone close to them."
[Deadline]
---
Consumed
THR reports Devon Sawa, Courtney Halverson and Mark Fariglietti are attached to star in Consumed, a supernatural backwoods horror film directed by the Butcher Brothers. The story concerns Jay and Beth, "a married couple taking a celebratory camping trip a year after Beth's cancer remission, who find themselves trapped between a wild madman (Sawa) and a skin-stealing monster."
---
The One
THR also has word Melissa Barrera, Nicholas Hoult and Lana Condor will star in The One, a "nightmarish horror" film from directors Kevin Armento and Jaki Bradley "about the romantic and psychological warfare waged by our beloved popular entertainment." The story is said to follow Taylor (Barrera), as she "makes a last-ditch effort to find love by becoming a contestant on a reality dating show. Now down to just herself and two other women competing to win the heart of Mason (Hoult), Taylor begins to feel the artifice of the show fade, and the game becomes terrifyingly real. Amidst the opulent beachfront setting, fairytale dates and ever-flowing champagne, pursuit turns into obsession and rivalry turns into treachery as reality itself blurs." Riley Keough is attached to produce.
---
Alita: Battle Angel 2
During a recent interview with Screen Rant, producer Jon Landau stated he's still "working on" a potential sequel to Alita: Battle Angel.
We're working on it. I think what we've learned from Avatar is how much more facial nuance and subtlety that we can get into characters that we want to be emotional and emote that are humanoid. Alita would not have been possible, but for what we did on Avatar. Avatar: Way of Water would not be what it is but what we did for Alita. And now let's put that back and give it back to Alita. We're talking to Robert and talking to Rosa and all is good.
---
Transformers: Rise of the Beasts
According to Collider, Transformers: Rise of the Beasts runs 1 hour and 57-minutes long.
Meanwhile, Transformers World has a few more character posters of Optimus Prime, Optimus Primal, Arcee, Bumblebee, Mirage and Wheeljack.
---
Teenage Mutant Ninja Turtles: Mutant Mayhem
Empire Magazine also has a new look at Teenage Mutant Ninja Turtles: Mutant Mayhem, which director Jeff Rowe compares to films like Stand By Me and Ladybird.
We wanted it to be like Stand By Me and Lady Bird. But, you know, with Ninja Turtles. [It's] the ultimate teenage coming-of-age film. They've got a lot of that inauthentic confidence that teenagers have: when you're a teen, you don't know any better, so you operate with this hyped-up sense of, 'We can do anything!'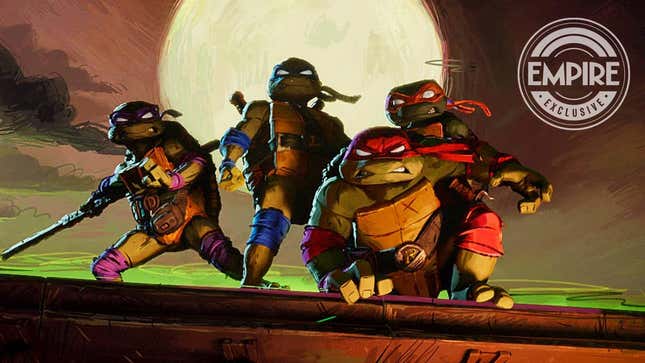 ---
Bird Box Barcelona
Bird Box receives an unlikely sequel set in Barcelona in the trailer for Bird Box Barcelona, coming to Netflix this July 14.
---
The Devil Comes at Night
Meanwhile, a retired boxer takes on a cannibal cult in the trailer for The Devil Comes at Night, available on VOD this June.
---
Fear the Walking Dead
Mo's "drawn in a larger web of secrets" while trying to expose PADRE in the synopsis for "Odessa," the May 28 episode of Fear the Walking Dead.
Mo's hunt to prove PADRE's true intentions has her in over her head as she's drawn into the larger web of secrets.
---
From
Elsewhere, there's a food shortage in the synopsis for "Pas de Deux," an upcoming episode of From also airing May 28.
Tensions run high at Colony House when word of the coming food shortage leaks out; a night at the clinic takes a terrifying turn.
---
Riverdale
Finally, Roberto Aguirre-Sacasa discusses "Dirty Dancing," tonight's episode of Riverdale in a new featurette.
---
Want more io9 news? Check out when to expect the latest Marvel, Star Wars, and Star Trek releases, what's next for the DC Universe on film and TV, and everything you need to know about the future of Doctor Who.