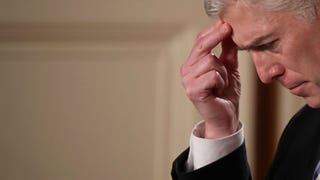 Neil Gorsuch, President Trump's freshly-announced nominee for the US Supreme Court, has spent his career weighing matters of life and death. His views on life—that it is sacred and "intrinsically valuable"—are likely to shape court decisions in areas from abortion to assisted suicide for decades to come.
I woke up this morning to the internet buzzing about a new White House Twitter handle: @SCOTUSnom. Was the Supreme Court starting a food blog? But then I realized the new account was actually built as a kind of social media defense for President Obama's Supreme Court nomination, Merrick Garland.
The US Supreme Court forbids cameras in the courtroom. But apparently one intern from CNN didn't get the memo. He was removed from the Supreme Court press room today after he was caught with a GoPro strapped to his chest.
Today the U.S. Supreme Court ruled unanimously that police can no longer search your cell phone without a search warrant or an immediate threat of danger. There are plenty of caveats, but overall this is a victory for privacy advocates. Below are some of the highlights from the decision.
Not so long ago, gay marriage was still so controversial that California passed an anti-gay-marriage ballot initiative. How did all of this happen so quickly? Everybody is gay now, that's how it happened. Go back in time to the mid-2000s and relive the melodrama all over again.
Today was a historic day for equality, as the U.S. Supreme Court struck down the misleadingly named Defense of Marriage Act (DOMA). Futurist thinkers have been imagining this day for years, and back in 1990 Newsweek gave hints about what marriage might look like in the world of tomorrow.