So what do Wall Street's captains of industry do when they're not repeatedly punching the global economy in the neck for their own thrill and gain? Taking dumps in lovely bathrooms like this one—recreated in a greasy diner.
The NYT's Kevin Roose brings us "Power Toilet," an art installation by the Danish collective SuperFlex. What is it? A perfect replica of an executive loo from JP Morgan's offices. They say their intel was collected via insider camera phone snaps, and that this is as close as you can get to the real thing short of being a mortgage-molesting finance criminal yourself.
Is it art? Shut up. What it is, is an opportunity to poop with power, all within the confines of New York's Olympic Diner—about as far away from porcine Wall Street as it gets. Bathrooms have long been symbols of American corporate decadence, and to bring that to the people is pretty fun.
So what do you get when you step inside?
The bathroom itself features a Kohler sink, Crane toilet, and quilted toilet paper, along with a framed print of a potted flower. The renovation cost more than $10,000.
G/O Media may get a commission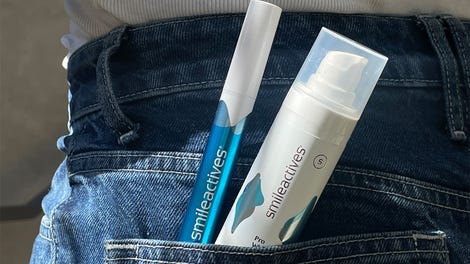 58% off
Whitening Powerhouse Pen & Gel Duo
Eh. I mean I guess that's nice—but clearly the bailout cash wasn't funneled into the potty department. Why wouldn't they spring for a real power toilet? [NYT]
---
You can keep up with Sam Biddle, the author of this post, on Twitter, Facebook, or Google+.