Picture this, if you will: Porn star Jenna Jameson is in a movie playing a stripper who reads Nietzsche, becomes a zombie, and, armed with her new theory of undead power, eventually kills somebody by shooting pool balls out of her superstrong zombie pussy.
If you want to know what the cult movie breakout of the season will be, look no further than Zombie Strippers. Created by brother-sister team Jay and Angela Lee, the movie is a mashup of awesome zombie gore, pneumatic boobie action, and postmodern feminist theory that would make the hair walk off Judith Butler's head. Opening in U.S. theaters tomorrow, Zombie Strippers is going to live forever in the annals of freaky-ass movie lore.
The plot is simple and to-the-point. President George W. Bush, with new VP Arnold Schwarzenegger, has just been "reelected" a fourth time due to the wonders of electronic voting machines. All forms of public nudity (including in strip clubs) have been made illegal. The war still rages in Iraq. And scientists at the evil W Corporation have created a zombie virus to give to dead soldiers so that they can keep fighting even after being killed. Sort of a futuristic stop-loss situation. With zombies.
Inevitably, the zombie virus escapes the lab via an infected dude, with the Z Squad in hot pursuit. Of course the dude winds up in a strip club (whose owner is played by Robert "Freddie" Englund). He promptly proceeds to zombie out after biting Kat (Jenna Jameson), the star stripper. For some reason, her superpowered, rotting-flesh style of zombie stripping makes the guys go crazy! They just love all those veins in her boobies and her bloody teeth. So the other strippers start asking Kat to zombie them out too, so they can compete for tips.
Pretty soon, after about twenty zillion zombie stripping scenes that get weirder and more fucked up as the movie progresses, you've got a whole passel of zombie strippers who have to eat men every night. The men they pick from the audience imagine they're about to get some special attention — until they find out what it's like to get their dicks, tongues, brains, and guts gnawed out by apeshit zombie strippers hopped up on Nietzschean goofballs.
G/O Media may get a commission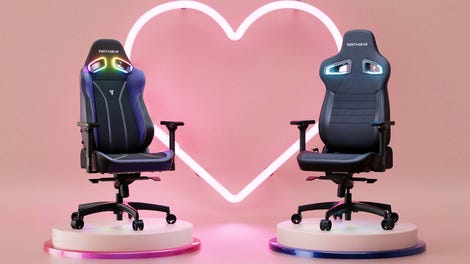 Up to $150 off
Vertagear Gaming Chairs
Inspired by classic existentialist play Rhinoceros by Eugene Ionesco, the flick is larded with references to philosophy (it takes place in Sartre, Nebraska) and surreal speeches which combine direct quotes from Nietzsche with Juno-style smartpatter. "It's not about a sense of self but of regression to the mean!" cries one about-to-be-zombified stripper, who then adds, "But it's so fucking cool!"
The special effects are great, the mood is pure fucked-up, and there is (of course) a zombie stripper showdown involving pool balls where Jameson commendably allows her naked body to look truly disgusting. After about an hour of watching the same dark sets in the strip club, you really do get the feeling that you're watching one of those claustrophobic existentialist plays where everyone is in hell screaming "I HATE YOU" to their own reflections in mirrors.
This movie is like some kind eruption from the dark heart of pop culture and intellectual culture at once, a meditation on female sexual conformity that nevertheless shoves boobies in our faces. But rotted boobies! That kill you! Are we supposed to enjoy the stripping or be grossed out by it? Are these just regular old cool zombies, or do they represent the disease of submission in political life?
All I have to say is: Damn that tongue-eating scene was great! And I don't think my life will be complete until poststructuralist feminist film theorist Kaja Silverman has explained this movie to me — or, if not me, at least someone.
Keep your eye on director/producer team the Lees. I think we'll be hearing from them again, and it's going to rock.
Zombie Strippers opens in theaters across the U.S. tomorrow.