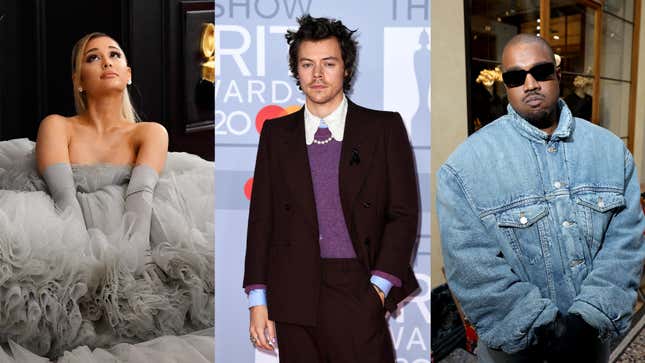 Artificial intelligence and the music industry are having a moment, and it's unclear at this point whether it's a great one. As AI generators like ChatGPT and DALL-E get better and better, so too do AI voice generators—and that's no better exemplified than the rise of completely fabricated songs from major artists.

An AI-generated song from Drake and The Weeknd called "Heart on My Sleeve" went viral earlier this month before being pulled from streaming services by the record label Universal Music Group. AI language models, presumably like the one used to generate "Heart on My Sleeve," learn from large sets of vocal data to match the cadence and tone of the singers they try to emulate. Unfortunately for music labels, who copyright artists' work to protect their assets, those datasets are easily obtainable on streaming platforms and through purchased or pirated MP3 files.
Around the same time "Heart on My Sleeve" started to blow up, Universal Music Group begged streaming services like Spotify to prevent AI from accessing music data. UMG is one of the Big Three music corporations and has over one-third of the music industry's market share as of the end of 2022. UMG represents artists from the massive pop powerhouses of Taylor Swift and Harry Styles to smaller indie acts like CHVRCHES and Clairo.
Some artists, however, have welcomed the AI revolution with open arms. Singer-songwriter and Musk baby mama Grimes announced on Twitter that she will split royalties with anyone who creates an AI track with her voice. "I think it's cool to be fused w a machine and I like the idea of open sourcing all art and killing copyright," she said. "We're making a program that should simulate my voice well but we could also upload stems and samples for ppl to train their own," Grimes added.
Despite the controversy, fans of certain artists are using AI to create covers of their faves singing other songs. For example, we have Ariana Grande singing Taylor Swift's song "Cardigan" and Ye and Drake singing Cardi B and Megan Thee Stallion's "WAP." Scroll on to see more impressive examples of AI-generated song covers—results may vary.
Want to know more about AI, chatbots, and the future of machine learning? Check out our full coverage of artificial intelligence, or browse our guides to The Best Free AI Art Generators, The Best ChatGPT Alternatives, and Everything We Know About OpenAI's ChatGPT.