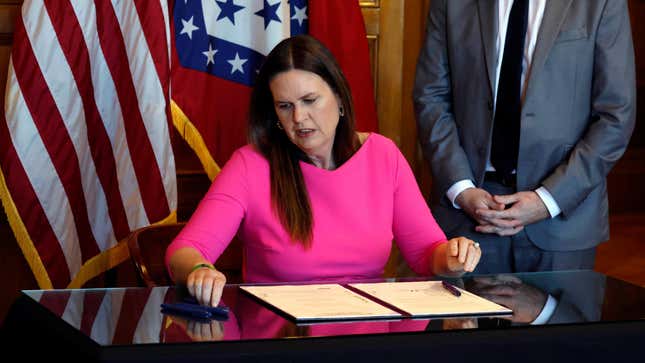 After Arkansas governor Sarah Huckabee Sanders signed a law that requires teens and kids to get parental consent before signing up for social media, that law is now in the crosshairs of a tech trade group called NetChoice, which filed a lawsuit against it.

How To Remove Followers From Twitter
According to a press release from NetChoice, the group filed the lawsuit yesterday, while the law was signed by Sanders in April and does not go into effect until September 1, 2023. NetChoice is a self-described nonprofit group of tech companies that represents the likes of TikTok, Airbnb, Google, Amazon, PayPal, and Meta.
The law—known as SB 396 or the Social Media Safety Act—would require social media platforms to verify the age of all users, and any users under the age of 18 would require parental consent before creating an account. NetChoice argues that SB 396 is a threat to the privacy and online safety of Arkansans, especially children and teenagers, since the law would require social media platforms to use a third-party to run age verification checks.
"We're suing Arkansas today to protect First Amendment rights and keep online speech accessible," said NetChoice Litigation Center Director Chris Marchese in the release. "This law empowers the state to tell Arkansans what types of information they're allowed to access online, forces them to hand over their most sensitive documents to use the internet, and seizes decision making from parents and families. That is an unconstitutional power grab, and we're petitioning to put a stop to it."
Sanders did not immediately return Gizmodo's request for comment.
SB 396 is a prime example of sweeping oversight from the self-proclaimed party of small government, but as The Verge notes, the law features some confusing rhetoric on which platforms actually require parental consent. For example, the law states that it would not apply to a media company that "allows a user to generate short video clips of dancing, voice overs, or other acts of entertainment in which the primary purpose is not educational or informative," which is a pretty clear description of TikTok.
Arkansas is not alone, however, in its plight against social media companies. Utah passed a similar law not too long before Arkansas did the same. Copycat legislation has also been introduced in Iowa and Louisiana—the latter of which also has a law that requires age verification for accessing pornography.