Remember that time in the 1960s when the Canadians accidentally launched exploding shells into an American town? Few people do. It's just one of those embarrassing Cold War flubs that both countries would rather forget.
On January 29, 1962 the Canadian Navy destroyer HMCS Skeena was conducting target practice off the coast of Washington state and British Columbia. They were firing at drone targets that were being pulled by Canadian Air Force planes. Unfortunately, they didn't stop to think about where the shells that missed their target might land. The answer turned out to be a small American fishing town.
The residents of Clallam Bay, Washington were understandably alarmed when the bombs and shrapnel started falling around 3:20 PM on that Monday afternoon. Most of the shells exploded in the air, causing shrapnel to shower the residents for about 20 agonizing minutes. But at least three "duds" fell on the American town as well. One of these duds even landed in a school playground while classes were being dismissed.
"One piece of shell fell near a boy who was just returning home," the Associated Press reported. Other pieces of shells landed on rooftops and near elderly people just trying to do some leisurely gardening.
"I didn't know what was happening," said one resident who was outside when fragments of bombshell started pouring down on her house. "I thought they were shooting out on the street."
G/O Media may get a commission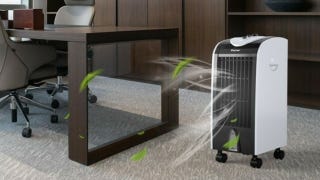 Save $10
Evaporative Portable Air Conditioner Cooler with Filter Knob
The U.S. Navy swept in and grabbed the unexploded shells. Thankfully nobody was hurt. Or if they were, the media didn't report on it. The real scandal here might be that the Canadians were such a bad shot.
The people of the town just had to chalk it up as the cost of fighting the Cold War. But they were obviously still concerned about bombs landing in their town, even if they were coming from the Canucks rather than the Ruskies. A mortar bomb, it would seem, is a mortar bomb — no matter who's doing the launching.
"People are pretty mad," the sheriff of the town told the Associated Press at the time. "The shells landed right in Clallum Bay."
The Royal Canadian Navy and the US Navy both ordered investigations into the incident. The captain of the HMCS Skeena, Richard H. Leir, was courtmartialed and convicted over the incident. However, it appears Leir continued to remain a senior officer.
Below, a clipping from the January 31, 1962 Port Angeles Evening News:
The previous time that Canadians hit American soil was in 1814, but that was no accident.
Top image: January 30, 1962 Port Angeles Evening News