Click to viewNeal Hefti, the jazzy trumpeter behind such TV theme songs as the propulsive ditty that introduced the 1960s Batman series, has passed away. His composition-with its singular staccato lyric, itself a paean to Adam West's be-spandexed superhero-may have been intentionally campy, but it's proven both indelible and award-winning. (Hefti won a Grammy for it in 1966.) What other title tunes for live-action TV shows rock our world? Below, a list of our 20 favorites. Foggy memory? Click on any title to hear the tune. Alien Nation (by Steve Dorff) A chorus swells over bongos that settle into a calypso/merengue beat. Aurally taxing or delightfully ballsy? Discuss. The Avengers (by Laurie Johnson) The spy-fi series' anthem begins with a sexy swagger then moseys into a brass-tickled swinging-sixties delight.
Battlestar Galactica (by Stu Phillips) We're talking about the 1978 TV series, with an intro that plays like a wistful film score. The Bionic Woman (by Jerry Fielding) It's an ambling jazz set, man. Because Jaime Sommers is that cool.
Buck Rogers in the 25th Century (by Stu Phillips) Token straight-guy narration lends way to aggressive horns, then a delicious orchestral creation straight out of one of those '80s night-time soaps. Buffy the Vampire Slayer (by Nerf Herder) What could've easily been a goth travesty (given the subject matter) became a rousing, pop-punk track that still smells like teen spirit. Dark Angel (by Chuck D and McLyte) As with the Alien Nation intro, we can appreciate the use of unlikely genres in sci-fi theme songs. Admittedly, this rap-inspired endeavor quickly devolves into a low-rent take on Public Enemy's "Bring the Noise." (Maybe that's because it was co-written by the group's frontman.) However, it's the only one we can think of that boldly takes on the hippity-hop, so we'll give it mad props and stuff. Dr. Who (by Ron Granier) Dr. What? Dr. Who? Switcha flow, getcha dough. (A little Jay-Z humor to jump off that Dark Angel entry, folks.) The original Who song is the sci-fi equivalent of a galloping Western tune rendered enigmatic by way of a menacing, repetitious guitar riff and haunting synths.
G/O Media may get a commission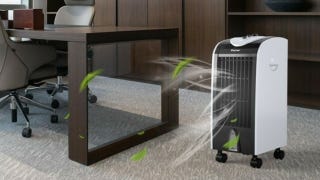 Save $10
Evaporative Portable Air Conditioner Cooler with Filter Knob
The Greatest American Hero (by Joey Scarbury) So cheesy, predictable, and pedestrian that it brilliantly straddles the line between sincerity and parody-which is precisely why Seinfeld aped it spectacularly some 15 years later. Knight Rider (by Stu Phillips) This slow-burning, pulsating offering from the Hoff incarnation is to auto-centric crime-fighting what the Miami Vice theme song is to motor-boat-propelled sting operations. Lost in Space (by Alexander Courage) Best use of flautists (presumably on piccolos), who tango puckishly with their brassy cohorts. Jethro Tull should be so talented.
Mystery Science Theater 3000 (by Joel Hodgson, Josh Weinstein, and Charles Erickson) Decidedly lo-fi, it plays like an '80s one-hit wonder. As such, it's impossible to get out of your head. The Outer Limits (by Dominic Frontiere) Kinda like the unsettling Twilight Zone theme- "There is nothing wrong with your television, do not attempt to adjust the picture…" Only a bit jauntier. Star Trek (by Alexander Courage) Opera lady's kooky, high priestess melisma makes for memorable karaoke recreations.
Star Trek: The Next Generation (by Dennis McCarthy) Ambitious, majestic, and frontier-evoking-just like the show's raison d'etre. Make it so, y'all! Stargate SG-1 (by David Arnold/Joel Goldsmith) Swelling, almost military, orchestrations settle into a soaring, totally hummable instrumental. The Twilight Zone (by Marius Constant) Unmatched in its creepiness, the iconic composition sonically spirals as a voiceover (courtesy of Rod Serling, we presume) promises bewildering tableaus of "things and ideas" unknown. The X-Files (by Mark Snow) The eerie atmosphere-setter evokes images of an ominous alien spaceship looming over Earth. Also, it's easy to whistle. Xena: Warrior Princess (by Joseph LoDuca) A chanty, percussive world-music offering that mercifully resides in a galaxy far, far away from the Enya/Tesh/Yanni oeuvre.
Wonder Woman (by Normal Gimbel and Charles Fox) "In your satin tights, fighting for your rights"? Ridiculous lyrics aside, this disco-infused tune here's a booming classic that's almost as fun to sing as the Good Times theme song. Almost.