The iPhone 4S! If you were lucky enough to grab one, congratulations! You now have a brand spanking new phone, a new friend in Siri and a desperate need for some apps. Here are our favorite iPhone apps this week.
If you want to see all the apps on one page click here.
---
G/O Media may get a commission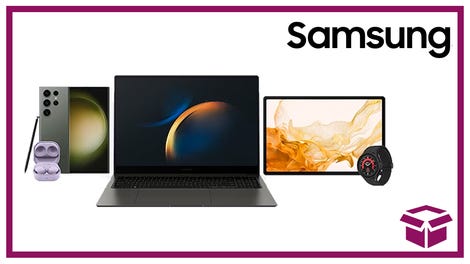 24 hour deals
Discover Samsung - Daily Deal
Find My Friends: Find My Friends, Apple's your-friends-are-now-live-dots-on-a-map social network, is here. The new location service eschews boring check-ins for convenient (and creepy) continuous sharing of your location. The app keeps track of where all your friends (opt-in, obvi) are in real time, which is kind of scary yet kind of exciting at the same time. Is Sam in your neighborhood? Is Adrian across the country? Find my friends will tell you. Check out our etiquette guide on how to use Find My Friends so you don't be a creepy stalker.
---
Movie Trailers: Apple's "iTunes Movie Trailers" app is one hell of a misnomer: it doesn't just beam down the giant library of trailers we love. The new app lets you buy tickets, find nearby theaters, and chart film releases on a calendar. I'm using this over other movie finding apps now. Free
---
Cards: Yeah, Apple made this app for old people but there are 21 different card layouts where you can write a quick short message to your heart's desire and add a picture (one in your camera roll or snap a new shot). Cards guides you step by step to fill out the proper information (put a picture here, add a title here, sign there, etc.). The iPhone feels a little bit cramped to do all this work (there's no iPad version oddly) but whatever, it takes 2 seconds to whip up something that'll make someone feel good. And I don't hate this app as much as I thought I would
---
Scribblenauts Remix: Scribblenauts is impressive as it was on the DS, you write a noun into the game and then the object you wrote appears in the game where you can use it or if it has half a brain (like an animal), will start playing around in the world too. 40 levels and non stop fun. So good. $5
---
Foursquare: Thanks to iOS 5, Foursquare has a new Radar feature in its iPhone app that's insanely cool. Radar will smartly let you know if you're near friends, around a place on your To-Do List or followed and will even notify you when the app is closed. It's like a super useful Find My Friends. Free.
---
Airport Utility: Controlling your wireless network no longer requires a computer. Apple's dropped another app surprise this morning: an iOS Airport Utility. Change your passwords, reset your routers, update firmware-all in your hand. This computer-less computing thing is fun.The app also gives you a very pretty little visualization of your entire network-something the desktop client's totally lacking, and which not only looks nice, but can be helpful for those of you managing larger setups.
---
Real Racing 2: Real Racing 2 got a new update for iOS 5 that's actually pretty sweet: you can play the game wirelessly on your TV with AirPlay and even challenge friends to a multiplayer race with Party Play. Ah-mazing.
---
NHL Gamecenter: Did you know hockey started? I didn't either. The season always sneaks up on me! But what doesn't sneak up on me is the NHL Gamecenter app. It's the best way to keep track of the NHL season with live scores for every game, tv listings, standings, news articles, etc. If you upgrade to the premium Gamecenter app than you'll get live radio broadcasts, video highlights and more, more videos. If you have a GameCenter Live subscription, you can watch all the hockey games on your iPhone too.
---
Hipster: It's sorta like Instagram meshed with Cards but not really. It's kind of like Instagram because you can use filters to snazz up your photos. It's kind of like Cards because you use those photos to create virtual postcards. There are 10 different postcard styles along with the ability to add text and tag your location to the postcard. Neato.
---
You can keep up with Casey Chan, the author of this post, on Twitter or Facebook.