This week in the world of cartoons, we continue a Clone Wars story arc that has very ominous implications for Ahsoka, Gravity Falls makes a return, and we see a new iteration of the Sinister Six on Ultimate Spider-Man.
As always - minor spoilers ahead!

Gravity Falls – "Boss Mabel"

Fan favorite Gravity Falls is back, for at least two more episodes.
In this episode, Mabel and Grunkle Stan butt heads, leading to Grunkle Stan placing Mable in charge of the Shack.
---
Ultimate Spider-Man – "The Sinister Six"

Spider-Man takes on the evil counterpart of the Avengers — a Sinister Six made up of Kraven, The Beetle, The Lizard, The Rhino, Electro, and Doctor Octopus — in this episode.
G/O Media may get a commission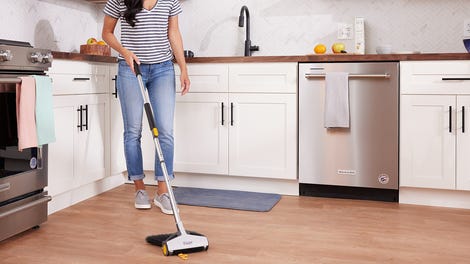 BOGO 50% Off
Flippr - BOGO 50% Off
Check out the Easter egg throwback to The Warriors in this clip.
---
Young Justice: Invasion – "Complications"

Miss Martian has less than twenty-four hours to live thanks to the machinations of Black Manta.
Can Miss Martian escape, and will Aqualad avoid the pair of assassins on his tail?

---
Green Lantern: The Animated Series – "Love is a Battlefield"

Love must fight hate. How? Red Lantern Atrocitus is summoned to fight for the forces of Hate against a champion of Love...Hal Jordan's one true love, Carol Ferris.
Pat Benatar fan? This episode is for you.

---
Star Wars: The Clone Wars – "The Jedi Who Knew Too Much"

Ahsoka raises the ire of Admiral Tarkin during her investigation of the Jedi Temple Bombing.
Definitely some interesting looks at Republic/Jedi protocols in this clip.

Ahsoka Tano goes from being a core member of the Jedi during the Clone Wars to being completely forgotten — is this story arc the beginning of the end for Ahsoka? I definitely hope not.
---
Teenage Mutant Ninja Turtles – "The Pulverizer"
Real-life TMNT fans fight crime in this episode, with the Turtles meeting up with a fan who roams the streets and calls himself the Pulverizer.
Casey Jones started out as a vigilante — maybe the Pulverizer will become a member of the regular cast after a few tweaks. Nickelodeon keeps a tight lid on TMNT clips, but there's a pic of the Pulverizer above.

---
Archer – "Vicious Coupling"

Cyril and Lana are back together in this Valentine's Day themed episode and the loving is spreading — even Pam has a date. Paaaaaaaammmmmm.
In this clip, Archer gives himself tinnitus to prevent himself from hearing Malory's Valentine's plans.
Archer clips are possibly NSFW. It's Saturday morning — you can probably risk it.

---
Top image courtesy of Lucasfilm and Cartoon Network. Green Lantern, Young Justice, and Clone Wars air Saturday mornings on Cartoon Network. TMNT airs Friday nights on Nick. Archer airs Thursday nights on FX. Ultimate Spider-Man airs Sundays on DisneyXD.