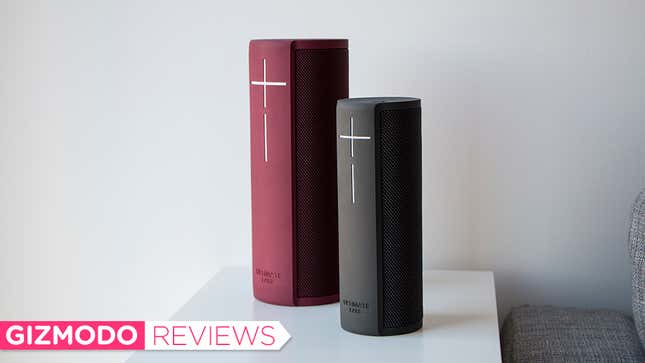 When you're a gadget blogger, your friends typically have a classic, back-pocket question around the holiday season: What should I get So-and-So as a gift? My most-used answer used to be the Boom, a Bluetooth speaker made by Ultimate Ears. This year is different. This year it's the Blast, an Alexa-powered speaker made by angels from heaven.
The Boogeyman's Sophie Thatcher Reveals What Draws Her to Dark Characters | io9 Interview
Alright fine, the UE Blast and its big sibling, the Megablast, aren't really made by angels, but it does answer a silly gadget prayer I've had for a few years. The very excellent UE Boom would be extra excellent if you could control it with your voice. I've been using various versions of this speaker since its inception in 2013, mostly because it sounds great, works well, and seems indestructible. The speaker's design also has the appealing ability to blend in with its surroundings, making it seem like the music's coming from nowhere. And on the indestructible front, you can drop it on concrete or throw it in a pool, and it will keep blasting your jams. Nevertheless, I always thought it would be cool if it could stay plugged in, worked on wi-fi, and accept voice commands.
That's exactly what the UE Blast does. The new speaker is a slightly re-designed UE Boom with two new features: Alexa voice commands (free) and the Power Up charging dock (sold separately for $40). Together, these two things basically turn the Blast into a portable, durable Echo with excellent sound quality. Despite my earlier exuberance, however, the device is not perfect.
Let's get my big gripe out of the way first. The UE Blast is pricey at $230. The Megablast, a superior device with much more powerful sound, is really pricey at $300. The entry-level Boom speaker is the $100 Wonderboom, which I own and love. The UE Boom 2, which I also own and love, goes for $150. Do the new features justify the extra $80 in price—plus the $40 charging dock. That completely depends on how you want to use the Blast.
With the Power Up charging dock, you really can use the Blast like an always-on Amazon Echo—without it, the device will quickly go into power save mode and turn off. You can ask Alexa about the weather or your day or the news, and Alexa will answer back through the Blast. You can also make use of smart home skills like lighting or thermostat controls. I laughed out loud when I used the Blast to turn on my TV. The Alexa-enabled Blast is cool in almost all of the ways that the Amazon Echo is cool.
"Almost" is the key word there. The Blast can only play music from certain services—most prominently, Amazon Music. That means you can't ask the Blast to play songs from Spotify, Pandora, or Apple Music. So this sucks. You can still use any service over a Bluetooth connection. You also get a three-month trial to Amazon Music when you buy the Blast, and if you're a Prime Member, you already have access to Amazon Music. But still, this sucks! I pay for Spotify, because I like it, and I like creating my playlists, because I like my little soundtracks for life. So when I tell the Blast, "Play my Hotel playlist on Spotify," and Alexa tells me Spotify doesn't work, I'm confused.
In this specific situation, I blame Amazon. According to the Ultimate Ears support site, "Spotify can be played on Amazon's Echo devices, but is not supported on most devices from other manufacturers." To me, that sounds like Amazon only wants to let third parties use Alexa, if those companies steer people back to Amazon's streaming services. So you either have to cope with crappy sound quality on Echo speakers or slightly limited functionality on great speakers like the Blast. Meanwhile, UE does not say if or when the Blast will be able to stream music from the top three streaming services through Alexa.
Another detail worth highlighting is the fact that the Blast speakers don't beckon Alexa as quickly as an Echo speaker does. I tested the Megablast against the new Echo Plus, and the Amazon gadget easily responded to commands twice as fast as the UE gadget. When I say "twice as fast," by the way, I mean two seconds instead of four. Either way, you'll notice a bit of a lag with the Blast speakers.
There's also one other limitation that seems less important. With the Blast, you have to be connected to wi-fi in order to use the Alexa functionality. This detail sort of shit on my dream of a portable voice-controlled Blast, but I'm not even sure that dream made sense. I wouldn't want to carry my Blast to the park and then control my smart home devices from there. With the proliferation of hotspots, however, maybe I could. But really, I'd imagine most people would be excited about the Blast as an Echo replacement with much better sound quality and the ability to work as a portable, durable Bluetooth speaker.
Speaking of sound quality, the regular Blast works with the same audio hardware as the Boom 2 and delivers the same great 360-degree sound. The fidelity is terrific in a normal-sized room but will struggle to fill large, outdoor spaces with the same quality sound that you get in an enclosed space. The quality suffers at high volume, in other words. Meanwhile, the Megablast is a fucking beast. Whereas the Megaboom pumped music out of two drivers and two passive radiators, the Megablast also has two tweeters to round out the sound.
The new hardware on the Megablast makes a difference, too. Acoustic tracks like "Husks and Shells" by Volcano Choir sounds delightfully realistic, as if Justin Vernon and his buds were sitting right next to you playing acoustic guitar. "The Megablast also preserves the delicate texture of Diane Krall's voice on "The Look of Love." The low end on bass-heavy tracks like "A Milli" don't quite blow your hat off, but Lil Wayne's vocals sound great. You can play this shit loud, too—too loud for an apartment building but just about right for a backyard party.
What's missing from this exciting new speaker lineup is the ability to network the speakers. Whereas earlier Boom speakers can be connected to each other to create multi-room sounds systems, the Blast speakers aren't there yet. In a briefing, UE reps told me that they hoped to roll out an update in the coming months that could effectively turn a series of Blast speakers into the equivalent of a Sonos sound system. It seems like they're still working out some bugs on the software side, but I think the Blast becomes much more appealing when you could have several of the voice-controlled, wi-fi speakers connected throughout your house. In the meantime, you can buy a Sonos One with Alexa functionality for just $200, but Sonos devices aren't portable or durable or versatile like the UE Blast speakers.
This brings us back to that first question: What should I get So-and-So as a gift? Well, in this case, that depends on how much you like So-and-So. If you can afford it, and you like your friend a ton, the Blast is a great addition to anyone's life. If you love your friend, consider the Megablast. If not, consider the Wonderboom. It's not quite amazing, but it is fun as hell.
README
Stellar, 360-degree sound quality
Durable waterproof housing makes the Blast almost indestructible
Useful Alexa capabilities but not as useful as an Amazon Echo
Pricey at $230 for the Blast and $300 for the Megablast