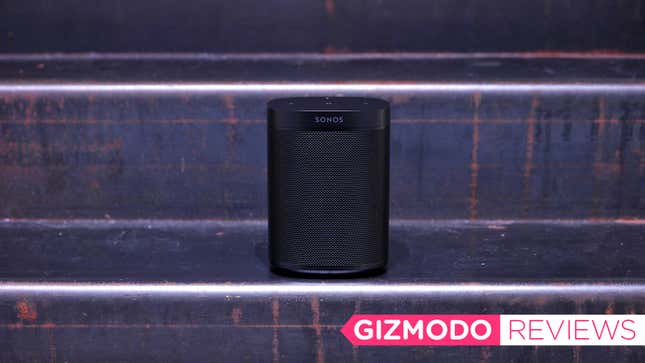 Sonos wouldn't like it, but you could call its new smart speaker an "Echo." A high-end, very nice-sounding, but flawed Amazon Echo—the kind someone who just got a promotion might buy themselves, because unlike the $50 Dot or new $100 Echo, this speaker will set you back $200.

Meet Microsoft's New Surface Laptops
Sonos has talked up smart speakers for more than a year, but now that it's finally releasing one, the Sonos One, the big debut feels anti-climactic. Yes, the One sounds and looks just as good as the speaker it's based on (the Play:1), but what—really—is new here for you? Echoes could already play music; now Sonos is adding nice sounding speakers to the mix. This new product is more iterative than it is remarkable, but as demand for smart speakers picks up, Sonos really can't afford to be left behind.
So Sonos is placing a bet today: that the reputation it's already built for making good speakers, and an open platform, will carry it into the future. Will Alexa transform how you experience music? Not really. But it's a convenient way to play a song when your hands are full, or without having to search for an app on your phone. The premise behind the Sonos One makes sense, but unfortunately in practice, the device doesn't quite live up to its potential.
Out of the box, the Sonos One is really just a Play:1. Alexa isn't activated by default, and you if so choose, you could carry on using the device as a normal Sonos without linking it with Amazon's digital assistant. You can even turn the microphone off by tapping the button on the top of the device—an essential feature for privacy-conscious folks who may wind up deciding that Alexa isn't worth it yet.

But it would have been nice for Sonos to include Alexa from the get-go—to plug the speaker in and have the assistant walk you through the process. If you're starting from scratch, in order to get everything working properly, you need to create your Sonos account, connect music services to it, download the Alexa app, and then link your Sonos and music services with Amazon, too. After a year of teasing, it would have been nice for Sonos to have smoothed the experience out a bit more than it did, especially if the company believes its future rests on rise of smart speakers.
And I hoped for better Spotify support [Update: As of November 21, the Sonos One now lets you control Spotify with your voice], given how closely Sonos and Spotify have worked together in the past. Full Spotify voice control is coming "very soon," Sonos says—"likely before the holidays." But for now, you have to start a Spotify song or playlist with your phone, and then control functions like volume with your voice. You can't simply say "Alexa, play my Discover Weekly playlist on Spotify."
Today, this means you've got to be willing to embrace other music services, like Amazon Music Unlimited, Pandora Radio, TuneIn Radio, or iHeartRadio. As for Apple Music, a Sonos spokesperson told us full support for the Apple service is also on the company's roadmap, but declined to offer a timeline for when it's coming. This may be the worst thing about the Sonos One—only partially supporting two of the biggest streaming service on the planet, but whether this matters to you depends on how invested you are in any single service.

Even when it comes to Alexa, the Sonos One has some frustrating limitations. It can handle most of Alexa's tasks like a normal Echo, but there are still some unsupported features, like sending messages to your contacts, placing calls, setting reminders, and listening to Flash and Sports briefings. If you're looking for the purest smart assistant experience possible, you'll want to go straight to the source. Like the partial Spotify integration, Sonos says it's working to add support for missing Alexa features soon.
Sonos only has so much room for slip-ups here, because the One is just one of many smart speakers on the market. If this device doesn't check your boxes, a few alternatives are on the way: There's Google's upcoming, $400 Home Max (which looks like the Play:5), and Apple's $350 HomePod, expected in December. For better or worse, Amazon doesn't sell its own higher-end speaker. But if you don't care too much about sound quality, you can take a look at the new budget options, like the (pretty cute) Home Mini and the updated Echo Dot.

The Sonos One has its perks. Next year, Sonos says it'll support Google's smart assistant. [Update November 1, 2018: Sorry, friends. Sonos says its speakers aren't getting Google Assistant support this year after all.] That may make it a more useful, smarter device than its competitors, as both assistants come with certain strengths. And if you're already looking to shell out for a new Sonos speaker, the Sonos One is only a tad more expensive than the Play:1, although it's not hard to find a discount for the latter online. This brings us to the biggest selling point of the Sonos One: It's still a good speaker, so if you're not worried about the price, then theres no harm in picking one up.
But for normal, deal-obsessed folk like me, depending on when and where you look, you can find a Play:1 for about $150. And Sonos is even sending $25 discounts out to existing customers for the Echo Dot. It's like the company is trying to tell us something...Who cares? Just. pick. up. a. Dot.
For now that's what I recommend, until Sonos really comes through with Google Assistant, Spotify, and Apple Music support. For most people, a Dot and a solid speaker (like the Play:1) is enough.
README
It's like Sonos squished an Echo Dot inside its smallest speaker
Just Alexa for now, but Google Assistant is coming in 2018 [Update November 1, 2018: It isn't.]
Full Spotify voice support is "coming soon," but not soon enough
Some Alexa features are missing, like sending messages and placing calls
Great sounds and looks, just like the Sonos Play:1