Bad news for Sonos fans. That Google Assistant feature the company promised would be ready in 2018, well, Sonos is gonna have to break that promise. Google Assistant will not be available on the popular wireless speakers this year. Sonos users will have to wait until an undetermined date in 2019.
If you've been following Sonos's entrée into the voice-powered speaker space, this is a huge bummer. Sonos first said Google Assistant would be available this year back in 2017, when the company released its Alexa-enabled Sonos One smart speaker. Since then, we've also gotten an Alexa-enabled soundbar, the Sonos Beam, and a lot of silence from Sonos about when in 2018 that Google Assistant feature would become available. The company announced the disappointing news in a blog post on Thursday:
While we originally planned to have the experience ready to ship in 2018, the reality is that we need a bit more time to get the experience right and will now look to lock down a date in 2019, and we're continuing to make good progress.
Sonos "will look to lock down a date in 2019," huh? That's pretty much the same thing Sonos said over a year ago about bringing Google Assistant to its speakers in 2018.
However, there is a glimmer of progress in the form of what appears to be a pretty labor-intensive private beta. The Sonos blog post continues:
If you're interested in helping us kick the tires — and willing to put in the time and effort — you can sign up to be considered for the private beta here. We ask that beta testers commit to at least 14 hours of listening per week, use 10 voice commands daily, and respond to surveys within 72 hours.
G/O Media may get a commission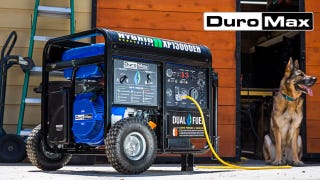 Black Friday Sale
DuroMax Generator Sale
So if you listen to a lot of music and like to respond to surveys, maybe apply to that. Otherwise, the rest of the world's Sonos users will have to keep waiting for Google Assistant to work with the speakers. That sucks especially now that Google has released the Home Hub and a host of new Assistant features alongside the Pixel 3.
Having Google Assistant on Sonos speakers could be really cool! Hopefully, it actually happens next year. But hey, at least Sonos gave us an update on its so far unfulfilled promise. You can't say the same thing about Apple and its AirPower device.