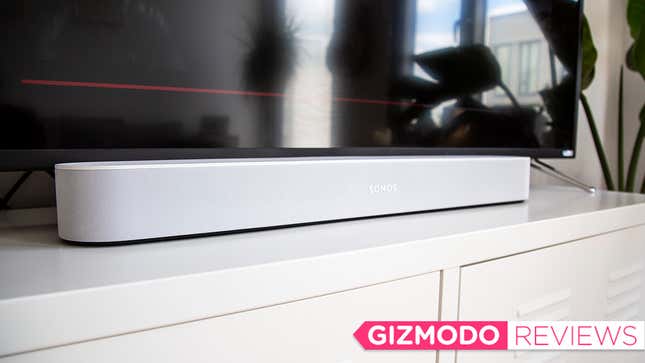 People who own Sonos speakers love their Sonos speakers. I'm one of them. In the three to four years that I've been living in the Sonos ecosystem, however, one big complaint was that I couldn't use Sonos for my TV unless I barfed up $700 for the Sonos Playbase or Playbar. Now, with the $400 Sonos Beam, I can run a 5.1 surround sound system in my living room, and holy crap I love it.
Meet Microsoft's New Surface Laptops
The Beam is a more affordable soundbar from Sonos that happens to have smart speaker capabilities. Right now, it works with Amazon Alexa, and the company says it will support Google Assistant and Apple Siri in the future. But the voice assistant isn't the only neat new thing. Unlike every other Sonos speaker, the Beam also comes with an HDMI ARC port, which means you can use your voice to turn your TV on and off. You say, "Alexa turn on the TV." The TV turns on. If you use a regular old Fire TV device, you can also use Alexa to find content. You can say, "Alexa, watch Miracle." The legendary hockey movie will start playing. You can also adjust the volume with your voice, but that's about it. (If you have a Fire TV Cube, you can use that and get many more voice commands.)
But Alexa is my least favorite trick on the Beam. I actually kept the microphone array on mute most of the time, since I'm still not wild about microphones in my home. (Sonos makes it very easy to use all the soundbar's features, even if voice control is disabled.) My favorite trick is how the Beam set up instantly and integrated itself not only with my TV but also with my other Sonos speakers. So when I went into my Sonos app, the TV was listed as another speaker, I could add it to groups, enabling me to pump the TV audio through the whole system. When I went to watch and—let's be real—cry a little during Miracle, I could tap a couple screens in the Sonos app and hear the TV audio throughout my apartment.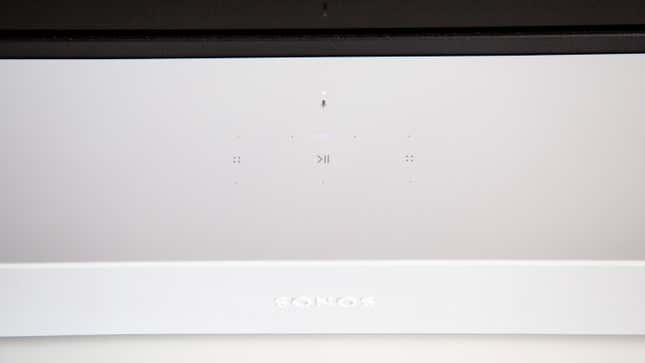 Then things got really interesting, because as got to digging into the Sonos Beam features, I realized that the soundbar is capable of delivering 5.1 surround sound. All I had to do was move my two Sonos One speakers to the left and right rear positions and attach a subwoofer. The setup in the app for this is just as easy as setting up a multi-room Sonos system. My only issue in actually setting up the 5.1 surround sound system is that I don't own a Sonos Sub. In fact, I don't own a subwoofer at all, so I settled with the two rear speakers and stereo sound from the Sonos Beam. The soundbar's bass doesn't quite thump, but it's better than most other soundbars I've heard.
Here's the rub, though. You buy one Sonos speaker, and that speaker would be so much cooler if it connected to another speaker. And wouldn't it be great to add a subwoofer and a soundbar into the mix? At this point, you've probably spent about $1,500 for a proprietary home audio system that's easy to use but might not sound as great as a true hi-fi setup. When you consider the fact that you can easily spend $1,500 on a single hi-fi speaker, before adding an amp and everything else you need to get started, the Sonos proposition starts to look like a relative bargain.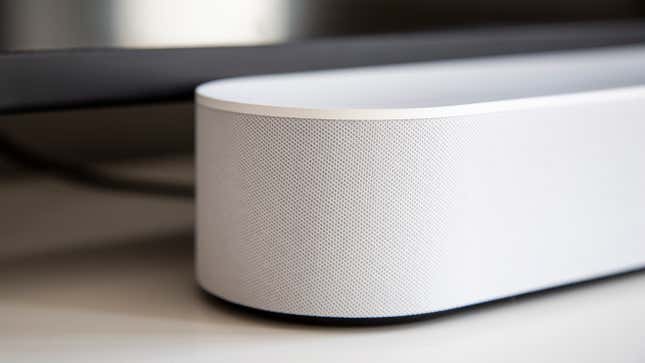 Honestly, Sonos speakers sound more than good enough to me. The Beam delivers respectable bass, yes, but the soundbar's biggest advantage is the size of the soundstage. Thanks in part to its rounded the corners, the Beam actually pumps out audio in three directions. There are two woofers and a tweeter on the front and two woofers on the side. Three passive radiators help round out the sound, and to me, that sound felt much bigger than a two-foot-wide soundbar ought to, since most soundbars just have speakers on the front.
It's also worth pointing out that the Beam is tuned differently for TV audio and music. When you're listening to TV, you'll get clearer dialogue thanks to the soundbar's speech enhancement feature. For music, the levels shift, and the Beam delivers crisp treble on top of well balanced mids. Again, the bass isn't life-changing, but you wouldn't expect it to be with a speaker setup of this size. Standalone subwoofers are big for a reason.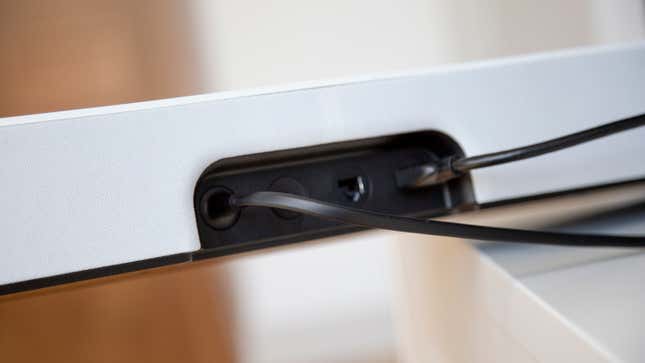 I do wonder how much the Sonos Sub would add to the Beam experience—or any sub for that matter. The Sonos subwoofer would be easy to set up and round out my collection of branded wireless speakers. It also costs $700. I don't really think you need it. The $400 Sonos Beam is excellent on its own, both for TV-watching and music-listening. For the latter, I'd even argue that you could throw a party with it. And if you already own Sonos speakers in your living room, you could either move them to other parts of your house to expand your wireless music experience or easily turn them into a surround sound system for your TV. If you like this idea but are new to the Sonos thing, Sonos will sell you the Beam along with two Sonos One speakers for $650.
This is how they get you. Sonos is appealing because it's easy to get started with the wireless audio system, and it's even easier to expand it, if you can afford it. It's refreshing, though, that adding Sonos audio to your TV no longer costs the same as a month's rent in most major US cities. Compared to other wireless multi-room audio systems, like the Riva Wand series, the Sonos is simply a breeze to use and just as excellent in terms of sound quality. Compared to the Google Home Max or the Apple HomePod, the Beam actually seems cheap for what you get, especially since it will work with both Alexa and Google Assistant. It's also worth pointing out that neither the Google Home nor the HomePod are optimized for TV-watching, while the Beam is.
All these little details are very exciting, especially for a Sonos product. These wireless speakers are starting for feel both accessible and platform agnostic. And that's a great thing.
README
An awesomely cheap way to turn a Sonos system into a surround sound home entertainment system
But works well enough for most people without additional Sonos products
Wide sound stage and enjoyable audio quality for music
Will even turn on your lights thanks to optional voice control