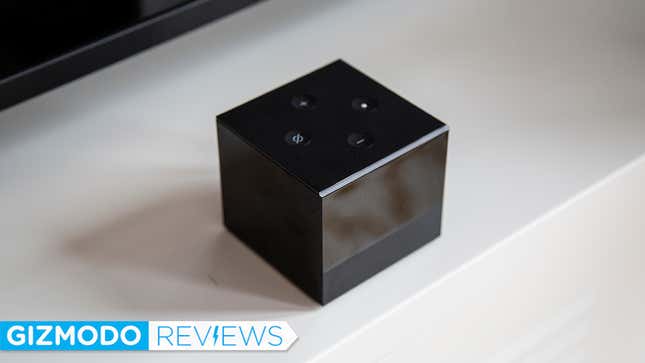 Plenty of companies want to build the centerpiece for tomorrow's smart home. Amazon has a head start, too. Tens of millions of Americans now own Echo devices, and Alexa now has tens of thousands of skills. Adding a voice assistant to any TV, I've always thought, could be a game changer. And now, Amazon's Fire TV Cube does just that. Is it a game changer? Not yet.
Meet Microsoft's New Surface Laptops
The $120 Fire TV Cube is a wacky mashup of a Fire TV and an Echo—with some completely new features to boot. It does everything that a regular old Fire TV dongle does, but it can also enable you to control your TV with your voice. Say, "Alexa, turn on the TV," and the TV turns on. Say, "Alexa, play the movie 9 to 5," and Alexa will do the work of finding it, seeing if you get it for free, and letting you how to purchase it if you don't. The experience is designed so that you never have to touch your remote, and after a few days of using the device, I can say that this is true. It doesn't mean that I didn't want to touch my remote, though.
One problem with voice assistants is that they're a little slow. This always bugged me about using an Echo to control the lights in my apartment. Walking in the door and saying "Turn on the lights" just wasn't as fast as slapping the switch on the wall. Then again, it was very convenient when I was going to bed, the switch was on the other side of the room, and I could just shout to turn them off. Life is a maze of trade-offs and conundrums.
When it comes to watching TV, though, the wait really sucks. It takes two or three beats for the Fire TV Cube to register and then perform your command. So if you're looking for a movie to watch, you can see eight at a time on the newly designed, voice-ready user interface, but to see the next eight you have to ask Alexa to show them to you and wait a second for her to do it. This is a really simple complaint, but it's also a big one for me.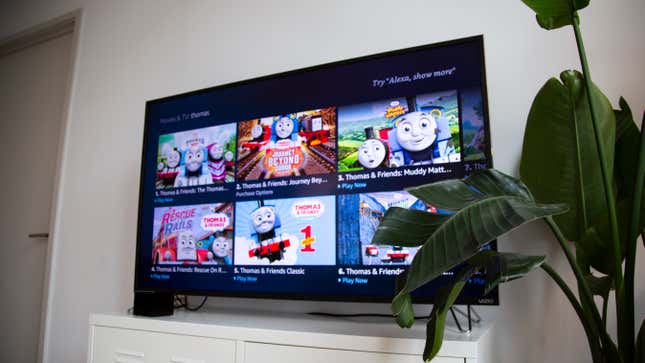 The Fire TV Cube also suffers from all the other familiar Alexa problems, too. Sometimes, the artificially intelligent software simply doesn't understand what you're saying. In a demo, an Amazon rep asked Alexa to show some dramas. Alexa pulled up some Thomas the Tank Engine videos. When I got home to test the device, I asked Alexa to go back 30 minutes in a movie. Alexa showed me a selection of movies with titles like 30 Minutes or Less.
To simplify things, Amazon has introduced a new numbered menu so that you can say "Alexa, pick number one" instead of "Alexa, pick Y Tu Mamá También"—presumably so that there's a lesser chance the AI assistant will misunderstand you. The process still feels clunky, and I still felt like I was saying "Alexa" way too often. But misunderstands aren't specific to Alexa. Google Assistant and Siri suffer from similar shortcomings. It just doesn't make it any less frustrating, when you just want to surf through some sweet content.
So I'll keep my remote close by, for now. It's just faster and more dependable. Maybe I'm old fashioned to cling to my buttons and my phone, when I want to control my TV, but I want to think I'm also being practical. It's handy to tell Alexa to turn on the TV and show me David Bowie movies, when I walk in the door and want to watch Labyrinth as soon as possible. The Fire TV Cube can do this well. Most of the time, though, I want to browse through the free movies and watch something terrible. The Fire TV Cube sucks at this.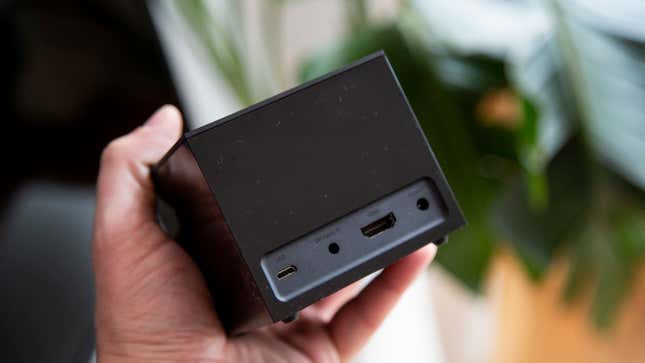 If you were already thinking about buying a Fire TV, however, you should definitely consider spending an extra $50 on the Fire TV Cube. By owning it, you will definitely get all the great perks of owning a Fire TV, because the new Cube works just like a standard $70 Fire TV dongle, including support for 4K and HDR content. You can still buy the standard Fire TV, too, but the Cube will set you up for the voice-controlled future we've been promised. The bright side is that the device's slow software can probably be improved with a software update, and as Amazon loves to say, Alexa is always getting better. So the Fire TV Cube might get better soon, too.
Though by buying this Echo that's not quite called an Echo, you will still be installing several always-on microphones and potentially inviting the Jeff Bezos privacy pirates into your home. Nightmares could follow. But hey, like I said, life is a maze of trade-offs and conundrums.
README
Comes with all the great features of a Fire TV plus some new Alexa abilities
Voice control is much slower than using an actual TV remote
Alexa struggles to understand commands, for now
Costs significantly more than a $70 Fire TV