Project management apps help teams collaborate more effectively and hit their deadlines, but you can use the same apps to put some order into your life. Here are the management tools worth checking out, whether you've only got yourself to look after or a whole family of disorganized people.
It's worth pointing out there are a ton of these apps out there. We've listed the ones we like the most to save you the trouble of testing out every single one, but if none of these quite match what you're looking for, try expanding your search.
We've also noted the style of layout each app employs. There are a number of ways to manage projects and view that management. The Kanban and Gantt are the two best known kind and most of the project management applications below use one or both types.
Kanban employs a series of columns with cards assigned to those columns. The columns can be anything—from days of the week to specific members of the project to individual projects themselves.
G/O Media may get a commission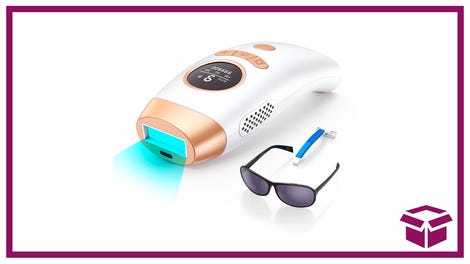 58% Off + Coupon
IPL Hair Removal Device
Gantt, meanwhile, is a type of bar chart that is used to track tasks. The horizontal access of the chart is actually a calendar, while the vertical axis is the series of tasks in the project needing to be tracked.
---
1) Trello
Don't let the simple and rather old-fashioned look of Trello (web, Android, iOS) put you off: Used the right way, this can be one powerful project management app and it's ready and waiting to get your life in order. The app is built around the concept of columns and cards, technically known as a Kanban approach.
So you might have one column per day and a card for everything you need to do that day; or you might have one column per family member and a card for everything they're responsible for; or you might have one column per client and a card for all the jobs they've assigned to you. Part of the appeal of Trello lies in its flexibility—there are a lot of different ways you can deploy it.
That extends to custom labels, giving you another way of sorting cards. Cards can also have priority levels, users, due dates, and files attached—as you can see, Trello starts off simple, but can quickly grow to adapt to work the way you need it to. As cards are dealt with, they can be ticked off and archived.
All the basics of Trello are free to use, and that includes access for multiple members, though file attachments are kept under 10MB. If you really like it, you can cough up $9.99 a month for more customization options, larger file attachments, third-party integrations with the likes of Dropbox and Google Drive, priority email support and some other goodies you can probably live without as an individual.
For people who prefer
The Kanban approach. This is Kanban at its purest. It means incredible flexibility, but it also means you'll need to spend time coming up with your specific method for tracking projects using Kanban.
---
2) Asana
Asana (web, Android, iOS) is a bit more complex than Trello—you can do more with it, but it requires more of a time investment to get to grips with, at least to begin with. Everything is split up into projects and tasks, so you could treat family members as projects, or have "work" and "personal" projects, or just treat everything in your life as one huge project.
Individual tasks can have due dates, file attachments, tags, and subtasks, so you could split up redecorating the bathroom into buying supplies, sketching out plans, and actually doing the redecorating, for example. If you want to rope other family members into Asana, tasks can be given to specific people, with up to 15 users supported on the free plan.
Asana lets you view all your open projects and tasks in a conventional list style or in a Trello-like board. You've also got project overview and calendar screens to play around with, letting you know what's coming up and how quickly you're getting through your to do lists. There are parts of Asana that you just don't need unless you're managing a team of workers in a small business, but there's lots here for individual users too.
The free version of Asana gives you an unlimited number of projects and tasks, and access for 15 other people, as mentioned above. Reasons to upgrade to the $9.99 per month version include access to a more visual Timeline interface, advanced search features, and more flexibility for organizing your projects on screen.
For people who prefer
Having some guidance in their project tracking. Asana let's you use a modified version of the Kanban approach, but there's a lot of other methods for tracking, and Asana, while complex, guides you along the way.
---
3) MeisterTask
At first glance, MeisterTask (web, Android, iOS) comes across as a more modern-looking version of Trello, and it uses the same Kanban methodology for splitting up everything you've got to do into columns and cards: By default you've got Open, In Progress, and Done, though you can add custom columns as needed.
One of the cool features included in MeisterTask, though it's not on the free plan, is the way cards (or tasks) can be actioned when they're shifted between columns—so you can start time tracking on a task when it hits the In Progress column, for instance, or remove some of its tags if they no longer apply. The interface is really easy to move around and it's one of those apps where all the features you need are in the places you'd expect.
Tasks can be given a due date, attachments, tags, comments, checklists and more, so you should be able to adapt them however you need—whether it's planning a summer vacation, trying to organize a loft extension, or just keeping tabs on all the after-school activities the kids are going to. Trello is a bit simpler and more flexible, but MeisterTask is a bit more intuitive and smart.
The free basic plan is likely to be all you're going to need, but for $8.25 a month you can get extras like automated actions for your tasks (as we mentioned above), better search and reporting features, and unlimited integrations with third-party services like Google Drive and Slack.
For people who prefer
An intuitive version of Kanban. It's not as flexible as Trello, but MeisterTask will hold your hand where Trello would kick you into the deep end.
---
4) Teamweek
Teamweek (web, Android, iOS) works like a supercharged calendar app—if you're struggling to get your life organized through the usual calendar apps from Google and Apple, the extra features in Teamweek might be just what you're looking for (it's actually based on the Gantt chart approach).
All the stuff you have to do is laid out on a rolling calendar, giving you an idea of what you've got on your plate and how long you've got to do it. Tasks can be assigned to different people, but they don't have to be, and can be augmented with checklists and specific start times if needed.
Some of the project overview features just don't apply for personal and family use, but for big jobs where you need those extra planning tools—extensive DIY work, getting the family away on vacation, sorting out a mounting workload—they can come in useful. You can very easily see how far along you are with something, and what your chances are of getting it finished on time.
You can get started with Teamweek for free, and even manage up to five people (probably family members). Prices then start at a hefty $39 per month, which gives you more team members, more views of your projects, custom colors and more—though the free version is more than enough for personal use.
For people who prefer
Gantt charts. Teamweek is all about prioritizing schedule by tracking tasks on the calendar.
---
5) Freedcamp
Finally, Freedcamp (web, Android, iOS) gives you a whole host of planning options in your choice of layout—Kanban, Gantt, or just plain old to do list. You'll be joining the likes of Google, PayPal, and Airbnb in using Freedcamp, so you know you're in good company.
The Freedcamp setup process is fairly straightforward but the initial interface can seem daunting—it's not quite as easy to get up and running as it is with something like Trello or MeisterTask. Once you start digging into the software though, it's intuitive enough, letting you create projects, boards, and tasks to manage just about anything. What's particularly impressive is just how many ways you can view the same set of data.
Individual task cards can be assigned priorities and due dates, and you're spoilt for choice when it comes to ways to organize and search through them. You can also add subtasks, comments, and files. You might have one project for your vacation, for example, one for buying a new car, one for organizing a sports club, and so on and so on.
The free Freedcamp plan should be more than enough for most people, though paid plans start at $1.49 per month if you need them. The usual extras are included if you pay up: Support for third-party plug-ins (like Dropbox and OneDrive), more options for project templates and project reports, support for bigger file attachments, and so on.
For people who prefer
Absolute flexibility. Freedcamp lets you go Gantt or Kanban, or a mixture of the two.