A moody, disturbing tale of underground surgeons, "Manifest Destiny" is the first film from Darrell and Doug Waters, who shot the whole thing in their garage with medical supplies they ordered from eBay. The twist ending will blow your mind.
Here's the text the filmmakers use to introduce the movie, which is what I imagine is running through the main character's mind:
Every time I find myself the recipient of one of these late night phone calls, tramping through some back alley behind another dark abandoned warehouse . . . Stuttering another secret password. . . Entering another hastily constructed operating room. . . Scalpel in hand, performing another indescribable procedure . . . I see another pair of eyes . . . By now in the hundreds . . . Staring . . . Whenever I try to sleep . . . Another member of an unenviable audience. . . Asking a painfully simple question for which I have no answer . . . Why . . . Cranston says I need to "detach". I suppose he's right. I can no longer bear their judgment. I leave them here. . . On the table . . . As I scribble my signature on the confidentiality agreement, I leave them to their fate . . . I say goodbye . . .
The Waterses say they were influenced by 70s and 80s SF/horror like Invasion of the Body Snatchers, The Thing and The Fly - which is probably why it is SO AWESOME. We need to see more movies from these guys, stat.
G/O Media may get a commission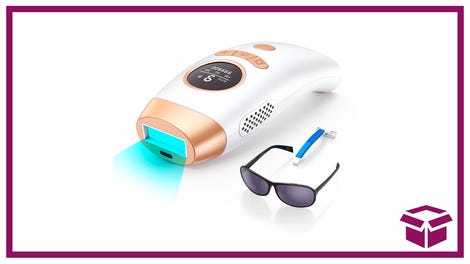 58% Off + Coupon
IPL Hair Removal Device
MANIFEST DESTINY from Darrell and Doug Waters on Vimeo.