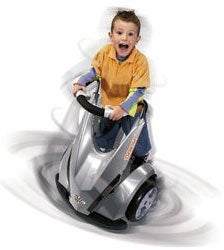 Since kids aren't necessarily supposed to be riding full-sized Segways, Dareway steps in to fill that void. It doesn't feature any of the things that make the Segway, you know, a Segway, like gyroscopes, or movement induced by leaning to the side. It is, however, intended for children 3 years and older, so let the good times roll.
The electric motors are powered by a 12-volt rechargeable battery and can spin the Dareway around 360 degrees. You're only supposed to use it on private property, so using it on public roads is a bit of a no-no.
One caveat: it's only available in the UK, so our readers in the Isles should have a good time. We'll just have to settle for other toys.
Product Page [GlowGadgets.com via OhGizmo!]