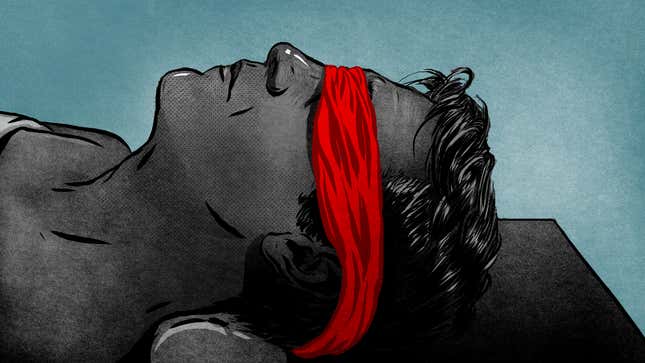 AIDS was a terrifying mystery, and then we solved it. When researchers identified the human immunodeficiency virus as the reason why young, previously healthy people were developing rare cancers and wasting away, it was a triumph of medical science.
Did Elon Musk Regret Buying Twitter? | Walter Isaacson Interview
But even as the medical community reached a consensus that HIV caused AIDS, a counter-movement was emerging, claiming that HIV didn't exist, or that the virus existed but was harmless. The symptoms of AIDS, according to some of these people, were actually caused by HIV therapies themselves. To this day, some people continue to believe that HIV is a hoax.

The story of the HIV denialist movement demonstrates that scientific agreement is not necessarily enough. Thousands of people died because the conspiracy theory was able to outrun the facts, thriving in the climate of fear and suspicion around a grisly disease that had struck a vulnerable population. To some groups who'd been fighting on behalf of AIDS patients, it was too tidy to see a multimillion-dollar drug market emerge, to treat the same people who'd already been stigmatized and marginalized.

In the United States, the HIV denial movement led individual patients to reject medication until it was too late. In South Africa, denialists managed to win influence with the country's president, Thabo Mbeki, and his public-health policies led to an estimated 330,000 deaths that would otherwise have been preventable. Elsewhere, we may never fully know how much impact HIV denialism had—but conversations with more than a dozen HIV activists, educators, doctors, and former denialists, suggest that the denialists significantly hindered efforts at educating people about HIV and how to protect themselves.
"We just didn't fucking trust anybody"
In the early 1980s, there was legitimate disagreement and debate over the causes of AIDS. At that point, "any theory of what was causing young people to die from these rare diseases was fair game," said University of Connecticut social psychology professor Seth Kalichman, author of the book Denying AIDS: Conspiracy Theories, Pseudoscience, and Human Tragedy.
But even before the virus causing AIDS was identified, the federal Centers for Disease Control put out prevention recommendations that were compatible with the idea that it was spread by a virus, said Jim Curran, who coordinated the CDC's AIDS taskforce beginning in 1981. "We did that because we thought it would be very important," Curran said—and, he said, there was already enough agreement that the condition was spreading like a virus.
And when scientists did identify HIV as the cause of AIDS, "it was obviously true from the very beginning," said Curran, who is now the Dean of the Rollins School of Public Health at Emory University. This was a new virus, which was shown to kill immune cells, or lymphocytes, in a petri dish. "Basically, everyone who has AIDS has the virus," Curran said, "and people who didn't have AIDS didn't have the virus."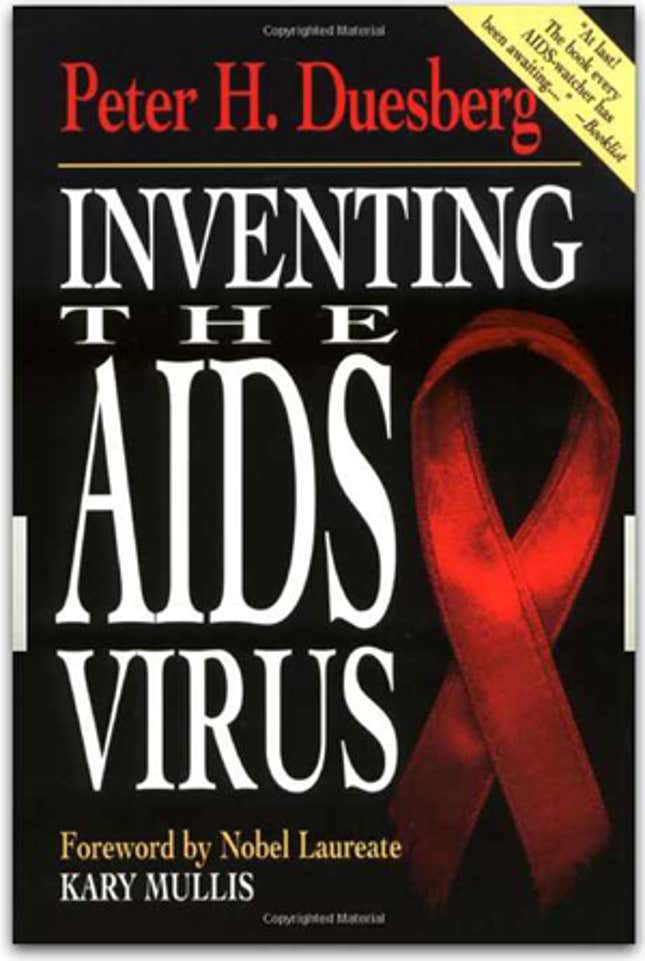 But some people refused to accept the consensus. "After the virus was proven to cause AIDS, these guys came out of the woodwork," Curran said. "They had no credibility. It was so counter-intuitive."
One of the people who doubted the news was Stephen Kovacev. Kovacev remembers when he first heard that we'd found the cause of AIDS. It was 1984, and President Reagan was running for re-election. Reagan had been eager to sweep the AIDS crisis under the rug, so Kovacev immediately suspected a trick.
At this time, Kovacev had been a gay rights activist for a dozen years, having moved to New York's Christopher Street in the wake of the Stonewall riots. He'd survived protests, clashes with the police, and "brutal" treatment from a homophobic medical establishment that treated him "like a pariah" when he sought treatment for anal warts. After all of this, plus Watergate and Vietnam, said Kovacev, "how could you trust anything that came from any institution?"
So Kovacev was skeptical about a neat and tidy explanation for AIDS—and then he heard that a reputable scientist, Peter Duesberg at U.C., Berkeley, was saying he believed that HIV was a harmless virus, that had nothing to do with causing AIDS. (Duesberg still believes this.) So Kovacev and his friends didn't know what to think.
"We weren't denialists," Kovacev said of his fellow activists at the time. "We just didn't fucking trust anybody."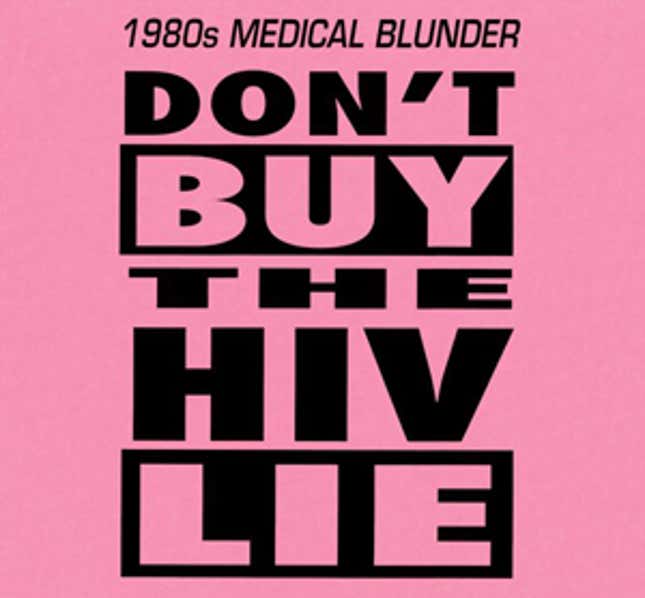 From early on, the HIV skeptics took two tacks, according to George Carter, director of the Foundation for Integrative AIDS Research. Either they said that HIV was harmless and had little or nothing to do with AIDS (as Duesberg argued), or they claimed that the virus actually didn't exist (or had "never been isolated"), and all we could point to were antibodies, not a virus.
There was also the pervasive claim that "drugs cause AIDS," Carter said, including heroin, amphetamines and cocaine. "Sorry, but if recreational drugs cause AIDS, there should be a helluva lot of dead straight people."
Meanwhile, former KGB and Stasi operatives have since admitted that there was a coordinated misinformation campaign on the part of the USSR and East Germany in the 1980s, aimed at spreading the idea that AIDS was a bioweapon created by the United States—which was successful at getting stories into the London Sunday Express and the CBS Evening News. In the 1990s, this gave rise to widespread beliefs that AIDS had been specifically designed to target black people, writes Nicoli Nattrass, the Director of the AIDS and Society Research Unit at the University of Cape Town in South Africa.
"All their ideas are arguable nonsense," said Carter of the denialists. This is, Carter said, "sadly proven by every HIV-positive denialist with whom I had these arguments, dying of AIDS."
Alternative treatments
But to Kovacev, and people like him, there seemed to be some valid debate over whether the virus actually had anything to do with the disease. Soon, Kovacev was going to weekly meetings of HEAL AIDS, which met at the Gay and Lesbian Center.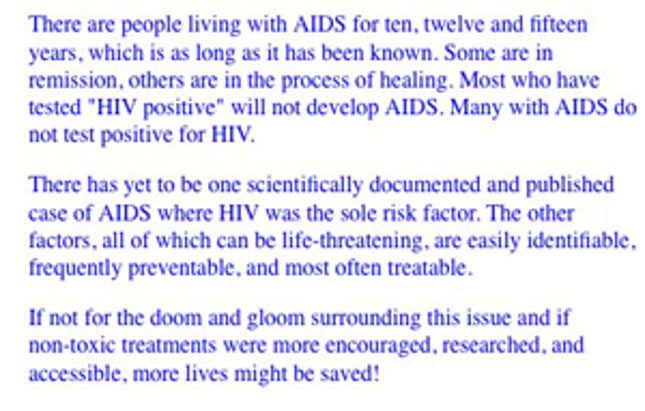 HEAL AIDS was originally focused on finding alternative, non-toxic treatments for AIDS, but increasingly became focused on spreading the message that HIV was a hoax. (At left: a screenshot of HEAL's website, via Archive.org.) And Kovacev remembers reading New York's gay newspaper, the New York Native, which became dedicated to attacking the science behind HIV. (The Native folded in early 1997.)
A lot of the denialists rallied around Duesberg, who had real scientific credentials in spite of his viewpoints on HIV. Duesberg never seemed interested in starting a movement, but he "attracted some real fringe characters," said Kalichman. "They kind of tagged onto him."
The idea of using vitamins and health supplements as an alternatives to the early HIV drugs like AZT definitely appealed to Kovacev. In 1985, he and his partner, Kevin, had started the first "organic raw foods" store in New York. "We had friends that were healthy and went on AZT, and died," Kovacev told me in a phone conversation, adding that he asked: "What's really going on? Oh, is this Nazi Germany again? Are they trying to get rid of us?"
Kovacev's partner Kevin died of AIDS in 1990, on World AIDS Day, and his second partner died five years later. Kovacev himself had been diagnosed with AIDS, but didn't want to take any of the single-drug therapies that were available.
"By 1995, I was dying. I was pretty much going to be out of here," Kovacev said. "I had lost the will to live." He credits his "spiritual godmothers," including Amy Belle Olatunji the wife of famous drummer Baba Olatunji, with convincing him to keep living. And when the new multi-drug "cocktail" therapies came along in 1996, he decided to try them. These drugs were the first things he'd tried which actually raised his T-cell count, after years of taking health supplements—and when he saw his immune system get stronger on HIV drugs, that's when he finally believed that HIV and AIDS had to be related.
In 1997, Kovacev became the first person with full-blown AIDS to run the Boston Marathon.
The Dangerous Power of Virodene
Meanwhile, South Africa's HIV-denialist nightmare also began with a focus on alternative treatments. In 1997, then-Vice President Thabo Mbeki and other top ANC officials championed a "cure" for AIDS called Virodene—which turned out to contain an industrial solvent called dimethylformamide that causes irreversible (and often fatal) liver damage.
The creators of Virodene, University of Pretoria scientists Olga Visser and her husband Jacques Siegfried "Zigi" Visser, were invited to speak at a cabinet meeting, where Olga Visser told ANC leaders that Virodene "destroyed" AIDS. They were greeted with a standing ovation.
"With hindsight, Virodene was the start" of South African denialism, said Nathan Geffen, a longtime South African HIV activist and author of the book Debunking Delusions. At the time, activists just saw the Virodene incident as a "temporary aberration."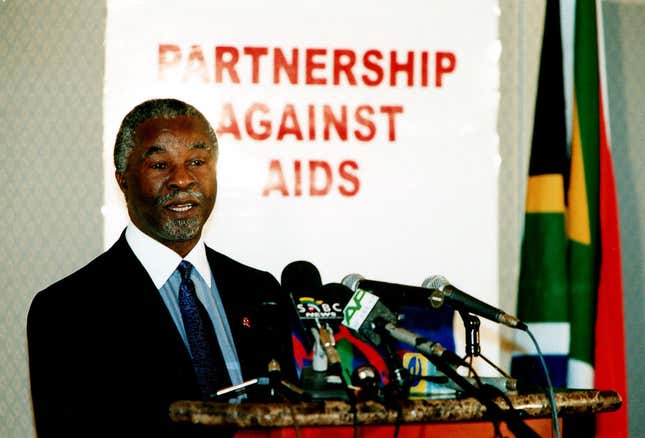 Photo: Associated Press
Later, after Mbeki became president in 1999, his health minister Manto Tshabalala-Msimang threw her support behind a retired Dutch nurse named Tine van der Maas who promoted a miracle AIDS cure called "Africa's Solution," whose ingredients included extract of African potato, olive green leaf and grapefruit seeds.
Tshabalala-Msimang also became known as "Dr. Beetroot" because she claimed a diet of beets, African potatoes, garlic and lemons could treat AIDS. She also supported a vitamin salesman, Matthias Rath, who claimed his supplements could reverse the progress of AIDS.
"An epidemic within an epidemic"
South Africa's HIV denialism was home-grown, but it gained strength from the denialist community in the United States. When Mbeki became President, he held an AIDS conference, in which he flew in overseas "experts" like Duesberg.
"The remarkable thing about Mbeki's presidential panel was that it was really divided evenly between credible scientists and discredited denialists," Kalichman said. "And the people he seemed to listen to were the discredited denialists. And remarkably, they're all white Western European and American men. His scientists were primarily South African. They were racially diverse, and they were from his country. Some of the really most renowned AIDS scientists in the world were on that panel. And they were South African."
"Denialism has been an epidemic within an epidemic," said HIV educator Ntando Yola, who works with the Desmond Tutu HIV Foundation.
When former President Nelson Mandela tried to question Mbeki's AIDS policies at a 2002 African National Congress meeting, Mandela was publicly humiliated by top ANC officials, who were keen to show loyalty to Mbeki. They accused Mandela of breaking party discipline and undermining Mbeki, and ANC leader Ngoako Ramatlhodi described the other ANC officials as "like a pack of wild dogs, tearing their prey," and said that after this "vicious mauling," Mandela "looked twice his age, old and ashen."
After this, Mandela paid a visit to HIV-positive activist Zackie Achmat, a leader of the Treatment Action Campaign (TAC), who was challenging Mbeki's policies in court. Mandela was photographed with Achmat, wearing a shirt Achmat had given him that read "HIV-positive," in an attempt to fight the stigma around HIV.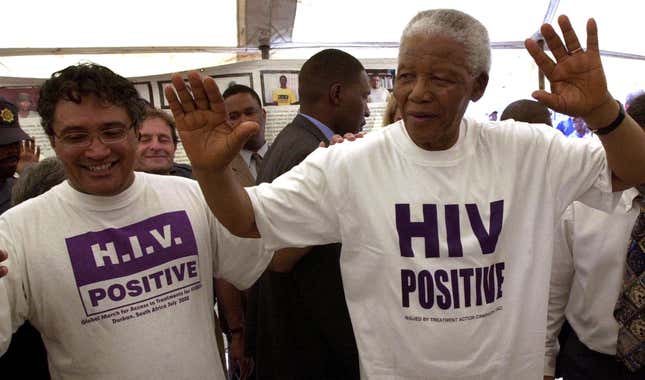 Photo: Associated Press
The TAC succeeded in winning a 2002 court order that forced the government to provide anti-retroviral (ARV) drugs to prevent mother-to-child transmission of HIV. But the Mbeki government still resisted providing ARVs to the general population, so the TAC embarked on a "civil disobedience" program, including a 14,000-person protest at Parliament and protests at police stations.
"There were about 200 of us sitting inside a police station, demanding that they either arrest the Minister of Health or us," said Geffen. "We were actually occupying the whole police station." But the Cape Town police, who were sympathetic to their viewpoint, refused to arrest the activists for a long time, until the police finally relented and "symbolically charged" them, releasing them immediately. In Durban, there was one protest where the police used tear gas and beat protesters.
"Survey after survey showed there wasn't much support for these AIDS-denialist views," said Geffen. "People went along with it because it suited them politically."
After the civil disobedience campaign, the government agreed to provide ARVs to everyone with HIV—but this was followed by "years of 'malicious compliance' from the government," said Marcus Low, the TAC's head of Policy Communications and Research.
By all accounts, South Africa now has one of the best treatment programs in the world, with an estimated 3 million people receiving ARVs. South Africa's long history of "achieving freedom through civil action" was what allowed the TAC to turn the tide against denialism, said Yola: "People believed that standing up against a resistant force for what is possible will eventually yield results."
The Foo Fighters and Harpers Magazine
Around the time that Mbeki was flying denialist "experts" into South Africa, denialism was becoming a serious national movement in the United States.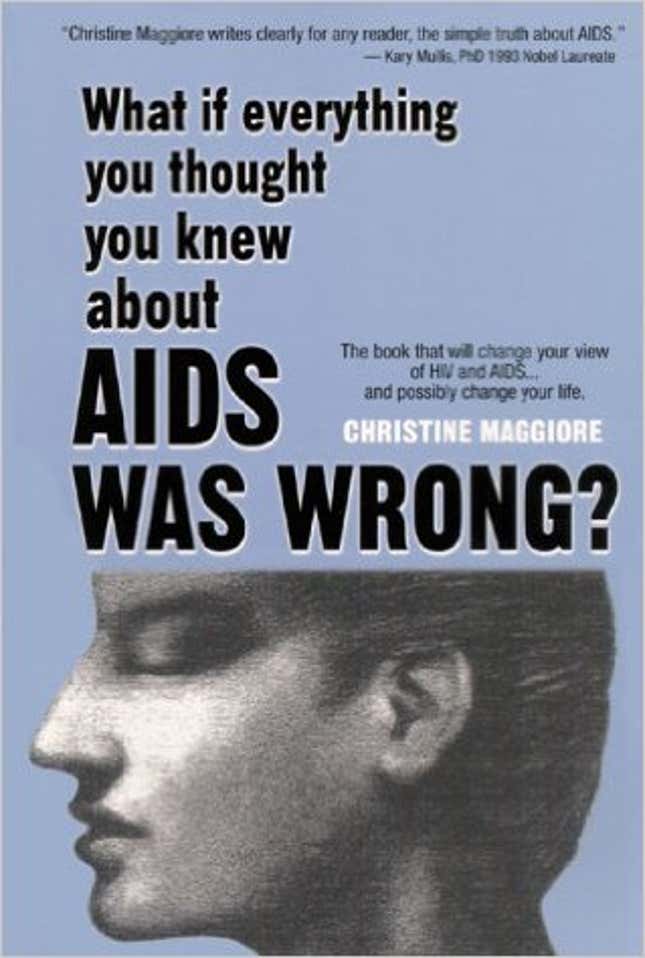 In 2000, while the Foo Fighters were touring on their breakout album There Is Nothing Left to Lose, bass player Nate Mendel came across a book by a leading denier called Christine Maggiore, and shared it with the other band members, including former Nirvana drummer Dave Grohl. The Foo Fighters ended up playing a benefit concert for Maggiore's HIV-denialist organization, Alive and Well, at which Maggiore spoke and copies of her book were handed out. (I tried to reach Mendel to see if he still denies a link between HIV and AIDS, but he did not respond.)
Around the same time, San Francisco and Atlanta branches of ACT UP, a prominent national organization aimed at raising awareness about AIDS, turned towards debunking the "myth" of HIV. For a while there were two ACT UP organizations in San Francisco, and one became dedicated to spreading the message that "HIV does not cause AIDS and that it is the use of anti-HIV medications which make people get sick and die."
Rates of new HIV infections had been steadily going down since the early 1990s, but in 2000-2001, they started going back up again, said Jeff Sheehy, longtime AIDS activist and director of communications with the UCSF AIDS Research Institute. People were feeling more optimistic about treatment options, they were tired of using condoms, and they were feeling "fatigue from having been scared for so long."
"I think people just got burned out by the early 2000s on the notion of condoms," Carter said.
So Sheehy and other activists in San Francisco worked harder to spread the message that HIV was still a serious threat, and people needed to use condoms and get tested—and this, Sheehy said, "brought the wrath of the denialists down on us."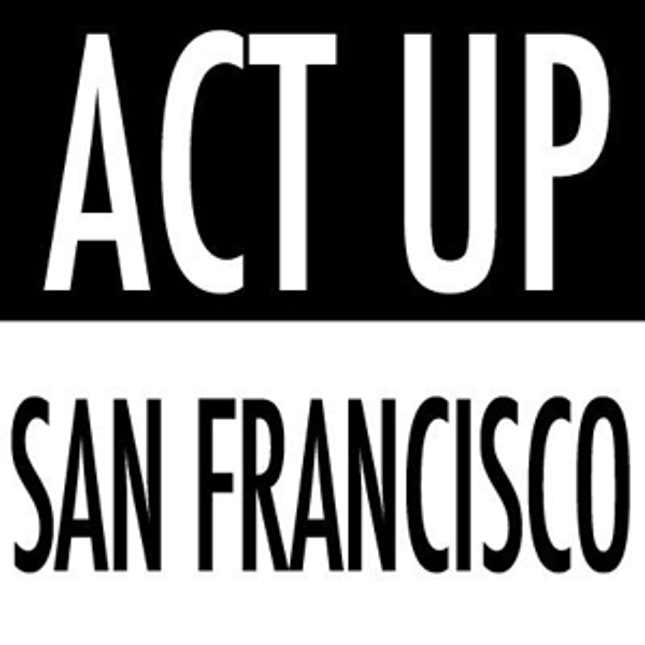 "I received a death threat," said Sheehy. "All of us would receive harassing phone calls in the middle of the night [and] at work. One person was being followed in the Castro, when he was walking his dog. People got calls like, 'I know where your kids go to school.'" One denialist dumped used cat litter on the head of the San Francisco AIDS Foundation at a public forum. Someone even phoned in a bomb threat to the San Francisco Chronicle, within a couple months after 9/11.
The message to HIV educators, Sheehy said, was "you're an enemy of the gay community, and we're going to silence you."
Finally, ACT UP San Francisco spokesman David Pasquarelli and one other activist were arrested and jailed. (The other activist said he didn't agree with Pasquarelli's views on HIV, but felt that HIV-prevention campaigns were aimed at suppressing gay sexuality.)
Kalichman said that 2001 was the peak of denialism in the United States, and it was spurred by two factors. The internet had made denialist materials easier to find, and meanwhile people could see that a world leader, Mbeki, had adopted these views.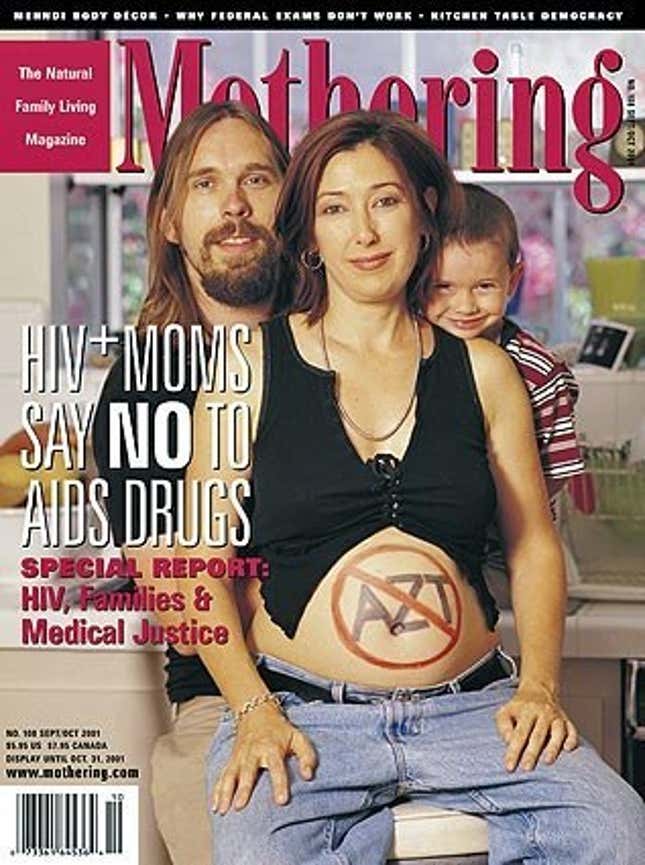 And in much the same way that Jenny McCarthy became the face of anti-vaccine activists, Christine Maggiore was the most prominent spokesperson for HIV deniers. (And in fact, Maggiore was also famous for not vaccinating her children.) An HIV-positive woman who had been a successful businesswoman and promoted alternative medicine, Maggiore was an appealing presence, and she played well in the media, said Tara C. Smith, a professor of Public Health at Kent State who blogs about HIV at ScienceBlogs.
One of Maggiore's biggest defenders, the journalist Celia Farber, wrote a 2006 cover story for Harper's Magazine, in which she more or less accused drug companies of inventing AIDS in order to sell lethal drugs.
"Maggiore appeared in various media outlets after she refused to take medications while pregnant and breast-feeding her children," said Smith. "She was in the media again when her daughter, Eliza Jane, died of AIDS." (Law and Order: SVU did an episode loosely based on this case.) And then Maggiore herself died in 2008 of AIDS-related pneumonia.

The decline of denialism
"After losing Maggiore and her life story, I think the denialism movement has lost some momentum and prominence," said Smith. "The death of one of their most prominent faces is a tough blow."
Likewise, "AIDS denialism is dead in South Africa," said Geffen. "It pretty much died with the removal of Mbeki from power."
By the time John Strangis became an HIV denialist in 2012, the movement was already pretty marginalized. Strangis told me that he never went to any denialist conventions, because the movement no longer had enough money, or a large enough membership, to organize any.
Strangis felt attracted to the HIV denialists, because he already believed in a number of other conspiracy theories and "it was quite simple for me to assimilate this new information into my belief system." Adds Strangis, "as a person living with HIV, the possibility that HIV was a lie was quite reassuring." Soon, Strangis became one of the most active spokespeople for the movement, posting videos on YouTube and appearing on internet radio shows.
A lot of Strangis' fellow denialists, he said, believed other bizarre theories, like the idea that "the International Space Station is a hoax and doesn't exist." And, he added, "the president of Rethinking AIDS himself now believes pathogenic viruses do not exist in any shape or form."
In fact, HIV denialists often have the same characteristics as other conspiracy theorists, like climate change skeptics, Kalichman said. "There's always a rogue scientist, who has credentials but has lost credibility," he said. There's also always some powerful organization—either the government, the World Health Organization, the United Nations, or Big Pharma—that's "trying to cover up the truth." There is a basic playbook, Smith has written: Identify a sinister conspiracy; accuse the establishment of practicing a "religion" and "having 'faith' in the 'dogma' of germ theory and HIV causation"; cherry-pick the literature, and take findings out of context; move the goal posts; and so on.
I asked Smith what she meant by "moving the goal posts," and she replied: "They say HIV was never isolated. We give them excellent electron micrographs of the virus. They say 'OK, it's a virus, but it doesn't cause disease.' They say that Koch's postulates haven't been proven to conclusively show HIV causes AIDS. We give them examples of medical workers who were accidentally exposed to the virus and later developed AIDS. They say they must have undisclosed drug addictions or other causes for the immune decline. They never accept the science—they just keep changing the target of their disbelief."
"There's a subsection of the population that is inclined to doubt people speaking for the government, or professors with white hair, medical school faculty [or] people who claim to know something," said Arthur L. Reingold, professor and Head of Epidemiology at the UC Berkeley School of Public Health. "It ranges from evolution to global warming to vaccine safety to HIV and AIDS."
Strangis' wife, who's also HIV-positive, was hospitalized in 2011 for pneumocystis pneumonia, after she had stopped taking her meds in 2007. Strangis said the denialist community always claimed that the medical establishment was too quick to blame HIV, if someone became sick with an unrelated condition: "There's an old denialist saying: If you're positive, you can get hit by a bus, car, gunshot, etc., and it would still be deemed an AIDS death," Stangis said.
In June 2014, Strangis' wife became pregnant, and they decided to allow the doctors to treat her, to avoid passing HIV on to their son. "We agreed to the treatment because we did not want any problems with the authorities who would see our denial of treatment as child abuse, but also because I did not want to risk being wrong and my son having to live with the burden of HIV since birth," said Strangis—adding that they were "verbally assaulted" by their fellow denialists for choosing to accept treatment.
After their son was born, Strangis' wife became ill again and nearly died—but when she received HIV treatments in the hospital, she recovered. At that point, Strangis finally decided to leave the movement. By now, he had noticed Facebook posts showing that four other members of the movement had died of AIDS, and many others had become sick.
It's not over
Denialism still gets articles in reputable scientific journals, and is still influencing people, to this day.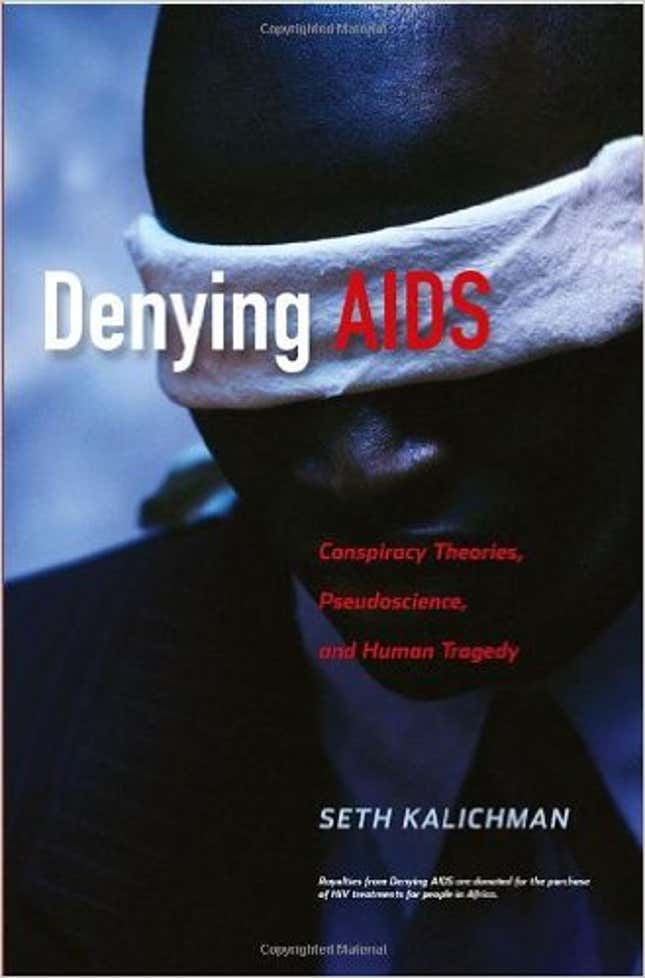 In 2010, Kalichman did a survey of 266 men and 77 women living with HIV/AIDS, and found that one out of five of them agreed with statements like "there is no proof that HIV causes AIDS" or "HIV treatments do more harm than good." The more frequently someone used the internet, the readier they were to believe that there was no proof that HIV causes AIDS.
"We have to remember that there's still a lot of harm that comes from AIDS denialism," said Kalichman.
And in South Africa, the government is still dragging its feet on providing Pre-Exposure Prophylaxis (PrEP) to HIV-negative people, based partly on bad science about HIV transmission, said Brian Kanyemba, a key populations community engagement officer with the Desmond Tutu HIV Foundation in Cape Town.
Nor are "miracle cures" for HIV a thing of the past. Kanyemba told me that his sister was born with HIV, and she had been doing well on ARVs. Then she went to a Pentecostal church, where they gave her "special water" to drink and told her that she was cured of HIV. She stopped taking her medications, and died last summer. Since then, Kanyemba has been campaigning for the South African Health Ministry to crack down on churches, and their supposed cures for the virus.
And we'll never know exactly how much damage HIV denialism did outside of South Africa, where the impact has been well-documented. Some experts, like Reingold, say it was just a "blip" in the United States. Others say denialism was one factor among many that hindered HIV education: "It tends to reinforce the denial of risk," says Curran. But all we have are anecdotes.
For example, Sheehy knew a hairdresser in St. Mark's Place in New York who insisted that HIV didn't cause AIDS—and thus, safer sex was unnecessary. Sheehy and the hairstylist got into an argument while he was getting his hair cut: "He's a really nice kid and a sweetheart, but it was kind of an unpleasant conversation." Sheehy vowed never to go back to that hairdresser again, and later he heard that the kid had tested positive for HIV.
Art by Jim Cooke. Additional research/transcription by Levi Gadye. Thanks also to Liz Highleyman and Rich Juzwiak for the advice.
---
Charlie Jane Anders is the author of All The Birds in the Sky, coming in January from Tor Books. Follow her on Twitter, and email her.