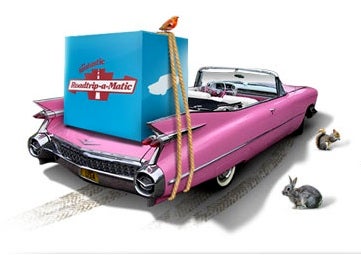 The Fantastic Roadtrip-a-Matic is 20 ready-to-ride roadtrips, steeped in everything from hiking and biking, to backroads and underground railroads, to foodies and photogenic elk. Fantastic! Even more fantastic? A chance to win a stay at one of PA's swankiest hotels.
Your vacay could win you another one in the Fantastic Roadtrip-a-Matic Shutterbug Challenge. Just become a fan of visitPA on Facebook, submit a PA roadtrip photo, get your friends, family, coworkers, associates, and minor acquaintances to vote for you, and you could win! Contest ends June 30. Click here to enter.
Remember: There's nothing like a good old roadtrip. And Pennsylvania is a roadtripping kind of state. PA's Roadtrip-a-Matic does it all for you. All the routes, restaurants, roadside attractions, hotels, everything is all planned out in simple itineraries. So you can just pick a roadtrip, pack up the family truckster, and go!