On Thursday, the current FCC commission continued its campaign to loosen protections for consumers while doing the bidding of major corporations. The five-person commission voted on numerous items today, and there's not a whole lot of good news.

Anyone watching the mind-numbing arguments for each item on the FCC commissions agenda today could easily walk away thinking that all of the votes were sensible and this agency is doing a great job. The motions had names like "Bridging the Digital Divide for Low-Income Consumers" and "Accelerating Wireline Broadband Deployment." Terms like "modernization" were thrown around often and debates were framed around how these initiatives would help the very people they are designed to harm. All the while FCC Chairman Ajit Pai chuckled along, shook his head, and used odd analogies to support the moves.
The biggest change that passed today is being framed as "streamlining rules to speed transition to modern broadband networks." Telecoms don't care to maintain older copper networks that provide phone service and DSL internet to many Americans. The antiquated tech isn't exactly a big moneymaker these days, but for many people, this is their only or best option to connect to the web. A study in 2015 found that 17.5 million Americans were on DSL. But the telecoms would rather focus on the areas where they know they can juice profits, and there's little motivation for them to deploy fiber to many of these homes that are still relying on slow broadband.
In order to protect these Americans, an FCC regulation was established that required telecoms to offer a replacement for phone service and DSL internet that is just as good as the previous network that a telecom wants to abandon.

G/O Media may get a commission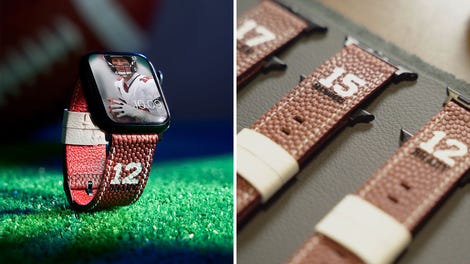 Official NFL PRODUCTS
Official NFL Apple Watch Bands
A 2016 order strengthened the regulation by requiring an "adequate replacement test" that outlines in detail what kind of replacement would be acceptable. Many of these lines were taxpayer subsidized and it only makes sense that if these companies are going to profit from the world they've created, in which internet service is essential to daily life, they need to make sure it's accessible for as many people as possible.

But the adequate replacement test isn't mentioned in the new rules that were passed by the FCC today. Prior to the vote, a spokesperson from the agency told Ars Technica that it is "neither discussed nor eliminated. It is still in the rules."
The issue is that the initial rules required a "functional test," too. That functional test enables the FCC to ensure that a company is either still maintaining its copper network or offering a replacement. This is what the FCC is changing. In a letter to the FCC, the Communications Workers of America wrote:
Under current rules, an incumbent carrier cannot discontinue, reduce, or impair service unless there is a replacement service that is as good as the discontinued service. This is called the Functional Test. The FCC's order will now interpret "service" to include a carrier's tariff. A tariff is a very basic description of what a carrier offers and at what rate. This means the Commission's remaining notice requirements will only apply to basic services, but will not include 911 services, ensure network reliability, or interconnection with devices consumers use such as medical monitors, alarm systems, fax and credit card machines, and equipment for people who are hearing impaired. In some cases, the sound of a dial tone may constitute service under the tariff test and therefore not even trigger a public comment and review.
To recap:
If a carrier wants to discontinue service, they previously had to contact the government and go through the functional test.

That determines if they needed to go through a review known as the discontinuance process.

The so-called adequate replacement test occurs during the review.

But because of the way the functional test is designed now, a carrier isn't likely to trigger the review, so the process of determining whether their service is adequate will never take place.

One potential outcome under these new rules is that companies will declare their services as adequate as long as mobile service is available in an area. But mobile service isn't as reliable as wired services, it can come with steep roaming charges for people in rural areas, it's invariably more expensive than DSL, and it usually comes with low data caps. It shouldn't be considered an adequate replacement, but welcome to the world of FCC policy that, as the dissenting commissioner Mignon Clyburn put it today, is pushing a "carrier-first agenda."

We've reached out to the FCC to ask for scenarios in which the discontinuation process would be triggered, and if its position is that mobile service should qualify as an adequate replacement. We'll update this post when we receive a reply.