The Food and Drug Administration's crusade against irresponsible stem cell clinics is heating up. On Wednesday, the agency announced it was seeking permanent injunctions against two of the most prominent clinics in the US. The injunctions, if successful, would bar the clinics and specific doctors there from performing unapproved stem cell therapies.
One injunction goes after the US Stem Cell Clinic LLC in Sunrise, Florida, along with its chief scientific officer Kristin Comella and its co-owner and managing officer Theodore Gradel. The other injunction names the California Stem Cell Treatment Center Inc, the Cell Surgical Network Corporation, and the individual doctors Elliot B. Lander and Mark Berman. Lander and Berman operate more than 100 affiliated clinics under the Cell Surgical Network brand, including the California Stem Cell Treatment Center. The agency filed its two complaints in different federal courts.
"Cell-based regenerative medicine holds significant medical opportunity, but we've also seen some bad actors leverage the scientific promise of this field to peddle unapproved treatments that put patients' health at risk," said FDA director Scott Gottlieb in a statement Wednesday. "In the two cases filed today, the clinics and their leadership have continued to disregard the law and more importantly, patient safety. We cannot allow unproven products that exploit the hope of patients and their loved ones."
Last August, the US Stem Cell Clinic was issued a warning letter by the FDA, following reports of clients becoming blind after they had stem cells sourced from their fat injected into their eyes. The treatments were meant to alleviate their macular degeneration, a common age-related eye disorder that causes vision loss but rarely complete blindness.
That same month, the FDA had US Marshals seize vials of smallpox vaccine from the California Stem Cell Treatment Center, after allegations that doctors there were using it to create stem cell treatments for cancer patients. These treatments were then directly injected into the patients' tumors, the FDA said. The FDA also cited accounts of patients being given experimental, unapproved treatments for diseases like arthritis, stroke, multiple sclerosis, and diabetes.
G/O Media may get a commission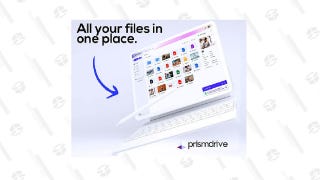 Save 97%
Prism Drive Secure Cloud Storage: Lifetime Subscription
Both clinics, according to inspections conducted by the FDA, also often failed to keep their treatments free from possible contamination.
Many of these loosely regulated clinics and their defenders have offered a similar defense against charges of practicing unethical, misleading, and dangerous medicine: that using a patient's own stem cells to treat their health problems shouldn't qualify as a new drug therapy, so there's no need to go through the admittedly expensive drug approval process. And if patients are willing to take the risk of trying out an untested therapy, they should be allowed to do so.
"My entire career has been dedicated to studying and developing treatments utilizing the body's own natural ability to heal, and I am devoted to helping others achieve optimal health through therapeutic procedures," said Kristin Comella of the US Stem Cell Clinic in a statement posted on Facebook. "It is my life's work to pioneer regenerative medicine and educate the public about its healing potential. I remain steadfast that no government agency should deprive individuals of their right to harness the cells that exist in their body."
Many other stem cell researchers and bioethicists have been skeptical of these clinics, as well as their method of treating patients by claiming to enroll them in small, even single-person, clinical trials. And some have already applauded the FDA's move.
"I'm glad to see the FDA sending these notices and seeking injunctions on these clinics. Unlicensed stem cell therapies are a significant problem in medicine right now, because they are both scientifically and clinically dubious," Nicholas Evans, a medical ethicist at the University of Massachusetts Lowell, told Gizmodo via email. "They are clinically problematic because, as unproven therapies, they can give patients false hope, especially for diseases for which there are no cures available. They are scientifically hazardous because we're not subjecting these therapies to proper experimental techniques, so we can't straightforwardly know if the patients that are getting better are getting better because of the stem cell therapy, or despite it."
Important as the FDA's actions are, Evans added, there should be more done to encourage legitimate applications of stem cell medicine.
"What I'd really love to see now is stronger federal and state support for clinical trials into some of these therapies. Some stem cell therapies are very promising, and government could get more involved in making sure patients who meet criteria for participating in human trials of these therapies have access to those trials," he said. "It's not enough to remove the supply, we also need to make sure we're managing the increasing demand for these therapies."
The US Stem Cell Clinic has vowed to fight the FDA injunction, while the Cell Surgical Network has not yet issued any statement in response. Currently, the clinics aren't actually barred from conducting business as usual. And there's no indication of how long it might take before the federal cases reach their respective conclusions.
[FDA via Washington Post]