This Sunday, another chapter in the Star Wars universe begins with the premiere of Star Wars Resistance. The show, which debuts Sunday on the Disney Channel before moving to Disney XD, starts six months before events of The Force Awakens and follows a young, hotshot pilot named Kaz Xiono who is recruited by Poe Dameron to help the Resistance.
The first two episodes of the series, The Recruit Part 1 and Part 2, do a fantastic job establishing a vast world of possibilities. They also establish a very unique tone for the show, one some fans are sure to be slightly put off by. Resistance has a look, humor, and energy that's wholly unique to Star Wars. It's brighter and faster than what we've seen from the franchise in the past, and very, very quirky.
Which, admittedly, takes a little getting used to. More often than on Star Wars Rebels, Resistance feels like a Saturday morning cartoon aimed at kids. Which, of course, it is. It's airing on Disney channels. There are moments where the humor is eye-rolling and cheesy. However, if older viewers start to get frustrated with the show's loud frivolities, a huge action set piece or tease of larger mythology will soon suck them back in and make it worth watching.
Things start very quickly on Resistance. Within moments we meet Kaz, Kaz meets Poe, Poe sees something in Kaz, and the show is off to the races. Literally. Most of the show takes place on an Outer Rim planet called Castilon; there, on a large platform called the Colossus, pilots from all over the galaxy meet to hang out, drink, gamble, and, most importantly, race.
G/O Media may get a commission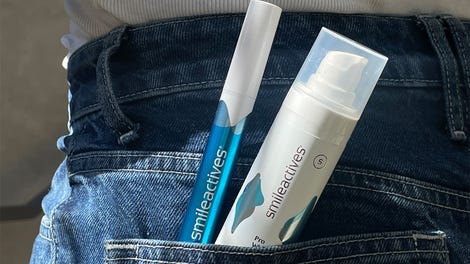 58% off
Whitening Powerhouse Pen & Gel Duo
How does a floating platform filled with cocky pilots tie into Star Wars as we know it? Well, it doesn't really. At least at the start. We know it's before The Force Awakens. We know the Empire is gone. The Resistance exists. The First Order is around. But the first episodes very specifically follow Kaz as he awkwardly tries to integrate himself into life on the Colossus with little sense of the world around him. "Awkward" is a good word to use when talking about the show in general, because we're getting to meet these new, unique characters in this specific, and largely undefined, time period—and sometimes it feels that way.
The time period between Return of the Jedi and Force Awakens has been explored a lot in books and comics, but much more sparingly in the movies and TV shows. However, when it happens, it's important. Knowing that, while Resistance focuses heavily on Kaz's story in its largely standalone first episodes, everything about the show resonates. Even the tiniest tease of something feels important. Characters are introduced who'll obviously have bigger roles going forward. Mysteries about Kaz beg for speculation. The First Order has some excellent cameos. Plus, the story itself suggests that once Kaz begins to make headway on Poe's mission, all kinds of larger issues and storylines will be on the table. Like, if this show wanted to explain who Snoke was, it could. I don't think it will, but it could.
This isn't just the Kaz and Poe show, though. The first two episodes introduce a slew of fascinating side characters who are destined not just to become fan favorites, but crucial players in the series. Some of my favorites are the piecemeal droid Buckett, the funny and weird Neeku Vozo, the formidable but friendly ace pilot Torra Doza, and former Imperial Jarek Yeager. Getting a taste of all these characters makes you hungry not just for more of this story, but more about them. Who are they? Why are they here? Where were they before? The possibilities are endless.
At the end of Resistance's first hour, that's the main takeaway. This show can go almost anywhere, and not just because the main characters fly super fast ships. It's because it takes place during a wide open time period, in an enticing location, with fascinating characters. Yes, it's a little kiddy and a little weird, nor does it achieve its potential in the first two episodes. But Resistance somehow still leaves you believing it's destined for greatness.
Star Wars Resistance premieres its first two episodes at 10 p.m. this Sunday on the Disney Channel and Disney NOW. All future episodes will follow the same pattern, premiering on Disney Channel Sunday nights with subsequent airings on Disney XD. We'll have more, including an interview with executive producer Justin Ridge, later this week.
Correction: An earlier version of this post said only the premiere would debut on Disney Channel. That has been updated.