Big, big news for Star Wars toy fans—Hasbro has announced a slew of Star Wars toys including some cool announcements that are coming to destroy your wallet. We've gathered all the news for you to see, including an up-close video of the incredible new Force Awakens TIE Fighter!
Deadly Mississippi Tornado Kills More Than 2 Dozen | Extreme Earth
This new TIE Fighter is absolutely the highlight of Hasbro's Star Wars toy reveals; the massive ship, in scale with the 6-inch figures—a new First Order TIE Pilot figureis included—comes in at an incredible 26-inches tall, and will retail later this year for around $170. That's a lot of money, but then again, it's humongous, gigantic toy.
Shortly after the panel ended, Hasbro unveiled a display featuring the vehicle, as well as a plethora of First Order Stormtroopers, at their booth, and as you can see above, we were there to capture the madness in it all its glory,
G/O Media may get a commission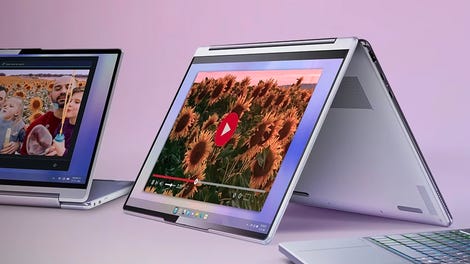 up to 70% off
Lenovo Spring Clearance
Aside from the TIE Fighter, the Hasbro Star Wars panel was short, but very sweet in terms of announcements. The results of the recent Fans Choice poll to decide the next Black Series figure were revealed and Darth Revan, from the Knights of the Old Republic video game, swept the vote (as expected). Surprisingly, Hasbro unveiled that they will also be producing the figure that came in second place: Star Wars Rebels' Sabine Wren! Sabine will come with two different head sculpts, one with her wearing her Mandalorian helmet, and another that is just her head.
Also unveiled were two new entries in the line. Representing the Prequel Trilogy is Jango Fett, while the Original Trilogy gets some love with an A New Hope version of Luke Skywalker:
Sabine isn't the only Star Wars Rebels characters is coming to the Black Series—she'll be joined by Kanan and Ahsoka. But rather than being created in their cartoony styles, Ahsoka Tano and Kanan Jarrus will be re-rendered in a "realistic" style, letting them fit in with the other Black Series figures. Kanan will come with his Lightsaber, which can be broken down to disguise it (as he does so in Rebels) and a blaster pistol, while Ahsoka will come with two white-bladed Lightsabers.
I felt a great disturbance in the Force, as if millions of wallets cried out in terror, and were suddenly silenced. The Star Wars: The Force Awakens merchandise will hit shelves and bring ruin to your bank accounts on September 4th.

---
SDCC is in full swing! You can keep track of all of our Comic-Con Coverage here.